Union leaders tentatively agree on a contract to avert strikes at six L.A. hotels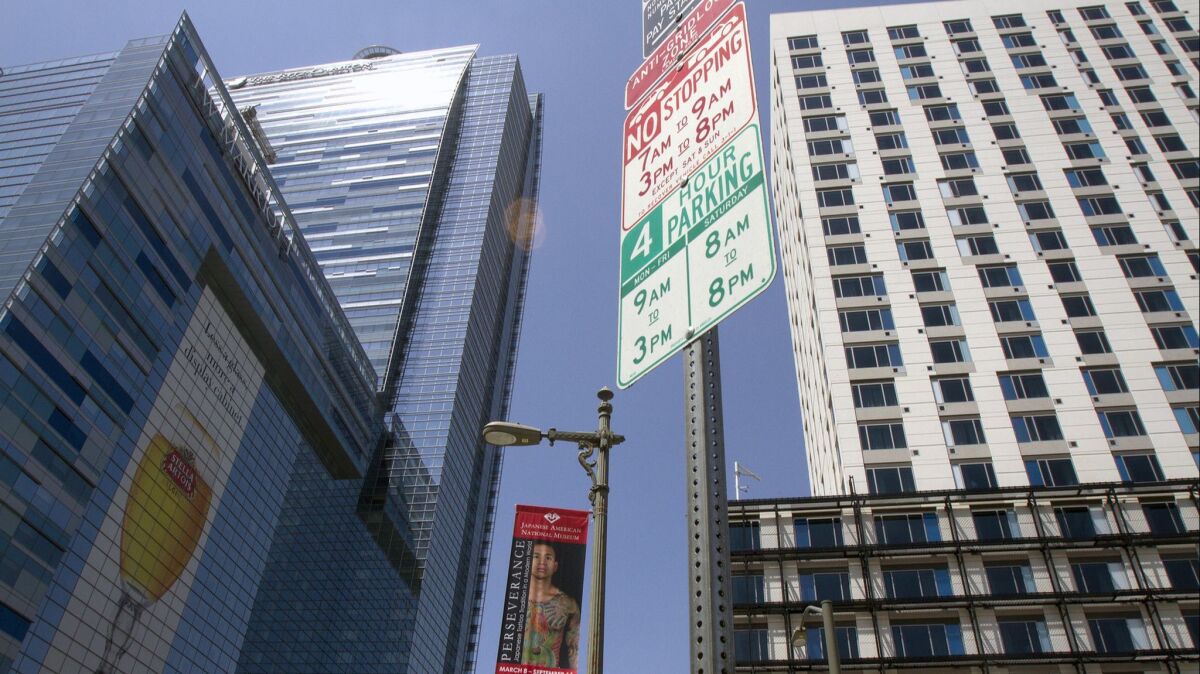 Strikes may have been averted at six high-end hotels in Los Angeles, but union leaders say labor demonstrations during the holiday season are still a possibility at 18 other Southern California hotels.
Leaders for Unite Here Local 11, representing 7,500 hotel workers in Los Angeles and Orange counties, reached a tentative contract agreement with the J.W. Marriott and the Courtyard Marriott at the L.A. Live entertainment district as well as the SLS in Beverly Hills, the W Hollywood, the W Westwood and the Sheraton Grand near downtown Los Angeles. Nearly 2,000 Unite Here members work at the six hotels.
Union workers are scheduled to vote Friday on whether to ratify the tentative agreements reached by union leaders. They declined to discuss details of the contract agreements until the voting is completed.
"This agreement is breathtaking — not just for the terms of the contract, but because it also sets a standard for hotel workers in the region," said Kurt Petersen, co-president for Local 11. "Our contract will put $200 million in the pockets of our workers and the L.A. economy. We're changing this town for hospitality workers."
Petersen and his union had voted overwhelmingly last week to authorize a strike at those six hotels and 18 others, including the Fairmont Miramar in Santa Monica, the Beverly Wilshire in Beverly Hills and the Hyatt Andaz in West Hollywood.
With contracts still outstanding at 18 hotels, union leaders say they plan to put pressure on hotel management by demonstrating Thursday at the Westin Bonaventure and the Line Hotel in Los Angeles and the Regent Beverly Wilshire in Beverly Hills.
The union represents nonmanagement employees, including front-desk clerks, housekeepers and hotel restaurant workers.
The contract disputes come as the tourism and hospitality industries enjoy record profits and strong demand from business and leisure travelers.
International travel to the U.S. and travel within the country grew by 3.2% in October compared with the same month last year, marking the 106th straight month of expansion, according to a report by the U.S. Travel Assn.
But the travel industry trade group reported that while domestic travel is surging, the growth of international travel to the U.S. is slowing, which could reduce the country's share of global travel dollars.
The group blames the slowdown on weakening global economic conditions, rising trade tensions and a strengthening dollar in comparison to foreign currencies.
In the U.S., there have been nearly two dozen hotel strikes this year, most involving Unite Here members.
In Southern California, the union is pushing for higher wages — at least $25 per hour — plus more affordable healthcare and panic buttons to protect housekeepers from sexual assaults, among other benefits.
Nearly 8,000 hotel workers from Unite Here won what labor leaders say were historic contract improvements after striking for several weeks at hotels run by Marriott International in San Francisco, San Diego, Oakland, San Jose, Boston, Detroit and on the Hawaiian islands of Maui and Oahu.
The strikes, which began in early October, were settled city by city, most in November. At some hotels, operations were disrupted and managers were forced to close pools, cut back on restaurant service and urge guests to go into the hallways to get their own towels.
In San Francisco, about 2,500 hotel workers demonstrated for nine weeks before reaching an agreement early this month.
To read more about the travel and tourism industries, follow @hugomartin on Twitter.
---
Sign up for the California Politics newsletter to get exclusive analysis from our reporters.
You may occasionally receive promotional content from the Los Angeles Times.