GM's Maven unveils Airbnb-style way for owners to rent out cars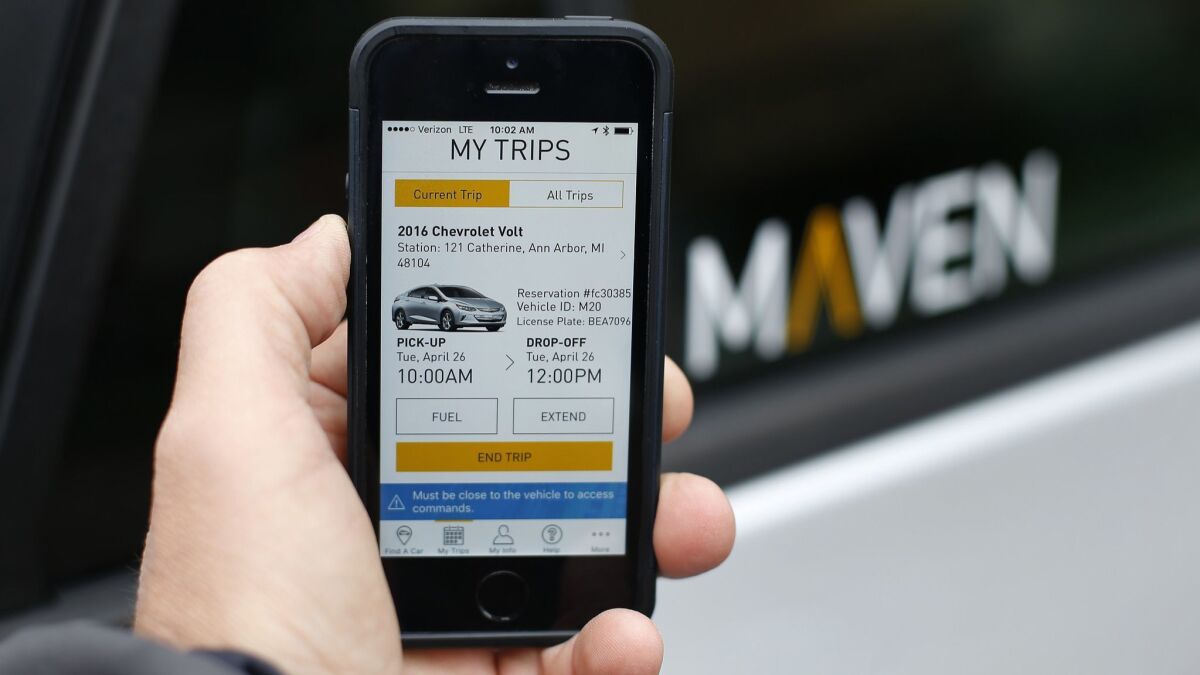 Maven, the car-sharing platform run by General Motors Co., is rolling out a service to let owners of its cars rent them out and earn money as the automaker makes a bigger move into selling rides as a service instead of just building vehicles.
The idea is to let GM's customers put their cars into Maven's fleet using its app the same way Airbnb Inc. enables people to rent out their homes. Maven rents cars out for hours or days at a time the same way Avis Budget Group Inc.'s Zipcar unit does. If it catches on, Maven will get more cars to rent out without carrying assets on its books while GM's customers have a way to make some cash.
"We think Maven can become a verb," said Julia Steyn, GM's vice president of urban mobility and Maven. "The brand stands for sharing."
For GM, the bigger idea is to establish new ways to sell transportation as consumers increasingly use ride-hailing services provided by Uber Technologies Inc. and Lyft Inc. Maven already rents vehicles to drivers who work for those companies. The automaker's Cruise unit is developing self-driving cars to use as robotaxis starting next year.
'Dumb' assets
Steyn said Maven wanted to push further into car sharing without having to spend billions on vehicles. Peer-to-peer sharing services such as Turo had paved the way by helping car owners rent out their vehicles.
"Putting all of that stuff on your balance sheet is a dumb idea," Steyn said. "So we looked to GM owners."
Maven is starting in the Detroit area, nearby Ann Arbor, Mich., and Chicago because a lot of GM vehicle owners are in those markets. Initially, the program will be available to owners of 2015 models and newer, all of which are equipped with the OnStar communications system. If the business does well, Maven will expand to other cities and could even let cars made by GM's rivals onto the platform.
"The last frontier is non-GM owners," she said.
The pitch to GM's individual car owners is that they can make a profit on their cars. If the owner of a Chevrolet Cruze compact, for example, rents out the car for seven days each month, they can bring in $6,401 a year. Since the cars costs $4,970 a year on average, according to Maven, the owner could book a profit. Other vehicles could make even more money.
Taking on Turo
That has its allure, but Maven may have to reach out to other car owners to compete. Turo is the largest peer-to-peer car-sharing business, with 7 million users and 250,000 cars on the network globally. With 850 makes and models, Turo has a bigger and more open marketplace that will be tough to beat, Turo CEO Andre Haddad said.
He said the service has been growing its network for seven years and ridership is expanding at about 100% a year.
"We think an open marketplace is critical," Haddad said. "Think about Airbnb, EBay and Amazon. We think we have an insurmountable advantage."
Turo raised $115 million in a funding round led by Germany's Daimler AG and South Korea's SK Holdings Co., Haddad said. The company has been valued at about $700 million. Rival Getaround raised $45 million last year, with Toyota Motor Corp. among the companies buying in. HyreCar Inc. raised $12.6 million in an initial public offering last month. The company said its revenue grew to $3.22 million last year from $515,400 a year earlier.
The future
The peer-to-peer plan will help Maven grow, Steyn said. The GM unit has expanded its user base 18-fold in the past year to 160,000 users in 17 cities: 118,000 who rent cars by the hour and 42,000 who drive for Uber, Lyft or a delivery service, Maven said.
The brand is still investing for growth. As Steyn sees it, the potential is in the sheer volume: Americans drive more than 3 trillion miles a year, and by 2030, 1 trillion of them will be driven in shared mobility services. If GM gets a decent cut, Maven could be a big business.
"Peer-to-peer is the future," said Grayson Brulte, co-founder of Brulte & Associates, a consulting firm specializing in mobility. "Consumers want on-demand access to mobility. It's more cost effective, and there is choice. But you can't limit it to one brand."
---
Sign up for the California Politics newsletter to get exclusive analysis from our reporters.
You may occasionally receive promotional content from the Los Angeles Times.