If you were a young person in the 1960s, you almost certainly rode in a Volkswagen Beetle. If you were lucky, you owned one. And it was bitchin'.
If you lived in Southern California, you might have ridden in a VW dune buggy, maybe in Baja or at Pismo Beach. And it was boss.
You could buy a beater Beetle for a few hundred dollars. For a few hundred more, you could get a kit and some oversized tires and turn it into a cheapo sand rail. And it was gnarly.
Join the conversation on Facebook >>
For 2016, when nothing is bitchin,' boss or gnarly anymore, Volkswagen has introduced a new spin on this old beach buggy.
Called the Beetle Dune, it's a stylistic throwback to those sunny, sandy days when all that happiness required was a pair of jams, some zinc oxide and maybe a can of Fresca.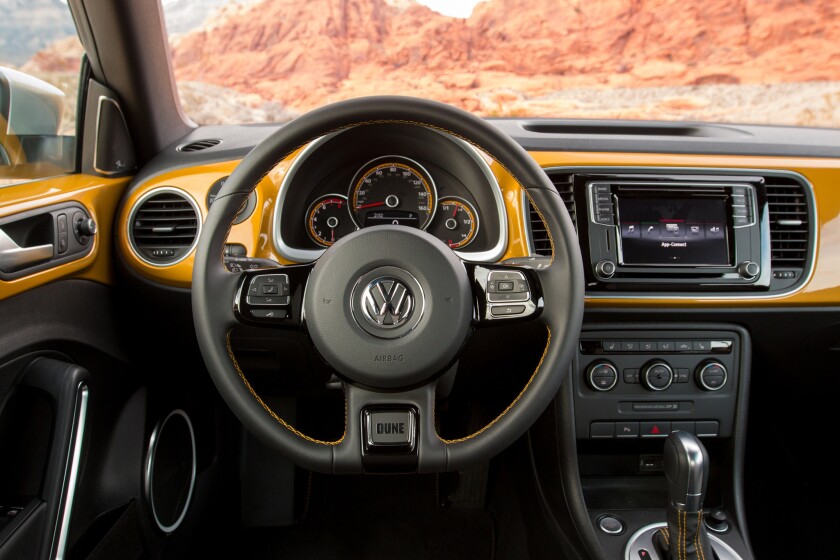 Volkswagen produced Beetles for 40 years, and sold more than 21 million of them, without really changing the odd, iconic design or doing much to upgrade the chassis or power train. Bug-eyed and bubbly, they handled poorly and struggled to achieve freeway speed.
But they were so cute that they became a worldwide export sensation, and helped put the war-shattered German economy back on its feet.
"The Beetle put the entire globe on wheels," said Edmunds.com editor in chief Scott Oldham. "Its simplicity and its durability and its cuteness spoke to everyone."
SIGN UP for the free California Inc. business newsletter >>
They also were popular because they were affordable, and fairly dependable. When they broke down or wore out, parts for the rear-engine, air-cooled Bug were cheap and repairs were simple enough for the average shade tree mechanic. And they were so unlike anything built in Detroit that it was easy to view them as the vehicle of the counterculture. The van version became synonymous with "hippie."
But the 60s ended. VW phased out the bug in the 1970s and replaced it with the Rabbit, known in Europe as the Golf. The company waited more than 20 years to reintroduce its icon, with the 1997 New Beetle, a front-engined, water-cooled Bug that even grown-ups could enjoy.
Sales were strong, but according to Oldham, interest was largely limited to female consumers. In the words of a mechanic friend, who asked not to be named, "It was kind of a girlie-car."
The new Dune, styled like a muscular version of the original, is an attempt to man up.
VW has given the Dune the 1.8-liter, turbocharged, direct-injection engine that powers many of its Jetta, Golf, Passat and Beetle cars. It produces 170 horsepower and 184 pound-feet of torque, on a vehicle that weighs just under 3,100 pounds.
Around town it's peppy and energetic, and very easy to drive. Most cars take a little getting used to. I was comfortable in the Dune before I left the driveway.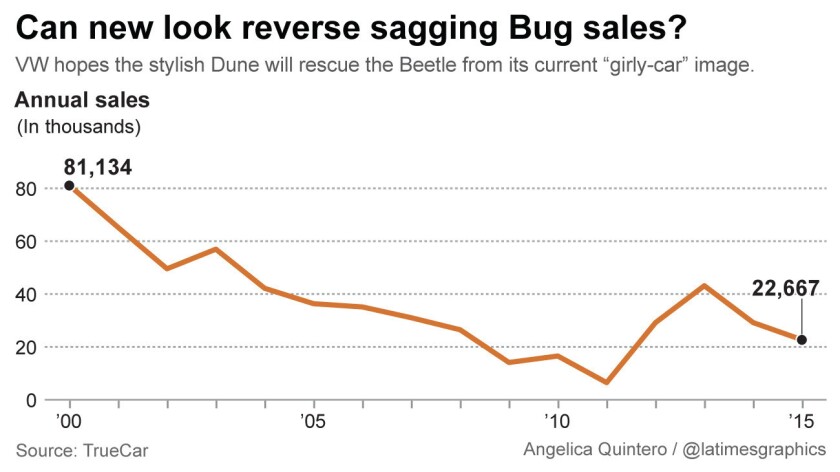 Though it sits a tad taller and wider than the regular Beetles, and on bigger tires, the Dune still feels like a go-cart — it's squat and square, with sharp handling. The passenger compartment feels roomy and offers excellent visibility. On the freeway, the small engine holds its own pretty well, and the suspension holds the road with confidence. I didn't drive to Santa Barbara, but I could have, happily.
Like most Volkswagens, the Dune's fit-and-finish scores higher than the MSRP might suggest. The doors are solid, the ride is quiet, and the interior materials feel as if they're built to last.
The model I drove was loaded with extras: two-tone upholstery with leather accents, keyless ignition, Park Sensor Control, Fender audio system, dual-zone climate control and a sun roof.
Standard, this post-modern bug connects to Apple CarPlay and Android Auto, and has ample plug-ins for devices. It even comes with a special millennial amenity: a pocket-size case containing extra cables.
The Dune also features a switch that allows three interior lighting choices. I chose a soft blue, set the Sirius XM to Little Steven's Underground Garage, and hoped I'd get some Jan and Dean on my way to the beach.
Exterior color choices include Pure White, Deep Black Pearl and Sandstorm Yellow. Accented against the black wheels and fender skirts, the mustardy yellow proved popular — especially the interior dashboard and door panels, accented by black sport striping, which call to mind the era when we all met the Beetles.
See the most-read stories this hour >>
My Saturday morning tennis companions scoffed as I drove up, but soon changed their minds. "If you can't get a date in that car, forget it," one of them said.
Because this is most likely a young person's car, it may not matter that the back seats don't offer a lot of leg room or head room, in contrast to the ample front passenger seat. My 20-something passengers pronounced the Dune a cozy back seat ride, but agreed that anyone going on a surfin' safari had better bring small friends.
The trunk space is generous, however, and the Dune comes with a full-size spare tire — an increasing rarity in new cars.
Volkswagen has said a convertible version of the Dune will be available in late 2016. Even if rumors of a diesel version prove true, odds are it won't show up until the company works out an engineering solution to its ongoing emissions problems.
Meanwhile, VW could work on some other engineering issues. The climate control system in the Dune works best at high volume but feels like a wind tunnel and produces aviation-grade noise.
The turbocharged engine suffers from the phenomenon known as "turbo lag" — a stomp on the accelerator is followed by a half-second hesitation, as if the car were deciding whether to comply. Then it jolts forward, seemingly to make up for lost time. Even in semi-automatic "sport" mode, I had a hard time keeping the engine lit on slow-down, speed-up winding roads.
Perfection is a lot to expect from a car, especially one so moderately priced. Consumers attracted to the Dune won't be buying performance, anyway. They'll be buying cute, if they're younger buyers, or memories, if they're older.
2016 Volkswagen Beetle Dune
Times' take: A classic beach buggy, reborn
Highs: Economical, attractive, well-made
Lows: "Turbo lag" detracts from turbo power
Vehicle type: Two-door, five-passenger sedan
Base price: $23,995
Price as tested: $26,310
Powertrain: 1.8-liter, four-cylinder turbocharged engine
Transmission: Six-speed automatic
Horsepower: 170
Torque: 184 pound-feet
Zero to 60 mph: Not available
Estimated fuel economy rating: 25 mpg city / 34 highway / 28 combined
MORE BUSINESS NEWS
Tristan Walker's Bevel is making shaving better for men of color
Why airlines' frequent-flier programs are now rewarding big spenders
Why Apple's fight with the FBI could have reverberations in China
---