Ikea to slash 7,500 jobs, focus on smaller stores as online competition heats up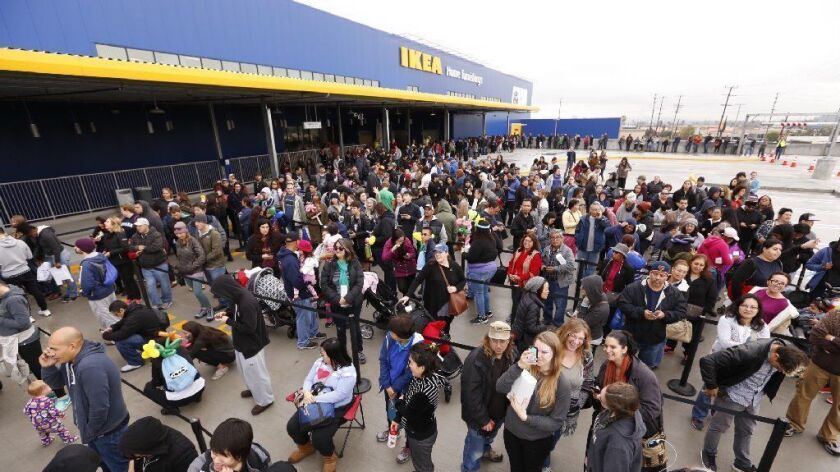 Furniture giant Ikea plans to cut 7,500 jobs worldwide as part of a plan to cater more to online customers, the company said Wednesday.
The shake-up at the Swedish company, first reported by the Wall Street Journal, shows that even Ikea — known for its massive suburban stores and affordable assemble-yourself furniture — is not immune to the online competition that has affected other bricks-and-mortar retailers.
Most of the job cuts will not hit Ikea's retail workers, but rather those in office positions including human resources and communications, the Journal said.
Meanwhile, the retailer plans to create thousands of new jobs — 11,500, or 4,000 more than it is cutting — by opening 30 new stores in urban centers and by investing in its e-commerce and delivery offerings.
In Wednesday's statement, Lars Petersson, Ikea's manager for U.S. retail operations, said the company wants to "create the Ikea of the future by ... being more accessible and fully embracing technology."
Ikea has known for some time that it needed to up its online game and be less dependent on its behemoth bricks-and-mortar stores.
In its 2015 annual report, the company noted the "rapidly changing retail landscape" and said it was in the process of rolling out online shopping in all of its global markets. Though it is still opening big new stores in the U.S. and elsewhere, it has also scaled back. This year, Ikea scrapped plans for stores in Nashville; Glendale, Ariz.; and Cary, N.C.
In a financial report last month, the company said that during the 12 months that ended Aug. 31 its website drew 2.5 billion visits but accounted for only 5% of sales.
Though Ikea remains the market leader in in-store U.S. furniture sales — with a market share of nearly 9%, according to research firm IbisWorld — it lags badly behind smaller competitors when it comes to online sales. On that side of the market, online retailers Wayfair and Overstock.com, as well as Williams-Sonoma, which owns West Elm, control 39% of the market.
Americans still buy more furniture in stores than they do online, with stores expected to generate revenue of about $66 billion this year compared with less than $10 billion for online retailers, according to IbisWorld. But online competition is a growing problem for Ikea, as IbisWorld expects online sales will take an increasing share of the overall furniture market.
Seth Basham, an analyst at Wedbush who follows Wayfair and Williams-Sonoma, said online furniture sales have been growing by more than 10% a year while furniture sales overall have grown just 4%.
One element of the company's strategy is making Ikea more convenient, whether by allowing for faster pickup or delivery — a key driver of Amazon's increasing retail dominance — or by putting stores closer to where customers live.
Ikea's recent financial report noted that it has been experimenting with retail concepts aimed at expanding beyond the massive suburban stores the company is known for. In the last year, the company has opened smaller stores — ones that essentially serve as showrooms but not warehouses — that make sense in city centers or smaller communities.
That mirrors a strategy Target and other big retailers have adopted as they try to stem the tide of online shopping by making in-store shopping more convenient.
Ikea has also opened temporary pop-up stores and remote pickup points, which allow customers to order in store or online, then pick up items somewhere closer to home. That's potentially more convenient than a trip to the suburbs and cheaper than paying to ship heavy goods.
Basham said Ikea is making a more aggressive push not only because of growth in online shopping but because it has seen fewer shoppers coming into its big-box stores.
"It wants to be closer to the shopping patterns of people," Basham said. "Buying online and picking up in-store, or offering pickup from city center stores, makes sense for where the population is shifting."
He noted that as Ikea pushes further into e-commerce, it could mean more competition — and slower growth — for Wayfair, West Elm and others.
"It's going to be tougher to see the same level of growth we've seen in the past, but there's room for all of them," he said. "The losers are the regional furniture stores and the mom-and-pop retailers."
Petersson said he expects only about 75 job cuts in the U.S. and noted that the company plans to open two stores next year, in San Antonio and Norfolk, Va., creating about 500 new positions.
The company currently operates 48 U.S. stores, including eight in California. Five are in the southern half of the state — Burbank, West Covina, Carson, Costa Mesa and San Diego.
Twitter: @jrkoren
---
UPDATES:
1:45 p.m.: This article was updated with market data from research firm IBISWorld and Wedbush analyst Seth Basham.
11 a.m.: This article was updated with more details and background on Ikea's new retail strategy.
9:05 a.m.: This article was updated with more details on Ikea's initiatives to counter online competitors.
8 a.m.: This article was updated with staff reporting.
This article was originally published at 7:30 a.m.
---
Your guide to our new economic reality.
Get our free business newsletter for insights and tips for getting by.
You may occasionally receive promotional content from the Los Angeles Times.