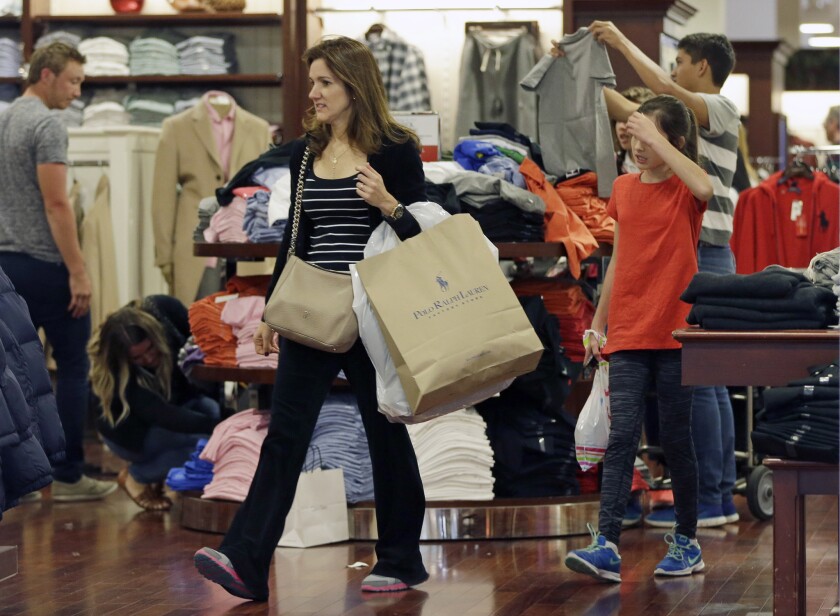 Reporting from Washington —
Growth in consumer spending slowed in January despite a solid increase in incomes as rising prices hurt Americans' buying power.
The annual inflation rate rose to 1.9%, its highest level since 2012 and close to the Federal Reserve's target, the Commerce Department said Wednesday.

The data boosted the likelihood that the Fed would raise a key interest rate again in the coming months in an attempt to slow rising inflation.
Although personal income increased by 0.4% in January, up from 0.3% the previous month, inflation took a big bite out of the spending power of that growth. Disposable income after adjusting for inflation declined 0.2% in January, the first such drop in more than three years.
Rising prices also hit consumer spending, which after adjusting for inflation declined by the most since 2009.
Overall, consumer spending increased 0.2% in January, down from 0.5% the previous month and a tick below analysts' expectations.
But taking into account the rise in prices, consumer spending declined 0.3% in January. It was the first such drop since the summer and a sharp change from a 0.3% inflation-adjusted increase in December.
The Commerce Department's price index for personal consumption expenditures is the preferred inflation gauge of Fed monetary policymakers.
The index rose 0.4% in January, twice the increase of the previous month. That meant that for the 12 months ended Jan. 31, prices rose 1.9%.
The annual inflation rate through Dec. 31 was 1.6%.
The Fed wants prices to rise 2% annually. With strong job growth and the unemployment rate low, an increase in inflation to near the Fed's target provides more impetus for another hike in the central bank's benchmark short-term interest rate.
With consumer confidence high and the Trump administration pushing stimulative policies such as tax cuts and increased government spending, Fed officials don't want inflation to rise too high.
At the Fed's latest meeting Jan. 31-Feb. 1, officials said another small rate hike could come "fairly soon," according to minutes released last week. That echoed recent comments from Fed Chairwoman Janet L. Yellen and other policymakers that they could raise the rate at one of their upcoming meetings.
The Fed's next meeting is March 14-15. Investors believe there is about a 70% chance of a 0.25 percentage point rate increase at that meeting, according to the CME Group futures exchange.
The Fed raised the rate by 0.25 percentage point in December to a target of between 0.5% and 0.75%, the first hike in a year. At the time, Fed policymakers indicated three more increases were coming in 2017.
The U.S. labor force's guy problem: Lots of men don't have a job and aren't looking for one »
How Trump could use the presidency to help his own business interests »
Follow @JimPuzzanghera on Twitter
---