State found lapses in infection control at UCLA and Cedars-Sinai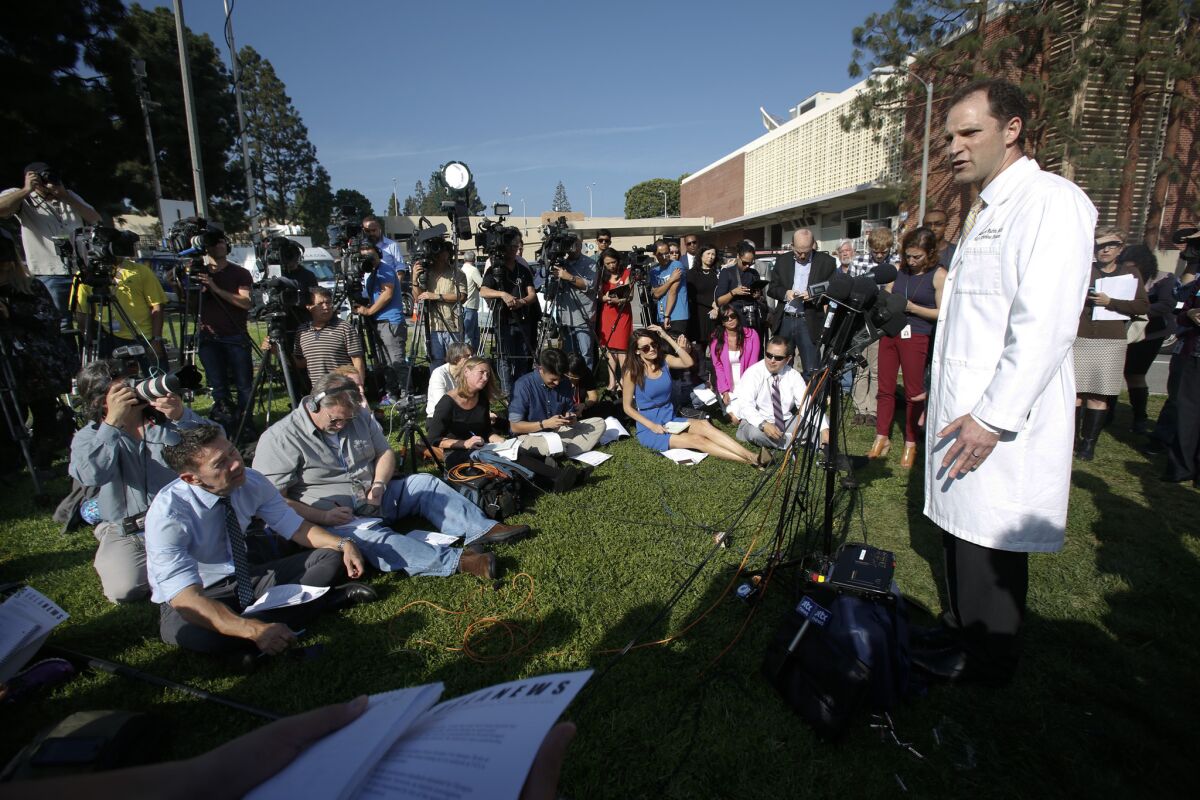 After "super bug" outbreaks last year involving a hard-to-clean medical scope, state health inspectors descended on two of Los Angeles' largest hospitals and found numerous safety violations that appeared to put far more patients at risk.
At UCLA Ronald Reagan Medical Center, the state declared an "immediate jeopardy" – meaning lives were at imminent risk – on March 4, 2015, after finding staff using contaminated water and a tainted liquid cleaner dispenser being used to ready colonoscopes and other devices for the next patients.
While an "immediate jeopardy" ruling is rare, inspectors used it again 21 days later at an inspection at Cedars-Sinai Medical Center. There they found a "widespread pattern of potential ineffective sterilization and storage of surgical instruments" as well as problems with the disinfection of scopes.
Both hospitals quickly worked to fix the inspectors' concerns, with the "immediate jeopardy" lifted after just three hours at UCLA and a day at Cedars. On follow-up visits, the state found the problems had not continued.
UCLA and Cedars officials said Friday they were not aware of any patients who were sickened by the sterilization problems the state regulators found during the March 2015 inspections.
Yet patient advocates said that the reports showed how infection control practices can lag even at top hospitals that had recently responded to bacteria outbreaks.
"You would think these very sophisticated leading facilities would have been on a hospital-wide alert," said Lisa McGiffert, who leads the safe patient project at Consumers Union. "Hospital leadership is not putting enough resources into infection control."
At the time of the super bug outbreaks, which both began in late 2014 and extended into early 2015, leaders at the hospitals said they had stepped up cleaning of duodenoscopes – the device linked to the infections. At least six people died at two Los Angeles area hospitals, including UCLA, from those infections.
But the inspectors from the state Department of Public Health reviewed more than the cleaning of duodenoscopes. They looked at the hospitals' practices in disinfecting all types of gastrointestinal scopes, as well as surgical equipment.
Some of the problems appeared to be longstanding.
For example, at Cedars, inspectors found that employees were not following safety standards as they packed trays of surgical instruments for sterilization in a machine. They found instruments ready to be delivered to the operating room tightly packed in a tray, with employees not opening devices like forceps and clamps at their hinges so that sterilizing fluid could get to all surfaces.
Two Cedars employees told the inspector "this is a typical condition of the instruments," according to the inspectors' report.
Inspectors found similar problems in sterilizing surgical instruments with hinges at UCLA.
At UCLA, the inspectors said that the hospital had no one supervising the nurses and technicians who cleaned equipment in the rooms where gastroenterologists treated patients with scopes.
The hospital also did not ensure those employees were competent in disinfection practices, the report said. For example, the inspectors found nurses using a cleaning product without being aware that the liquid had to remain on a surface for three minutes to work.
Dr. Zachary Rubin, UCLA's medical director of clinical epidemiology and infection prevention, said Friday he disagreed with many of the inspectors' findings.
Rubin said he didn't believe the problem with the liquid cleaner dispenser used in disinfecting the scopes was a threat to patients since the product was used in an early step in the process. The devices then went through an automatic washer, he said, where they were disinfected.
He noted that the Los Angeles County public health department had reviewed UCLA's cleaning of duodenoscopes soon after the hospital identified the outbreak, and a month before state inspectors arrived. The county officials found no problems at that time.
Michael Langberg, chief medical officer at Cedars-Sinai, said the hospital had immediately addressed the findings in the state inspection report.
Langberg pointed out that the state inspectors had not found any surgical instruments that were not sterilized – "only the potential for inadequate sterilization."
"Cedars-Sinai Medical Center infection prevention specialists and other staff have taken numerous additional precautionary steps to further ensure that all surgical equipment is sterile," Langberg said.
An "immediate jeopardy" is one of the most serious violations that can be levied against a hospital. If the problem is not quickly remedied, a hospital can lose its ability to participate in Medicare. Hospitals can be fined by as much as $100,000 for such violations.
In 2014, the state issued the penalties to just five of Los Angeles County's 120 hospitals.
State regulators did not immediately respond when asked if the two hospitals had been fined or otherwise penalized because of the inspectors' findings.
The violations were detailed in the inspectors' "statement of deficiencies," which were only recently released.
In their reports, inspectors said disinfected scopes were not safely stored to keep them free of bacteria at either hospital.
The inspectors at Cedars also looked at records of 23 patients who had scope procedures, finding that two of them were not given informed consent – or told about the risks – before the treatment.
In a room at Cedars where doctors performed scope procedures, an inspector found "dried debris and dirt caked material in the seam" that extended down the length of a radiology table where patients were treated. The nurse in the room said "the debris had been present for a considerable period of time."
An inspector at UCLA watched a colonoscope procedure, finding the doctor did not wash his hands before touching the patient, even though university policy requires it.
The state inspectors also faulted the top leaders at both hospitals for failures by key quality assurance committees that are expected to quickly investigate medical errors so problems can be fixed.
UCLA's committee dedicated to quality assurance had not even designated a person to evaluate whether staff were safely disinfecting the scopes after the outbreak, the state report said.
At Cedars, while members of the quality assurance committee had been informed of the outbreak, the inspectors said, there was no evidence that any member had visited the room where the scopes were cleaned.
McGiffert at Consumers Union said such committees at hospitals are crucial to changing practices so problems don't reoccur.
"We have no assurance that these committees are doing what they are supposed to do," she said.
Both hospitals had linked their outbreaks to duodenoscopes sold by Olympus Corp. The device is a long snake-like tube with a tiny camera on its tip used for procedures in the upper gastrointestinal tract.
Olympus recalled one of its duodeonscope models in January. An outside expert had told the company in 2012 that the design of the device could allow bacteria to remain trapped after cleaning.
Rubin at UCLA said Friday that the university had found seven more patients infected with carbapenem-resistant Enterobacteriaceae, or CRE, in the voluntary testing that happened after the hospital identified the outbreak. That means that in all, 15 patients were sickened by the scope, including three who died.
At Cedars, four patients were sickened by CRE from an Olympus duodenoscope.
Rubin said that at the time of the outbreak, UCLA had quickly tried to determine what was making patients sick – difficult work that other hospitals may skip.
"We identified it early," he said, "because we looked for it."
ALSO
Why the Normandie Casino in Gardena may be hitting its limit
This airline wants to replace Southwest as California's go-to carrier
Why did El Niño miss SoCal? It's complicated, National Weather Service says
---
Sign up for the California Politics newsletter to get exclusive analysis from our reporters.
You may occasionally receive promotional content from the Los Angeles Times.