Alaska Airlines wants to replace Southwest Airlines as California's go-to airline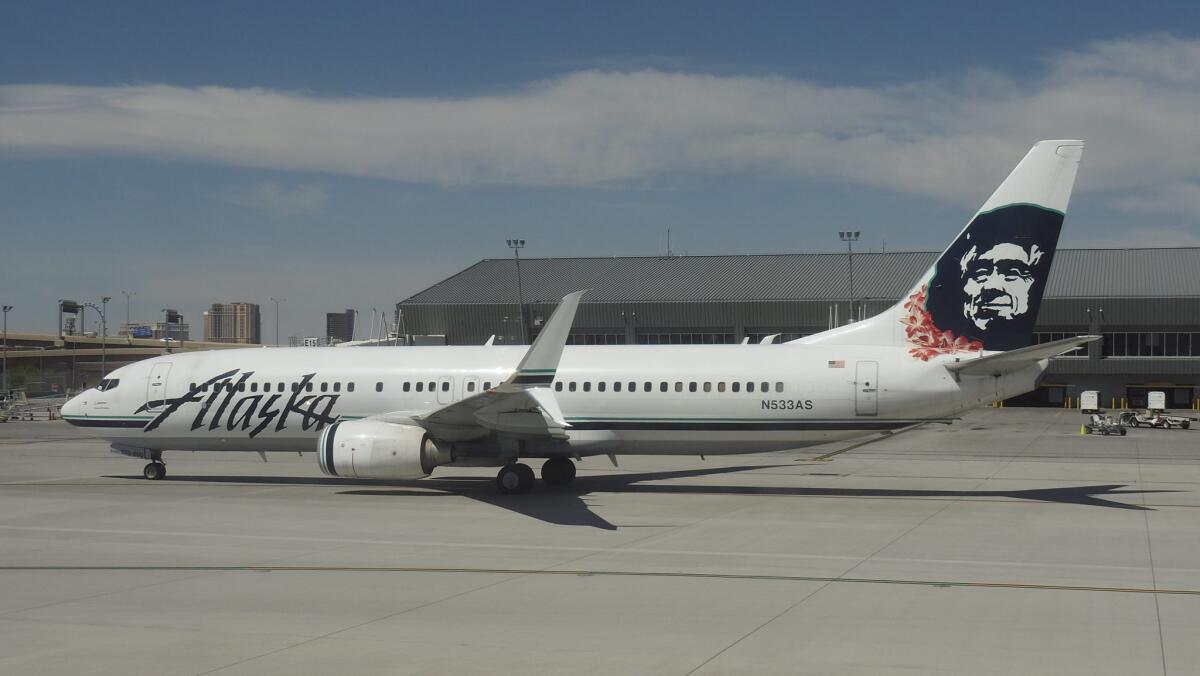 Executives at Southwest Airlines like to joke that they run a California airline, based in Texas.
For good reason. The Dallas-based carrier flies more passengers in and out of California each year than any other airline, thanks primarily to a dominance in midsize cities including Burbank, San Diego, Oakland and San Jose.
"We have never fallen out of love with California," said Andrew Watterson, Southwest's vice president of network and revenue.
But there is a new suitor for California fliers.
The parent company of Alaska Airlines is rushing forward with a $2.6-billion deal to acquire Virgin America in hopes of becoming the predominant airline of the Golden State — and the entire West Coast.
"Right now we are not your go-to airline if you live in California," said Joseph Sprague, senior vice president for communications and external relations at Alaska Air Group. "We plan to change that."
The deal sets up a David-and-Goliath battle to reign supreme in California, one of the nation's most lucrative travel and tourism markets and home of 39 million potential fliers.
The competition could be good news for California travelers because both airlines are expected to fight for passengers with low fares, convenient routes and better departure times.
"If we see more competition emerge, that is a good thing for the travelers," said Henry Harteveldt, an airline and travel analyst for Atmosphere Research Group in San Francisco.
Southwest is usually the best deal in California air travel.
On the state's busiest airline route between Los Angeles and San Francisco, traveled by nearly 2 million passengers each way a year, Southwest's lowest fare is a bit more — about $140 round trip for the cheapest tickets — than competitors Virgin America, American Airlines and Delta Air Lines, which offer round-trip economy seats for as low as $137.
We have never fallen out of love with California.
— Andrew Watterson, Southwest's vice president of network and revenue
But Southwest's ticket price includes two free checked bags and there are no fees to reschedule a flight. The other airlines charge $25 for the first checked bag; double that for round trip. Rescheduling could cost a traveler up to $200 a ticket.
Still, Alaska and Virgin America have weapons beyond price in the battle against Southwest.
Virgin America flights add cool ambiance and friendly service plus a high-tech onboard entertainment system that makes flying fun and relaxing, veteran air travelers say.
John Riddle, an advertising producer from San Francisco, has been flying Virgin America for about six years and said he would rather pay extra to fly Virgin America over Southwest.
On Virgin America, he said, he can order food from the seat-back entertainment system and plug his laptop into the in-seat power outlets -- features not found on Southwest.
"Once I fly them, every other airline seems bland," Riddle said.
Those kind of features helped Virgin America win "best domestic airline" in Condé Nast Traveler's readers' choice awards for the last eight years, among other honors.
See the most-read stories this hour >>
Alaska is also known for good passenger service, having been the highest-ranking traditional airline for nine straight years in the J.D. Power airline satisfaction study.
Alaska also has the only loyalty reward program in the industry that offers awards based on miles traveled. Most other airlines have shifted to a rewards program based on dollars spent.
"You have one well-liked airline buying another well-liked airline," said Seth Kaplan, managing partner for the trade magazine Airline Weekly.
But Southwest fires back, saying it flies to nearly 100 large and midsize airports across the country and remains the only major U.S. carrier to charge no fees to check the first two bags.
"We don't nickel-and-dime people," Watterson said.
Celebrity billionaire Richard Branson launched Virgin America in 2007 with a plan to offer Hollywood executives, Silicon Valley entrepreneurs and other California fliers high-tech amenities, mood lighting, and hip drinks and snacks. But Virgin America, based in Burlingame, Calif., operated in the red for the first several years, reporting its first profitable year in 2013.
Seattle-based Alaska Airlines, a no-frills carrier known for the smiling Eskimo logo on the tail of its planes, now dominates in the Pacific Northwest, where it is the largest carrier in Seattle, Portland, Ore., and Anchorage. By acquiring Virgin America, Alaska can take over Virgin America's airport gates at Los Angeles, San Francisco, San Diego and Palm Springs.
As a team, Alaska and Virgin America have a long way to go to overtake Southwest in California.
Alaska and Virgin America combined fly about 17 million passengers a year in and out of the state, compared with about 47 million for market leader Southwest, according to federal statistics. Alaska and Virgin America also would need to push past the carriers that currently are second and third in the passenger race, United and American, respectively.
At Los Angeles International Airport, Alaska and Virgin America combine to serve about 8.5% of the passenger traffic, compared with 11.5% of the total traffic for Southwest.
Southwest has 10 gates at LAX. Alaska operates six passenger gates, plus three more it shares with Delta. But the airline will pick up another six gates from Virgin America after the acquisition.
"Alaska is going to be quite a significant player at LAX," Harteveldt said.
Alaska and Southwest are not the only airlines courting California fliers.
New York-based JetBlue Airways, which was outbid by Alaska to acquire Virgin America, plans to add its popular "Mint" service to several transcontinental routes in the next few months, including flights from San Francisco and San Diego.
The Mint service, favored by Hollywood VIPs and Silicon Valley executives, includes extra roomy, lie-flat seats, complimentary Wi-Fi, onboard entertainment and tapas-style food from New York restaurant Saxon + Parole. Flying across country in a JetBlue Mint-service seat can cost more than three times the price of a standard seat.
Before Alaska can do battle with Southwest, the airline must complete its acquisition of Virgin America and decide whether to absorb Virgin America's 60 planes and 3,000 employees into Alaska's operations or keep the two airlines separate. Alaska has about 11,000 employees and a fleet of 153 planes.
Sprague said a complete integration of the two airlines under Alaska Air Group could take up to 12 months. Many industry experts agree that the acquisition won't trigger antitrust protests from the Justice Department.
The deal means that Alaska can take over Virgin America's lucrative transcontinental routes from LAX to New York's John F. Kennedy International Airport, Ronald Reagan Washington National Airport and LaGuardia Airport.
But Kaplan of Airline Weekly points out that neither Alaska or Virgin America offer the roomy, lie-flat seats that are popular on Delta, United and American airlines.
"My guess is they will have to add lie-flat seats on transcontinental flights if their intention is to be competitive in those markets," he said, another consumer benefit.
In the meantime, Alaska must figure out how to win over some of the most hard-core Virgin America fans.
"I would be disappointed if Alaska modified the fabulous in-flight entertainment system that always featured newly released movies and access to live TV, the very tasty meals or the seat-to-seat chat system," said Eric Rose, a partner in a Los Angeles media and public relations company who flies Virgin America for vacation travel.
An Oklahoma fan of Virgin America wrote a Twitter message after the deal was announced, saying, "Let's hope airfare stays cheap and the in-flight experience doesn't change for the worst."
ALSO
Airline trade group wants fliers to report long lines to TSA
Airline satisfaction levels are up but fliers still hate removing shoes
Civil rights groups suggest compensation for victims of racial profiling on planes
Twitter: @hugomartin