Juicero has taught us: There is such a thing as bad press
Social media served up a schadenfreude shake Friday on news that Juicero, a startup that created a widely mocked Wi-Fi-compatible juicer, went under.
Juicero was supposed to do to the cold-press juice market what the Keurig machine did to the world of boutique coffee — make every consumer into a barista, and make some venture capitalists very rich.
For a while, Silicon Valley believed in Brooklyn hipster-vegan Doug Evans. Google's venture capital arm was among the investors that threw millions of dollars into Evans' $700 machine and its subscription-based juice bags.
It wasn't long before wags were dubbing Evans' creation "smart juice."
Then came the cheeky questions: "Why might I want to spend $700 on a Wi-Fi-connected juicer?" Lauren Goode, of the Verge, asked Evans during a September podcast of "Too Embarrassed to Ask."
"It's this intersection of fresh, organic agriculture, and desktop technology to make it easy so that you can make a juice in two minutes," Evans told Goode and her co-host, Kara Swisher of Recode.
This "monster of a machine inside this veil of this nice aesthetic," included 10 printed circuit boards, a scanner, microprocessor, wireless chip and wireless antenna, all battened down by "latches that support 16,000 pounds of force," Evans explained.
We knew Keurig, sir, and you're no Keurig
Faster than you could press a kale-beet-mango shake, skepticism turned to outright mockery.
In April, two Bloomberg reporters, Ellen Huet and Olivia Zaleski, publicly tested what several investors had discovered: You could just squeeze Juicero's produce bags by hand and skip the machine, which had by then been reduced to $400.
"Bloomberg performed its own press test, pitting a Juicero machine against a reporter's grip," the duo wrote. "The experiment found that squeezing the bag yields nearly the same amount of juice just as quickly — and in some cases, faster — than using the device."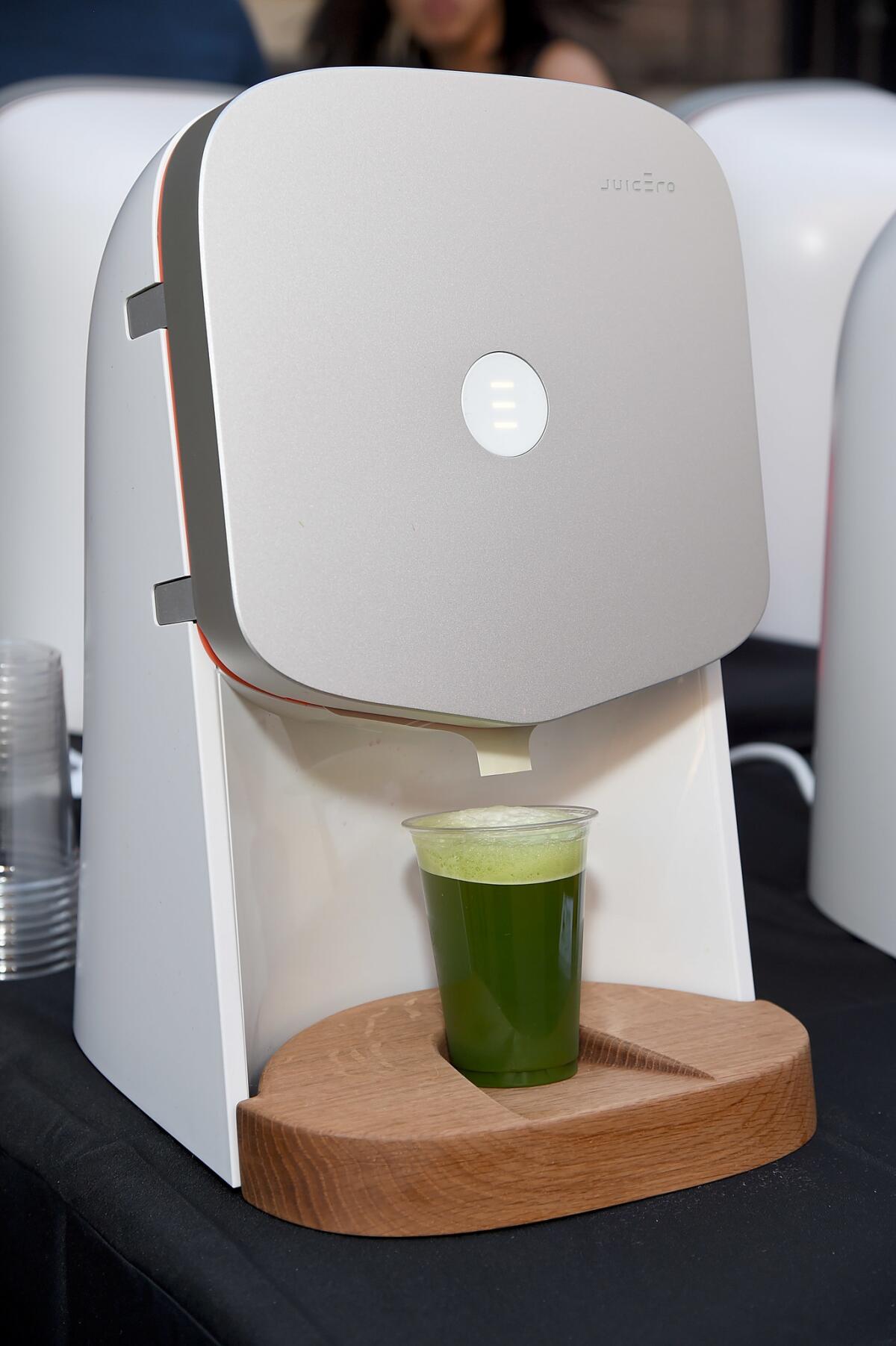 Just about everyone turned on Juicero.
"The Internet can't stop laughing at this high-tech juicer story," crowed Tom Philpott of Mother Jones, who had mocked the machine five months before "Embarrassed" cornered Evans.
Juicero's new CEO, former Coca-Cola executive Jeffrey Dunn, offered consumers a full refund — which the company renewed Friday, for 90 days — even as he defended the machine.
"What we're building is long-term in nature and requires us to innovate each part of our system," he wrote in a Medium post the day after Bloomberg's piece ran.
"While it is never easy to face some of this week's headlines and critiques, we're still learning, listening, and improving, and we confidently stand behind our promise to help people on their journey to health," Dunn wrote.
Death by the drop
By July, the Internet had moved on to mock other things. But Juicero was substantially downsizing its ambitions. It laid off a quarter of its staff as it struggled to come up with a cheaper machine and alter its sales strategy.
Dunn also unceremoniously sidelined Evans, leaving him with a board seat but no role in the day-to-day operations of the company he founded.
By Friday, news that Juicero had closed up shop came as little surprise.
"Today, after selling over a million Produce Packs, we must let you know that we are suspending the sale of the Juicero Press and Produce Packs immediately," Dunn wrote on the company website.
Dunn acknowledged that Juicero's ambition to scale up "requires infrastructure that we cannot achieve on our own as a standalone business." The company will try to find a buyer "who can carry forward the Juicero mission," he added.
Juicero had its final moment of trendiness Friday, and it was not pretty.
Who lost money?
Lest anyone forget, James Wang of ARK Invest ran a list of who ponied up $119 million — more, he said, than SpaceX attracted in its first four years.
Others added Juicero to the Startup Hall of Shame that includes Yik Yak, the anonymous messaging app once valued at $400 million.
One Twitter account with a family-unfriendly name and the motto, "whatever, put a chip in it," was more blunt.
Your $400 juicer, it said, is now a paperweight.
Twitter: @LATgeoffmohan
ALSO
Harvey's havoc could cost airlines big, with United hit hardest
$3-billion electric vehicle rebate bill moves to California Legislature for full vote
Former Wells Fargo executives say they were scapegoated for accounts scandal