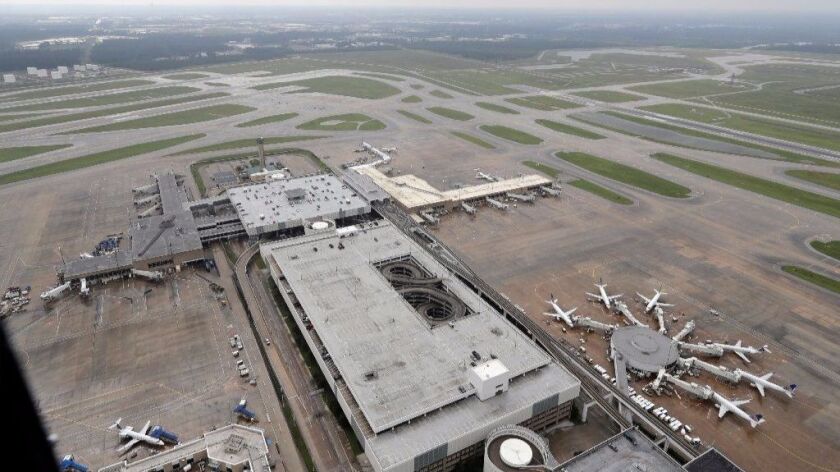 Hurricane Harvey's flooding and high winds forced the cancellation and delay of more than 23,000 flights and closed George Bush Intercontinental Airport in Houston for nearly a week.
The financial hit to the U.S. airline industry won't be known for a while, but a preliminary estimate suggests United, Southwest and Spirit airlines will bear the brunt of the blow.
Although United Airlines is based in Chicago, the Houston airport is a major hub for the carrier; United has canceled about 20% of its flights out of George Bush Intercontinental Airport for the third quarter of the year.
Spirit Airlines has canceled about 9% of its flights from the airport this quarter, while Southwest Airlines canceled about 8% of its flights out of nearby William P. Hobby Airport for the period.
Both airports, which closed last weekend, reopened with limited service Wednesday.
After studying the effect of previous storms and hurricanes, such as Katrina, Ike and Sandy, Cowen & Co. analyst Helane Becker estimated that United could lose $266 million because of Harvey, while Southwest could lose $77 million and Spirit will be out $11 million. The financial toll on Spirit is lower primarily because that airline flies fewer passengers per plane at an average lower fare than Southwest.
In a report to clients, Becker said it is unlikely that the airlines will recoup the lost revenue from people in the region because it is "difficult to go on vacation after your house was flooded or the roof torn off."
Still, investors don't seemed overly worried about the financial hit to the industry, with the Dow Jones U.S. airline index ending the week little changed from where it started.
To read more about the travel and tourism industries, follow @hugomartin on Twitter.
---