Juul will stop selling most flavored e-cigarettes in retail stores, source says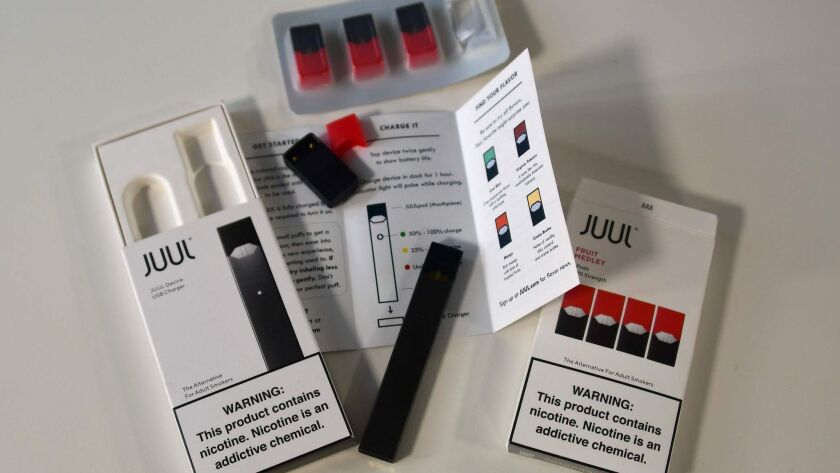 Bloomberg
Juul Labs Inc., the maker of a hot-selling vaping device that is increasingly popular with teens, will stop selling most flavored e-cigarettes in retail stores, according to a person familiar with the matter.
The decision follows word that U.S. health officials are preparing to step up efforts to curtail underage use of e-cigarettes. On Thursday, a senior official at the Food and Drug Administration said the agency plans to restrict sales of many fruit- and dessert-flavored nicotine pods to adult-only stores.
The new curbs will apply only to cartridge-style devices, such as Juul, according to the FDA official. The Juul device has become popular with young people in part because its small size and resemblance to a USB drive make it easy to conceal.
Juul's move is expected to affect 45% of its in-store retail sales, according to the person familiar with the company's plans. Tobacco and menthol-flavored Juuls would still be available in stores.
Under the FDA's planned restrictions, online sales will be allowed, but only by retailers who verify the buyer's age, just as alcohol can be sold on the web as long as there's someone 21 or older to sign for the package, the agency official said. The regulations are expected to be announced next week and take effect in the coming months.
E-cigarettes have created a paradox for the FDA and the companies that make them: They need to be attractive enough for traditional smokers to switch, but not so enticing that they create an entirely new class of nicotine users.
Action on e-cigarettes would parallel moves the FDA has already made to ban dessert flavors in traditional cigarettes. The agency has also been examining restricting menthol flavors in cigarettes. Reducing or eliminating menthol flavor in traditional cigarettes would be a regulatory action separate from the e-cigarette proposal, said the senior FDA official.
"I am fairly confident there will be a legal challenge," said Lyle Beckwith, senior vice president of government relations at the National Assn. of Convenience Stores. He said he doesn't know of any data showing that vape shops do a better job of age verification than convenience stores.
Spokesmen for the FDA and Juul declined to comment. Plans for the new regulations were reported Thursday by the Washington Post.
Shares of Altria Group Inc., which has its own e-cigarette brands and makes Marlboro cigarettes, were down less than 1% around 11:15 a.m. PST. British American Tobacco shares fell 1.7% in London. Imperial Brands shares climbed 2.1%.
"Any action that slows down the growth trajectory of Juul will be a positive for tobacco sentiment," Jefferies International Ltd. analyst Owen Bennett wrote in a note. He added that it will have a limited effect on the major tobacco companies, as the vape market is a "tiny part" of their sales.
But restrictions on menthol flavor in cigarettes that could come later would hurt tobacco companies' sales.
The FDA has talked for months about ways to reduce youth use of e-cigarettes, citing rising concern that the devices are creating a new class of nicotine users rather than primarily helping people transition off regular cigarettes. The FDA has called youth use of the devices an epidemic and said it would consider significant action to stop it. Vaping surged 77% among high-school-age children and about 50% among middle-schoolers in 2018, according to preliminary government data.
As alternatives surge, the share of U.S. adults who smoke sank to 14% in 2017, which was the lowest measure on record and down from 42% in 1965, according to the Centers for Disease Control and Prevention. About 10% of adults 18 to 24 years old lit up in 2017, down from 13% the year earlier.
Juul's device accounts for almost one in three e-cigarette sales as of the end of 2017, according to the CDC. The San Francisco startup is backed by high-profile investors, including Tiger Global Management and Tao Capital Partners. Fundraising negotiations this year pegged a $15-billion valuation on the business, making its founders worth more than $800 million each.
Tobacco activists said the FDA should impose even greater restrictions, including banning online sales. "It's not enough," said Meredith Berkman, co-founder of Parents Against Vaping E-Cigarettes. "There has to be a complete ban on flavors everywhere."
Armstrong, Edney and Zaleski write for Bloomberg.
---
Your guide to our new economic reality.
Get our free business newsletter for insights and tips for getting by.
You may occasionally receive promotional content from the Los Angeles Times.