KFC goes antibiotic-free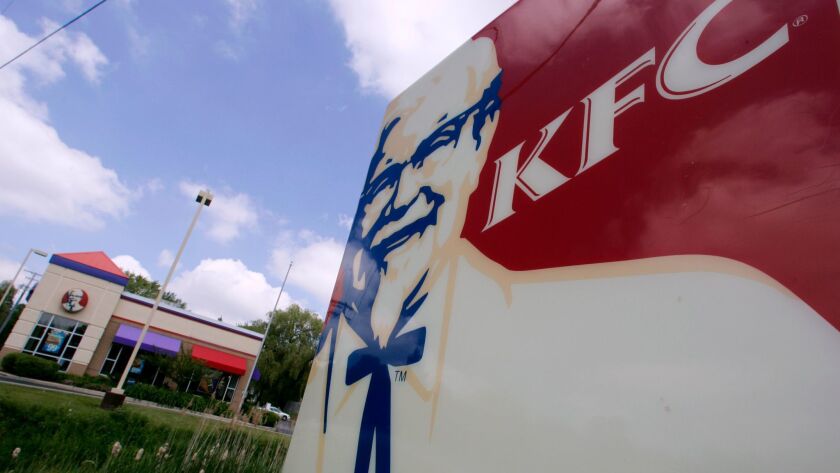 The parent company of KFC announced it will stop buying chicken that is raised using antibiotics that are important to human medicine.
The move by the giant fast-food chicken chain comes after years of pressure from food safety and consumer advocacy groups, and two years after other industry leaders such as McDonald's, Chick-fil-A, Pizza Hut and Taco Bell made similar pledges to phase out the use of products from animals treated with the antibiotics — a practice linked to the rise of "super bug" pathogens that are resistant to multiple drugs.
"By the end of 2018, all chicken purchased by KFC in the U.S. will be raised without antibiotics important to human medicine," KFC announced in a statement Friday. "This includes our chicken tenders and popcorn chicken; but we're especially proud to be the first major chicken chain to extend this commitment to our bone-in chicken."
The policy change is expected to have a widespread effect on the poultry industry, because KFC — owned by Yum Brands — buys its chicken from a great many flocks as a food-safety precaution, according to Lena Brook, food policy advocate at the Natural Resources Defense Council, one of the groups that pushed for the move.
With KFC's shift, more than half of the nation's poultry supply chain will be antibiotic-free in the near future, advocates said.
"This commitment from the nation's most iconic fast-food chicken chain will have a major impact on the way the birds are raised in the U.S. and in the fight against the growing epidemic of drug-resistant infections," Brook said.
Matthew Wellington, antibiotics program director for the U.S. Public Interest Research Group, said the policy change "should have lasting effects on the way these life-saving medicines are used in the chicken industry."
"This announcement is a win for anybody who might someday depend on antibiotics to get well or even save their lives — i.e. everybody," Wellington added.
Routinely feeding antibiotics to animals raised for food has been linked to the surge in resistant strains of bacteria that cause serious human illnesses, blamed for about 23,000 additional deaths annually and $55 million in healthcare costs, according to the U.S. Centers for Disease Control and Prevention.
Earlier this year, Burger King owner Restaurant Brands International pledged to avoid buying poultry that is fed antibiotics considered "critically important" to human health — a more narrow category of drugs than those eliminated by KFC.
Two years ago, California poultry producer Foster Farms began eliminating antibiotics from the chicken it sells at supermarkets, following similar steps by fellow poultry giant Perdue, along with restaurant chains McDonald's, Chick-fil-A, Chipotle and Panera, among others.
Jean Halloran, director of food policy initiatives for Consumers Union, which also supported the KFC move, called on other fast-food chains to follow its lead.
"Antibiotics should only be used to treat disease and not wasted on healthy livestock to make them grow faster or to compensate for filthy conditions on factory farms," Halloran said. "It's time for all fast-food restaurants to help ensure antibiotics keep working by rejecting meat and poultry suppliers who misuse these vital drugs."
Follow me: @LATgeoffmohan
MORE BUSINESS NEWS
Space start-ups get their 'Shark Tank' moment
U.S. employers add just 98,000 jobs; unemployment rate falls to 4.5%
23andMe gets FDA permission to tell customers about disease risks in their genes
---
For reporting and exclusive analysis from bureau chief John Myers, get our California Politics newsletter.
You may occasionally receive promotional content from the Los Angeles Times.