Job growth slows, but unemployment falls to 4.5% as wages climb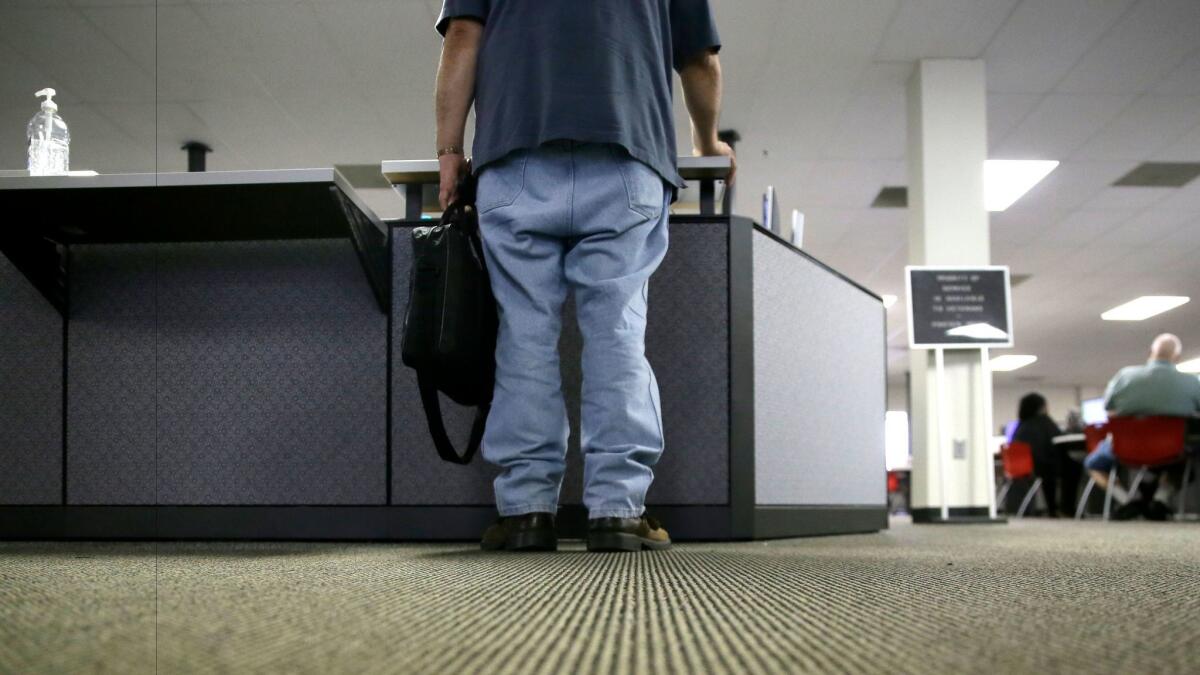 Reporting from WASHINGTON —
After boosting the labor market the first two months of 2017, Mother Nature exacted some payback in helping push March job growth to the lowest level in nearly a year.
A snowstorm in the Northeast probably chilled hiring, particularly among construction companies that had been able to get an earlier start on projects because of unseasonably warm weather in much of the country in January and February, economists said.
That contributed to the surprisingly lackluster addition of just 98,000 net new jobs last month, including another significant decline in retailers' payrolls, the Labor Department said Friday.
But there also was some good news in what analysts called a mixed jobs report.
The unemployment rate fell to 4.5% from 4.7% in February, its lowest level in nearly a decade. And wages continued to show solid growth. Employers are finding that they need to boost pay to attract workers in a tightening jobs market.
"We're approaching full employment, where most people who want a job have a job, and that's a sign of the progress we've made in the labor market," said Gus Faucher, chief economist for PNC Financial Services Group.
Still, overall job growth in March was a little more than half of what economists had expected and well off the 219,000 figure from the previous month.
On top of that, the totals from January and February were revised down by a combined 38,000 jobs.
President Trump and other administration officials had been so eager to tout February's strong job creation that they violated an obscure federal rule about commenting on the report within an hour of its release.
On Friday, they sent out no initial reaction to the March report. Gary Cohn, Trump's top economic advisor, later said the administration was pleased.
"When you look at the jobs report as a whole, I think there's an awful lot of good news in here," Cohn told Fox Business Network.
He cited not only the drop in the overall unemployment rate but a decline in a broader measure, which includes people working part-time but who want full-time jobs, to 8.9%. That was the lowest since late 2007.
The number of people working and the unemployment rate are determined based on a survey of households, while the job-creation figures are calculated from payroll records provided by employers. The two sets of data can provide conflicting views of the labor market.
"Yes, we would have liked to see more jobs created, but remember, this is just one month," Cohn said.
House Minority Leader Nancy Pelosi (D-San Francisco) said the administration needed to start enacting policies to boost job growth instead of just talking about it.
"March's jobs report should serve as a stern warning to President Trump: Tweeting is not a strategy to create jobs for hard-working American families," she said.
For the first three months of the year, the economy has added an average of 178,000 net new jobs a month. That figure is down from the 187,000 monthly average last year.
But Faucher echoed Cohn in saying that Americans shouldn't be alarmed by one month of slowing job creation.
"Job growth this year looks a lot like last year and job growth last year was pretty good," he said.
Weather probably was a factor in the job growth, as was Easter coming later this year, economists said.
The Northeastern snowstorm struck during the week that the Labor Department surveyed households about their work status. Analysts had said the strong job creation the previous two months had been boosted by unusually warm weather.
Economists from Goldman Sachs Group Inc. had warned this week that bad weather last month could have reduced job growth by as much as 60,000 net positions.
The construction industry showed the effects that weather can have. The sector added just 6,000 net new jobs in March, the worst in seven months, after payrolls surged by 59,000 in February.
Retailers continued to struggle last month, slashing their payrolls by nearly 30,000 after cutting about 31,000 jobs in February. The two-month decline was the worst for the industry since 2009.
Jobs in the retail sector grew strongly after the Great Recession. And retailers added 35,300 jobs in January.
But the recent troubles could reflect the shift in consumer purchasing to online from brick-and-mortar locations. That trend led big retailers such as Sears and Macy's to announce that they were closing large numbers of stores.
"The industry is going through a transformation and they're truly trying to adjust to meet appropriate demands of a changing consumer and the way shop and what they shop for," said Jack Kleinhenz, chief economist for the National Retail Federation trade group.
Hiring was off sharply for education and health-services providers. They added just 16,000 net new jobs in March, the fewest in 15 months, after payrolls had increased by 66,000 in February.
Wages continued to show solid growth in March, with average hourly earnings increasing 5 cents to $26.14 following a 7-cent rise the previous month. Wages increased 2.7% for the 12 months ended March 31.
Federal Reserve Chairwoman Janet L. Yellen and her colleagues have cited the improving labor market as a key reason they increased the benchmark short-term interest rate in March for the second time in three months. Anticipation of continuedimprovement has led central bank policymakers to signal two more small hikes are coming this year.
Analysts said it was too soon to say if those plans are at risk. The Fed's policymaking committee doesn't meet again until May.
"I can imagine if Janet Yellen were to attend a cocktail party tonight she'd say, 'Don't place too much importance on one month's numbers,'" said Mark Hamrick, senior economic analyst at Bankrate.com, a financial information website.
Twitter: @JimPuzzanghera
---
UPDATES:
11:55 a.m.: This article was updated with comments from Gary Cohn, President Trump's top economic advisor, House Minority Leader Nancy Pelosi, Mark Hamrick of Bankrate.com, and additional details and analysis.
8:15 a.m.: This article was updated with additional details and comments from Gus Faucher of PNC Financial Services Group Inc.
6:10 a.m.: This article was updated with staff reporting and analysis.
This article originally was published at 5:30 a.m.