American fashion house Michael Kors takes $2.2-billion wager on Versace's rococo flourishes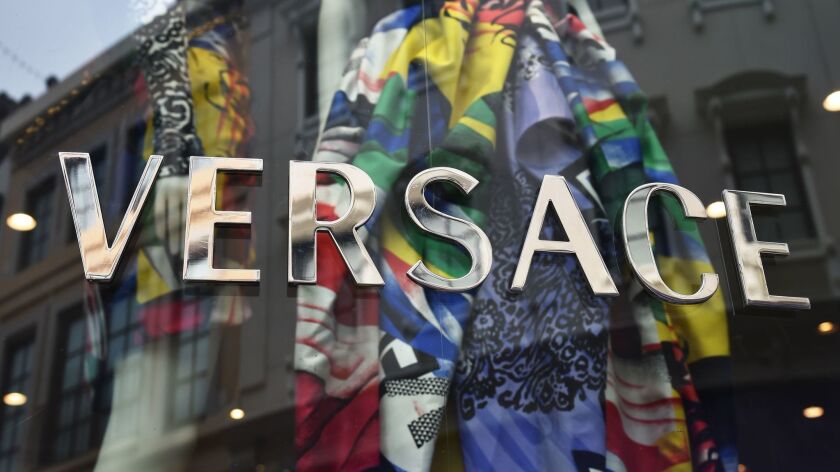 Of all the bets Michael Kors Holdings Ltd. could have made on its quest to become an American house of luxury labels, its $2.2-billion gamble on Versace stands out as particularly bold.
Kors said Tuesday that it will spend that sum to acquire the Italian fashion label known for its distinct rococo style — a far cry from the affordable luxury that has been Kors' hallmark. Think leather handbags that cost a few hundred dollars at Macy's but also are available at the discount rack at TJ Maxx.
In Gianni Versace, Kors is getting a 40-year-old Italian house with an international presence and widespread pop culture relevance.
The American fashion company has big plans for its new label. Last year, Versace had revenue of $807 million and returned to profit. Kors' goal is to drive sales to $2 billion annually. That would bring it into the ballpark of rival Prada, but still less than a third the size of Kering's Gucci label.
"If you look at some of the other Italian luxury brands — which will remain nameless — they are doing in the billions of euros today," said Kors Chief Executive John Idol on a conference call about the deal. "So Versace is terribly underdeveloped and that's really going to change."
Kors outlined a plan to more than double the high-end brand's sales by opening about 100 new stores, investing in e-commerce and selling more accessories and footwear under the Versace label. Yet Kors is inheriting a business with several issues.
"Despite its profile, Versace has struggled to grow sales," said Neil Saunders, managing director of GlobalData Retail, before the deal was formally announced.
Michael Kors wouldn't be buying "a perfectly performing brand," but one that "needs work and some repositioning," he said. That work includes "toning down some of the brasher elements of the brand, which are now out of step with the more subtle tone preferred by modern consumers."
Although Saunders called the deal "additive," he said it may cause disruption in the short term and take several years to reveal the benefits.
Versace, with its Medusa-head logo, is one of the more outlandish major Italian fashion labels. Artistic Director Donatella Versace's flashy designs celebrate extravagance and excess. Her runway show this month integrated the vivacious color and dazzling patterns the label has become known for — a psychedelic amalgam of soft florals layered on stripes, checks or more florals. The bashful should look elsewhere for their clothes.
Though it's not for everybody, it's certainly for somebody. Over the years, Versace has grown to become a wealth symbol for the nouveau-riche. It's often mentioned in pop music as a label to aspire to — or brag about. The late founder Gianni Versace was a fashion icon who dressed rock stars and princesses, and that flashiness remains aspirational today.
Donatella Versace, 63, will remain as creative director. Kors said it will rename itself Capri Holdings Ltd. as it develops its multibrand luxury strategy.
"We believe that being part of this group is essential to Versace's long-term success. My passion has never been stronger," Donatella Versace said in a statement. "This is the perfect time for our company, which puts creativity and innovation at the core of all of its actions, to grow."
Kors already made a big move last year to add to its couture credibility, purchasing shoemaker Jimmy Choo with its $600 sandals and $1,000 pumps. Versace's clothing ranges from $350 T-shirts to $10,000 skirts worthy of red carpets at the Oscars or Met Gala.
Kors is plotting a different course from that of longtime rival Tapestry Inc., formerly known as Coach Inc. Tapestry, also building a stable of brands, has stayed both near its own price point and its New York headquarters. The two labels it has acquired, Kate Spade and Stuart Weitzman, are U.S. brands and play in about the same price range.
After slipping early on news of the deal, shares of Kors closed up nearly 2% to $68.01 in trading Tuesday.
---
Your guide to our new economic reality.
Get our free business newsletter for insights and tips for getting by.
You may occasionally receive promotional content from the Los Angeles Times.