Airlines vie for elite L.A.-to-N.Y. fliers with new luxury amenities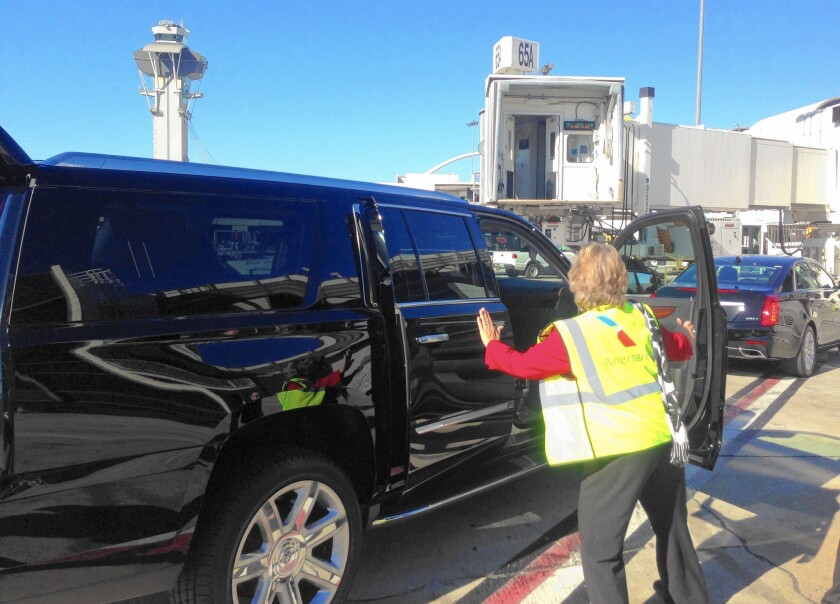 Los Angeles International Airport has become a battleground for airlines trying to draw well-heeled business executives and Hollywood celebrities flying coast to coast.
The weapons in the fight for the transcontinental VIP are luxuries like down pillows, in-flight espresso machines, chauffeur-driven Cadillacs and meals cooked up by celebrity chefs.
"Movie stars, movers and shakers. It is why airlines compete so rigorously for the transcon," said George Hobica, an airline industry expert and founder of the website Airfarewatchdog.com.
Although airlines are reducing legroom and adding new fees for passengers at the back of planes, American, United, Delta, Virgin America and JetBlue are doling out a new level of luxury for elite coast-to-coast fliers who can afford round-trip fares approaching $5,000.
These fliers are the most lucrative segment of the 3.15 million passengers who fly from L.A. to New York each year — the country's third-busiest domestic route.
The transcontinental route has become highly competitive because of the high percentage of fliers who are paying with a company credit card and don't worry how much it costs. Then there is the celebrity crowd that routinely shuttles between Los Angeles and New York and is used to being coddled.
"It's extremely profitable because it's one of the few routes in the country with a significant volume of people who will pay for first- and business-class seats," said Henry Harteveldt, an airline analyst and co-founder of Atmosphere Research Group.
Airlines won't disclose the names of the VIPs who take advantage of the extra perks. But television host Carson Daly, TV fashion judge Nina Garcia and actors Neil Patrick Harris and Tim Daley have tweeted rave reviews of American's transcontinental service.
Actresses Jessica Alba, Jamie Pressley and Vanessa Hudgens have either posted tweets or been photographed flying on Virgin America's transcontinental flights.
Business executives say they enjoy the luxuries offered on the transcontinental flights but most important to them is good service, a comfortable seat with room to work and a reliable wireless Internet connection.
"The key is that they understand that I have to be someplace, and I have to attend a meeting," said Alex Gerwer, a health insurance executive from Los Angeles who travels often to the East Coast on Delta. "So the airline becomes a de facto partner in getting me there. That is important."
Carriers disagree over who initiated the latest arms race for VIPs.
United Airlines launched a "Premier Service" from L.A. and New York in 2004, but the airline upped the ante with lie-flat seats and other extras last year. Now fliers on the six daily round-trip flights between LAX and John F. Kennedy International Airport in New York get complimentary noise-reducing headphones, eye shades, duvets and pillows, and wines picked by a master sommelier.
"It's very important to us because you have the two largest cities in the country for business, and L.A. is the entertainment capital so you have lots of celebrities on that route," said Karen May, a spokeswoman for United.
Not to be outdone, Delta Air Lines, with eight daily round-trip flights between L.A. and New York, hired celebrity chef Michael Chiarello to create multi-course meals for Business Elite passengers. Elite passengers get a chauffeured Porsche to take them between terminals to make connecting flights.
JetBlue Airways in June started a new brand of service called Mint that features lie-flat seats, pre-takeoff drinks, meals created by New York restaurant Saxon + Parole and amenity kits filled with beauty and grooming products. The airline now has six daily flights between LAX and New York.
The service has been so profitable that JetBlue just announced plans to add more flights from L.A. to New York and San Francisco to New York.
American Airlines entered the battle by adding 17 new A321 jets to its fleet earlier this year, dedicating most of them to fly 13 daily flights between Los Angeles and New York, the most of any carrier at LAX.
"Over the last two years, there has been a significant evolution as the competition has upped their game," said Andrew Nocella, senior vice president and chief marketing officer at American Airlines.
Passengers on American's transcontinental flights get to sip piping-hot espresso from an onboard machine while enjoying as many as 700 movies, TV shows, songs and video games. A chauffeur-driven Cadillac can meet them at the tarmac to make tight connecting flights in style. The plane even has a ventilated pet compartment in the first-class section.
American offers an extra amenity at LAX: A special check-in gate at Terminal 4 lets high-profile VIPs avoid the crowded terminal to slip into the front of security screening lines, then zip back into the airline's premium lounge to wait for their flight. VIPs can cut to the front of the line because the airlines and the airports — not the Transportation Security Administration — control the queues that lead to the screening gates.
If you're not rich or famous and end up in the back of the plane in economy, the perks disappear.
Gina Kano, a marketing executive from Los Angeles, said she recently flew American from Los Angeles to New York. She had to sit in the economy section because she lost her premium loyalty status when she took a new job.
"It's so cramped back there that we couldn't even work on our laptops," she said. "Once the person in front of you reclines, you are done."
Twitter: @hugomartin
---
Must-read stories from the L.A. Times
Get the day's top news with our Today's Headlines newsletter, sent every weekday morning.
You may occasionally receive promotional content from the Los Angeles Times.