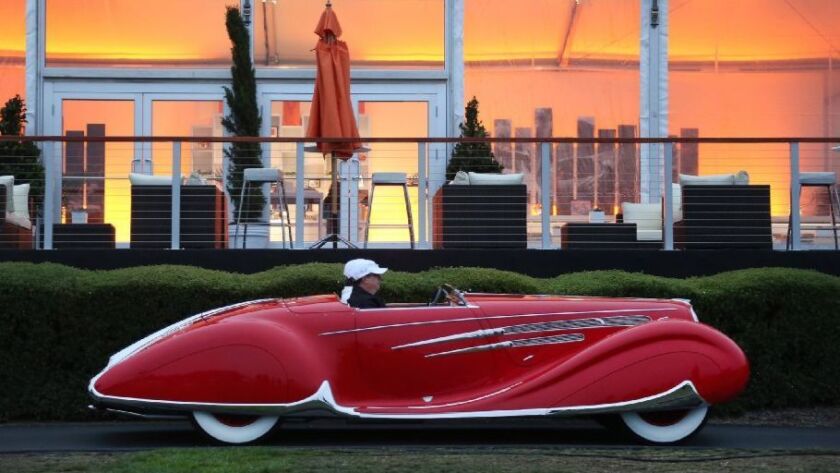 Welcome to California Inc., the weekly newsletter of the L.A. Times Business Section.
I'm Business columnist David Lazarus, and here's a rundown of upcoming stories this week and the highlights of last week.
President Trump's war dance with North Korea appeared to send jitters through the booming stock market, prompting a 1.1% decline in the Dow Jones industrials. We also learned Friday that consumer prices increased in July for the first time in three months as Americans paid more for food. Still, inflation remains soft, a trend that has concerned Federal Reserve officials because it indicates that the economy still is not operating at maximum efficiency.
LOOKING AHEAD
Fed minutes: The Federal Reserve will release an account of its July policymaking meeting on Wednesday. The minutes could indicate when officials might hike a key interest rate again, and whether they will start reducing their holdings of stimulus assets in September. The Fed acquired those assets when it embarked on its quantitative-easing campaign to boost the economy following the financial crisis.
Box office: Steven Soderbergh, director of "Ocean's Eleven" and "Magic Mike," returns from his early self-imposed Hollywood retirement with the action flick "Logan Lucky," which opens Friday. Soderbergh financed and arranged to release the picture without a studio, retaining control over production and marketing. His experiment faces studio-backed action comedy: Lionsgate's "The Hitman's Bodyguard."
Golden State jobs: California releases its employment report on Friday, and economists will be looking for further signs that the state's long recovery may be slowing. The previous report, in June, marked the second time this year the state lost jobs month over month – an indicator that California's job engine may be sputtering. July's report will help confirm whether that slowdown is a blip or the beginning of a trend.
Hot wheels: The world's top collectors and restorers of vintage, antique and classic cars are headed to the Monterey Peninsula for seven days of historic car races, auctions and rallies. Millions of dollars in vehicles will change hands before the final blue ribbons are given out Sunday at the 67th annual Pebble Beach Concours D'Elegance.
THE AGENDA
Monday's Business section notes that the nuclear energy industry has had a bad couple of weeks. On July 31, utilities in South Carolina announced they are stopping work on two new reactors, saying cost estimates came to almost twice what was expected. Then, two days later, developers of another nuclear project in the South announced costs had swelled from $14 billion to more than $25 billion. It seems fair to ask: Does the industry have a future?
STORY LINES
Here are some of the other stories that ran in the Times Business section in recent days that we're continuing to follow:
Disney goes digital: Disney will launch two Netflix-like streaming services — one for sports and another for films and television shows — in one of the boldest moves by an entertainment company to address the changing media landscape. The stand-alone subscription services would appeal to younger audiences who are turning away from traditional media. As far as the ESPN service is concerned, the consensus in the sports TV industry is that Disney could not afford to wait any longer.
Google memo: Google employee James Damore was supposed to come away from diversity training with a newfound sense of empathy for colleagues who did not look like him. Instead, the white male software engineer decided to write a now-infamous 3,000-word memo railing against Google's "ideological echo chamber," arguing that women land fewer tech jobs because of biological differences. The search giant fired him in response, but that only served to inflame the controversy.
Snap slapped: Snapchat picked up fewer users and less revenue in the second quarter than analysts had expected, sending shares of owner Snap Inc. plummeting. The Los Angeles tech company has suffered through a treacherous run on Wall Street since a blockbuster IPO five months ago. Snap hasn't delivered in its first two earnings reports, missing on estimates for daily usage and adding new features for advertisers more slowly than analysts would like.
Uber lawsuit: Uber co-founder and former chief executive Travis Kalanick is being sued for fraud by Benchmark Capital, one of the ride-hailing giant's earliest investors. The Menlo Park venture capital firm alleges that Kalanick breached his fiduciary duty and contractual obligations by stacking the company's board with allies to shield his conduct from redress. The suit contends this was done to "clear the path for his eventual return as CEO." In response, an investor group that supports Kalanick sent a letter to the board asking for Benchmark to sell at least 75% of its holdings.
Bye, Jeff: An ill-advised tweet has led to the removal of another CNN personality. The cable news network fired contributor Jeffrey Lord, a staunch supporter of President Trump, after he tweeted "Sieg Heil!" to Angelo Carusone, the president of Media Matters for America, the liberal watchdog group. "Nazi salutes are indefensible," a CNN representative said in a statement. "Jeffrey Lord is no longer with the network." Lord said he used the term only to mock Media Matters, which he considers a fascist, bullying group.
WHAT WE'RE READING
And some recent stories from other publications that caught our eye:
Help yourself: The New Yorker examines moves by the Trump administration, which includes the former head of ExxonMobil as secretary of state, to roll back measures aimed at making the oil industry less corrupt. "It's not as if oil-fuelled bribery or its corrosive effects on the citizens of poor nations were diminishing."
Dumb smartphones: The Atlantic asks if smartphones have destroyed a generation. "Born between 1995 and 2012, members of this generation are growing up with smartphones, have an Instagram account before they start high school and do not remember a time before the Internet."
Gravy train: The New York Times has come up with an impressive, easy-to-understand chart showing that as everyone else makes do with less, the rich keep getting richer. "The basic problem is that most families used to receive something approaching their fair share of economic growth, and they don't anymore."
Secret snacks: Eater delves into which brands are really behind Trader Joe's snacks. "The truth is that almost all of this is stuff that you can probably get at another store within a few miles of that Trader Joe's in a different package with a different name."
Sweet! Bloomberg notes that sugar is once again more popular than corn syrup among sweets-craving Americans. "The U.S. has the dubious distinction of being the world leader in per capita sugar and sweeteners consumption."
SPARE CHANGE
That upcoming solar eclipse already has generated plenty of buzz. But if you're still wondering why all this hype for a celestial event, here's a helpful video from Wired that shines an unobstructed spotlight on everything you need to know.
For the latest money news, go to www.latimes.com/business. Mad props to Scott J. Wilson for helping put this thing together.
Until next time, I'll see you in the Business section.
---