Newsletter: California Inc.: 'Unconventional choices' add to cost of Tesla Model 3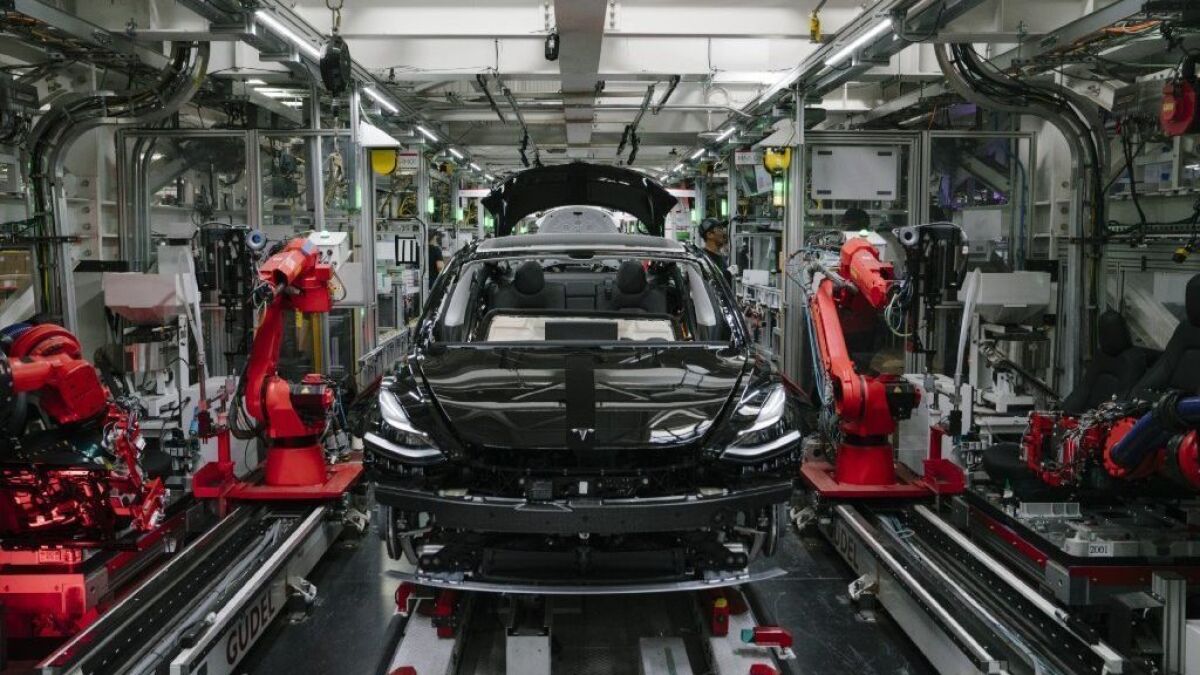 Welcome to California Inc., the weekly newsletter of the L.A. Times Business Section.
I'm Business columnist David Lazarus, and here's a rundown of upcoming stories this week and the highlights of last week.
We learned Friday that California's unemployment rate ticked down to 4.1% in September from 4.2% the previous month — the lowest rate in 42 years. Payrolls grew by 13,200 jobs, with the most gains coming in the business and professional services sector, leisure and hospitality, and government.
LOOKING AHEAD
Beige Book: The Federal Reserve brings out its latest Beige Book on Wednesday. The goes-with-everything, eight-times-a-year economic report showed last month that while the overall U.S. economy expanded at a "moderate pace," trade concerns and a lack of workers delayed some projects. There were also "some signs of a deceleration" in prices of goods and services.
Snap earnings: Snap Inc. reports its third-quarter earnings Thursday. In the second quarter, the company beat earnings expectations but reported that Snapchat's daily active users shrank 1.5% to 188 million, down from 191 million in the previous quarter. The company's net loss was down 20% year over year.
Economic growth: The Commerce Department is expected to report Friday that the U.S. economy grew at about a 3.3% annual rate from July through September. The economy expanded at a 4.2% rate in the second quarter, the best since 2014.
New flicks: "Hunter Killer" features Gerard Butler, Gary Oldman, submarines, Russians and the possibility of World War III. "Suspiria" has Dakota Johnson, Tilda Swinton and the possibility that there's more to a German dance academy than meets the eye, such as, you know, witches. Take your pick.
THE AGENDA
Monday's Business section looks under the hood of the Tesla Model 3. Munro & Associates, a small firm that disassembles new cars piece by piece, concluded that the Model 3 costs about $2,000 more to produce than a similarly priced BMW i3 and may have additional cost problems in its assembly plant. Many of the problems stem from unconventional choices made by Tesla Chief Executive Elon Musk.
STORY LINES
Here are some of the other stories that ran in the Times Business section in recent days that we're continuing to follow:
Heavy spending: With less than a month before election day, labor unions and Walt Disney Co. have shelled out more than half of all contributions to campaigns that will decide the fates of a controversial "living wage" initiative and a majority of the seats on the Anaheim City Council. The unusually expensive campaigns — which have attracted $4.3 million in total contributions so far — are a reflection of the efforts that union leaders and the Burbank media giant are putting into gaining greater influence over local affairs.
Airport overhaul: American Airlines has kicked off its $1.6-billion overhaul at Los Angeles International Airport, one of a series of pricey LAX upgrades that will add gates, bigger bathrooms and floor-to-ceiling windows at the carrier's terminals. A groundbreaking ceremony attended by Los Angeles Mayor Eric Garcetti and American Airlines CEO Doug Parker initiated a 10-year construction project that represents the single largest airport investment in the history of the Fort Worth carrier.
MoviePass probe: MoviePass' embattled parent company, Helios & Matheson Analytics, denied that it has misled investors, in response to a new investigation by the New York attorney general's office. New York Atty. Gen. Barbara Underwood has opened a probe into the owner of the money-losing cinema subscription service to see whether it misrepresented its finances to shareholders, the company acknowledged.
Not so fun: Riot Games casts itself as the kind of place where gamers dream of working. But allegations from current and former employees detailing a workplace soaked with sexism and harassment — and what they describe as the company's largely cosmetic response — have thrown those values into question, and Riot Games into crisis mode.
Netflix goes old school: Netflix is once again crashing the party to the chagrin of Hollywood studios, but this time in an old-school way — by acquiring billboards along the Sunset Strip. The digital streaming Goliath has quietly bought up prime billboard space along the mile-and-a-half-long section of Sunset Boulevard in West Hollywood that is among the most coveted advertising properties in the country.
WHAT WE'RE READING
And some recent stories from other publications that caught our eye:
Deceptive practices: ProPublica and WNYC roll out a hard-hitting investigation of President Trump's business practices. It's not pretty. "Patterns of deceptive practices occurred in a dozen deals across the globe, as the business expanded into international projects, and the Trumps often participated. One common pattern, visible in more than half of those transactions, was a tendency to misstate key sales numbers."
Open the pod bay doors: The New York Times posted a package of stories looking at advances in artificial intelligence. As Israeli author and historian Yuval Noah Harari puts it: "The economy is having to face ever-greater disruptions in the work force because of A.I. And in the long run, no element of the job market will be 100% safe from A.I. and automation."
The cooler one: Bill Gates shares his memories of Microsoft co-founder Paul Allen, who died last week, in a Wall Street Journal essay. "Paul was cooler than I was. He was really into Jimi Hendrix, and I remember him playing 'Are You Experienced?' for me. I wasn't experienced at much of anything back then, and Paul wanted to share this amazing music with me. That's the kind of person he was."
Rental fashion: The New Yorker checks out a company called Rent the Runway, which could devastate high-end clothing sales. "For $159 a month, a customer can keep up to four items at a time, rotating out any piece as often as she likes … By the end of this year, Rent the Runway will offer 15,000 styles by more than 500 designers, with a total inventory of 8,000 units."
A better way: Canada legalized recreational weed last week. As Bloomberg reports, Border Security Minister Bill Blair believes the newly legal market will allow authorities to better engage young people. "The 'Just Say No' and your brain in a frying pan — eggs in a frying pan — wasn't getting the message across," he says. "We have created an opportunity to have far more effective conversations with our kids."
SPARE CHANGE
Salesforce Chairman and Co-Chief Executive Marc Benioff spoke recently about dealing with social inequality, homelessness and taxing the rich in a conversation at WIRED25 in San Francisco. "What's happening is just not right," he said. "I love the idea of taxing billionaires." Here's the video.
For the latest money news, go to www.latimes.com/business. Mad props to Laurence Darmiento for helping put this thing together.
Until next time, I'll see you in the Business section.
---
Sign up for the California Politics newsletter to get exclusive analysis from our reporters.
You may occasionally receive promotional content from the Los Angeles Times.