Stocks hold steady as Fed-fueled rally fades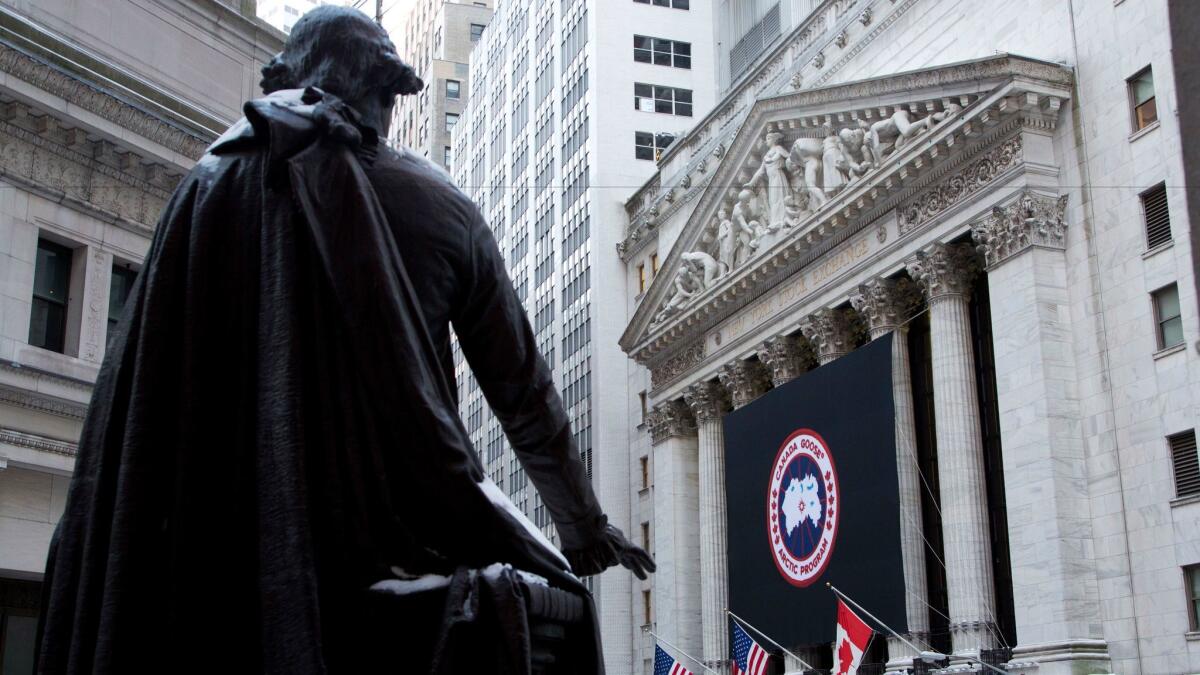 Stocks held steady on Wall Street on Thursday, and bond prices gave back some of their big gains from the prior day as a rally fueled by the Federal Reserve's Wednesday announcement on interest rates faded.
The Standard & Poor's 500 index fell 3.88 points, or 0.2%, to 2,381.38. The Dow Jones industrial average slipped 15.55 points, or 0.1%, to 20,934.55. The Nasdaq composite, meanwhile, edged up 0.71 of a point, or 0.01%, to 5,900.76. The Russell 2000 index of smaller stocks also rose slightly, up 3.20 points, or 0.2%, to 1,386.03.
Yields ticked higher as bond prices fell. The yield on the 10-year Treasury note rose to 2.53% from 2.50%. It had plunged 0.11 of a percentage point Wednesday, after the Fed threw cold water on speculation that it may get more aggressive in raising rates.
The Fed is hoping to lift rates gradually off their record lows, where they stayed for seven years following the 2008 financial crisis. With economic data and inflation picking up recently, some investors began to consider that the central bank might try to raise rates four times this year. But on Wednesday, the Fed stuck with its forecast for three.
Read more: Interest rate hike by Federal Reserve is likely to be followed by two more this year »
That gradual pace is one reason investors remain enthusiastic about stocks in the face of rising rates, which historically have spooked stock holders because they can slow economic growth and corporate profits. With rates starting so low and the pace set to be so slow, it may not be fair to call these Fed moves "hiking" or "tightening," said Rich Taylor, fixed-income client portfolio manager at American Century.
"We are in the beginning stages of a renormalization of interest rates," Taylor said. "A 2.5% yield on a 10-year note is not a normal yield. It's still a DEFCON 4, almost emergency-level rate."
Taylor expects gains for the 10-year Treasury yield to remain modest, even with the Fed pledging more increases. He said that once the yield gets to 2.60%, many buyers probably will pounce, given still-modest growth in the economy and inflation, which should help keep a lid on rates.
Thursday's slight rise in yields dulled the appeal of stocks that pay big dividends. Utilities stocks in the S&P 500 index lost 1.1%, the biggest loss among the 11 sectors that make up the index. Healthcare stocks were also weaker than the overall index after a strong start to the year.
Technology stocks did better, led by Oracle, which reported stronger revenue and earnings for its latest quarter than analysts expected. The tech giant jumped 6.2% to $45.73, notching the biggest gain in the S&P 500.
GoPro, which makes wearable cameras, surged 15.8% to $8.51 after it announced a cost-cutting plan and said it's sticking by its forecast for 2017 profit.
Read more: GoPro to slash 270 jobs in an effort to cut costs »
Trovagene plunged 25.7% to $1.30 after the San Diego developer of diagnostic technology posted disappointing financial results. The company also said it is cutting more than half of its small workforce as it moves into cancer therapeutics.
Stock markets on the other side of the Atlantic were also strong, with the French CAC 40, Germany's DAX and Britain's FTSE 100 all up 0.6%. The FTSE 100 closed at a record high.
Investors had been nervous about Wednesday's Dutch election, where candidates were running on pledges to get the Netherlands out of the European Union and to close borders to migrants from Muslim nations. After Britain voted last summer to leave the European Union, investors were worried about whether a wave of nationalism across the continent could eventually break the EU apart.
But on Wednesday, Dutch Prime Minister Mark Rutte's party won a parliamentary election victory over Geert Wilders, who campaigned against the European Union.
Read more: Dutch prime minister's party appears to handily beat anti-Muslim politician's side »
In Asia, Tokyo's Nikkei 225 index rose 0.1%, Hong Kong's Hang Seng leaped 2.1%, and Seoul's Kospi climbed 0.8%.
Benchmark U.S. crude resumed its slide, falling 11 cents to $48.75 a barrel. That was the eighth decline in the last nine days. Brent crude, which is used to price international oils, fell 7 cents to $51.74 a barrel.
Natural gas fell 8 cents to $2.90 per 1,000 cubic feet, heating oil fell 1 cent to $1.50 a gallon, and wholesale gasoline rose 1 cent to $1.59 a gallon.
Gold rose $26.40, or 2.2%, to $1,227.10 an ounce, silver rose 41 cents to $17.33 an ounce, and copper rose 2 cents to $2.68 a pound.
ALSO
Do car companies want Trump to trash emission standards? Maybe not
Wells Fargo shareholders call for a new, broader probe into the accounts scandal
If you searched Yahoo for 'erectile dysfunction,' you may have enriched a Russian hacker
---
UPDATES:
2:15 p.m.: This article was updated with closing prices, context and analyst comment.
This article was originally published at 9:05 a.m.