Fed economic outlook and GOP tax deal push stocks mostly higher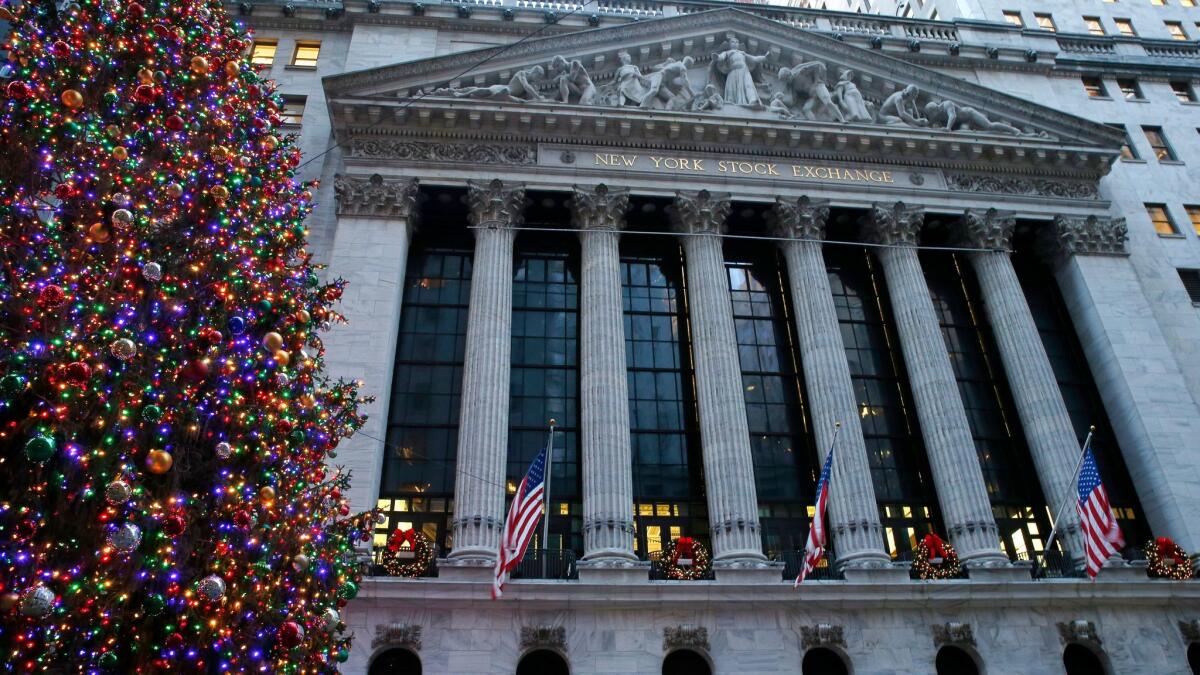 The major U.S. stock indexes finished mostly higher Wednesday, with small companies notching big gains as lawmakers in the House and Senate reached a deal on a sweeping tax-overhaul package.
The Dow Jones industrial average eked out its third record-high close in as many days, driven by a jump in Caterpillar. But a last-minute pullback in bank stocks left the Standard & Poor's 500 index slightly lower.
Packaged food and beverage stocks, healthcare companies and industrials shares accounted for much of the market's modest gains. Banks struggled as long-term bond yields edged down; lower yields make it tougher for banks to earn money from lending.
The decline in financial stocks came even as the Federal Reserve raised its benchmark rate for the third time this year. The move, which was widely expected, came as the central bank noted that the U.S. economy was on sound footing.
"Widely expected. No big surprises. No big changes," said Tim Dreiling, regional investment director at U.S. Bank Wealth Management. "It's encouraging that they continue to see economic growth continuing into 2018, which aligns with our thinking."
The S&P 500 index slipped 1.26 points, or 0.1%, to 2,662.85. The index closed at all-time highs Monday and Tuesday.
The Dow rose 80.63 points, or 0.3%, to 24,585.43. The Nasdaq advanced 13.48 points, or 0.2%, to 6,875.80. The Russell 2000 index of smaller-company stocks rose 8.33 points, or 0.6%, to 1,524.45.
Bond prices rose. The yield on the 10-year Treasury fell to 2.34% from 2.40%.
Trading got off to a subdued start Wednesday as investors waited for the policy update from the Fed.
As expected, the central bank raised the federal funds rate — what banks charge one another for short-term loans — by 0.25 of a percentage point to a still-low range of 1.25% to 1.5%. The latest short-term rate increase is the third one implemented by the Fed this year and signals the central bank's confidence that the U.S. economy remains on solid footing eight years after the end of the Great Recession.
The Fed also said it expects the job market and the economy to strengthen further next year, which is one reason it forecast that it would raise rates three times next year.
Developments in Washington put investors in the mood to buy small-company shares about two hours before the Fed's announcement.
Republican leadership in the House and Senate forged an agreement Wednesday on the GOP's planned overhaul of the nation's tax laws. The move paves the way for final votes next week to slash taxes for businesses and give many Americans modest tax cuts starting next year. Smaller companies stand to benefit most from a reduction in corporate tax rates because they tend to pay higher taxes than bigger corporations.
"If you look at the mix today, small caps are doing better than large caps," said Sameer Samana, global technical and equity strategist for Wells Fargo Investment Institute. "Clearly, they would be the better beneficiaries because they tend to pay higher tax rates."
Packaged food and beverage companies posted solid gains. Coca-Cola rose 1.3% to $45.90.
Healthcare stocks also rose. Incyte climbed 2.8% to $98.10.
Caterpillar led the gainers among industrials stocks, rising 3.6% to $148.57. The construction and mining equipment company also was the biggest gainer in the Dow.
Western Digital rose 2.3% to $83.63 after the hard drive-maker resolved a dispute with its partner Toshiba over Toshiba's plan to sell its flash memory business.
Investors also welcomed some corporate deal news.
Finisar jumped 22.8% to $23.70 after Apple said it will invest $390 million in the fiber optic component supplier so it can make more lasers used in facial recognition technology.
Target rose 2.7% to $62.67 after the retailer said it plans to boost its same-day delivery capability by paying $550 million for Shipt. The delivery service company charges members $99 a year and sends people out to choose and deliver groceries from stores.
Diebold fell 2.7% to $18 after the ATM and security systems-maker said Chief Executive Andreas Mattes resigned.
Overstock.com leaped 13.9% to $60.90 after its CEO and top shareholder told the Financial Times he may sell the company to fund a blockchain venture.
Banks and other financial stocks declined the most among the 11 company sectors in the S&P 500. Charles Schwab slid 2.4%, to $50.33.
Oil prices veered down, giving up early gains. Benchmark U.S. crude fell 54 cents to settle at $56.60 a barrel on the New York Mercantile Exchange. Brent crude, used to price international oils, slid 90 cents, or 1.4%, to $62.44 a barrel in London.
The decline in oil prices weighed on several energy stocks. National Oilwell Varco fell 1.7% to $32.59.
In other energy futures trading, wholesale gasoline fell 5 cents, or 3%, to $1.65 a gallon. Heating oil fell 3 cents to $1.90 a gallon. Natural gas rose 4 cents, or 1.4%, to $2.72 per 1,000 cubic feet.
The dollar fell to 112.52 yen from 113.58 yen. The euro rose to $1.1820 from $1.1737.
Bitcoin futures fell on their third day of trading, dropping 5.4% to $17,055 on the Cboe Futures Exchange. The futures enable investors to make bets on the future price of the virtual currency. The average price of an actual bitcoin was $16,654 in trading on private exchanges, according to CoinDesk. The price of bitcoin has soared this year; it began 2017 under $1,000.
Gold rose $6.90 to $1,248.60 an ounce. Silver rose 20 cents to $15.87 an ounce. Copper rose 3 cents to $3.05 a pound.
Major stock indexes in Europe declined Wednesday. Germany's DAX fell 0.4%, France's CAC-40 slid 0.5%, and London's FTSE 100 edged down 0.1%.
Earlier in Asia, Hong Kong's Hang Seng rose 1.5%, while Tokyo's Nikkei 225 shed 0.5%. Seoul's Kospi advanced 0.8%. Sydney's S&P-ASX 200 ticked up 0.1%, and India's Sensex added 0.4%.
---
UPDATES:
2:25 p.m.: This article was updated with closing prices, context and analyst comment.
1:15 p.m.: This article was updated with market reaction to announcements that the Federal Reserve would raise interest rates and the GOP leadership has reached a tax deal.
This article was originally published at 7:10 a.m.