Stocks end modestly higher; Stitch Fix soars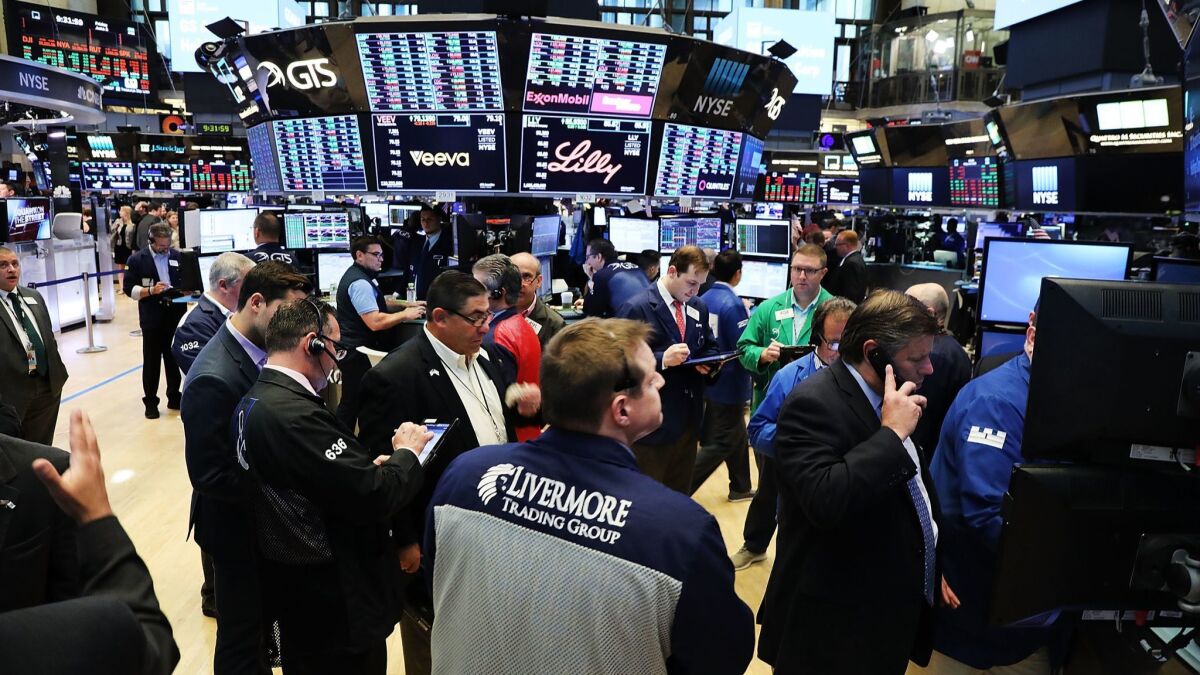 The U.S. stock market shook off a bumpy start and ended modestly higher Friday, led by gains in consumer products companies such as Monster Beverage and Procter & Gamble. Healthcare companies also rose. Energy companies slipped along with the price of oil.
Trading was muted ahead of the Group of 7 summit in Quebec, which began Friday. The meeting was expected to be tense as other leaders confront President Trump over his protectionist trade policies.
Consumer products companies, which have been out of favor the last few months, rose for the second day in a row. Overall, major indexes were mostly higher after posting small losses the day before.
The G-7 meeting was set to be unusually contentious, as leaders of France and Canada in particular have expressed in tough terms their disapproval of the tariffs that Trump recently imposed on steel and aluminum imports. Trump is expected to leave the summit Saturday before it officially concludes and head to Singapore ahead of his meeting next week with North Korean leader Kim Jong Un.
Trade tensions have been rattling markets for the last three months, and the G-7 summit isn't expected to deliver much relief. Still, there could be a silver lining to the ongoing talks between the United States and its trading partners over the highly unpopular U.S. tariffs, according to Scott Wren, senior global equity strategist for the Wells Fargo Investment Institute.
"The end result probably is going to be lower tariffs across the board," Wren said. Wren said that ultimately a large number of older tariffs that are levied on U.S. imports and exports could be reduced or eliminated.
The Standard & Poor's 500 index rose 8.66 points Friday, or 0.3%, to 2,779.03. The Dow Jones industrial average rose 75.12 points, or 0.3%, to 25,316.53. The Nasdaq composite edged up 10.44 points, or 0.1%, to 7,645.51.
The Russell 2000 index of smaller-company stocks rose 4.72 points, or 0.3%, to 1,672.49. Smaller and more U.S.-focused stocks have fared better than the rest of the market in recent months as investors worry that trade frictions could affect large multinational companies. The Russell is on a six-week winning streak.
Wall Street appeared to get slightly less worried about the trade situation this week. The Dow has taken a bigger hit from the trade disputes than other U.S. indexes, but this week was its best in three months. The Nasdaq and Russell 2000 reached all-time highs Wednesday.
Monster Beverage climbed 5% to $55.48 after its annual shareholder meeting. Stifel analyst Mark Astrachan said the company's sales growth is solid. He said Monster plans to raise its U.S. prices later this year in response to higher aluminum prices.
Tide maker Procter & Gamble rose 1.9% to $77.18. Cigarette maker Philip Morris International rose 2.6% to $79.42 after it raised its quarterly dividend, and Reuters said the company plans to start selling its tobacco-heating Iqos device in India.
U.S. crude slipped 0.3% to $65.74 a barrel in New York. Brent crude, used to price international oils, fell 0.6% to $76.82 a barrel in London. Wholesale gasoline stayed at $2.12 a gallon. Heating oil fell 0.7% to $2.16 a gallon. Natural gas slid 1.4% to $2.89 per 1,000 cubic feet.
Energy companies followed suit. Shares of Halliburton fell 1.7% to $48.10, and Noble Energy shares retreated 2.3% to $34.06.
Wall Street will be focused on central banks even more than usual next week as the European Central Bank and Federal Reserve both hold major meetings. Wren, of Wells Fargo, said the ECB probably will start to pare back its economic stimulus even though the European economy slowed last quarter.
Investors are nearly certain the Fed will raise interest rates for the second time this year. The U.S. central bank has said it plans three rate hikes this year. If the Fed hints it's considering a fourth increase later in the year, it might jolt the stock market.
"Any more than three hikes this year is a head wind for equities," Wren said.
Stitch Fix soared 26.5% to $24.88 after the online clothing retailer announced quarterly results that beat expectations.
Funko continued to rally, climbing 6.1% to $11.99. The toymaker went public in November and its stock fell 50% through the end of 2017. It's up 80% this year and virtually back to its IPO price of $12.
Bond prices edged down. The yield on the 10-year Treasury note rose to 2.94% from 2.93%.
Gold was little changed at $1,302.70 an ounce. Silver declined 0.4% to $16.74 an ounce. Copper rose 0.8% to $3.30 a pound, its highest price this year.
The dollar fell to 109.47 yen from 109.71 yen. The euro fell to $1.1769 from $1.1809.
In overseas markets, Germany's DAX was down 0.3%, as was the FTSE 100 index in Britain. The CAC 40 in France rose less than 0.1%. Japan's benchmark Nikkei 225 shed 0.6% and South Korea's Kospi lost 0.8%. In Hong Kong, the Hang Seng slid 1.9%.
---
UPDATES:
2:20 p.m.: This article was updated with closing prices, context and analyst comment.
This article was originally published at 7:45 a.m.
---
Sign up for the California Politics newsletter to get exclusive analysis from our reporters.
You may occasionally receive promotional content from the Los Angeles Times.