New CEO knows he needs to give Mattel more than a Barbie makeover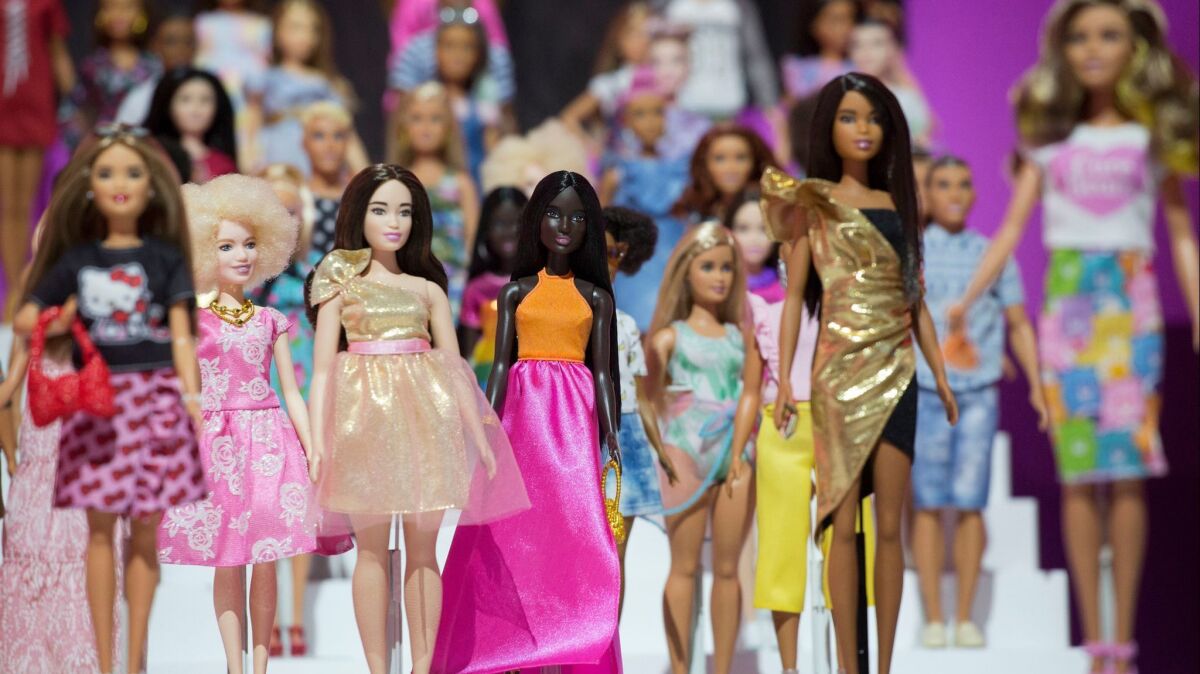 Mattel Inc., home of Barbie and Thomas the Tank Engine, has struggled for years trying to manage its way out of its problems.
Enter Ynon Kreiz, 53, the toymaker's fourth chief executive officer in four years. Investors hope he can get Mattel back in the game of making cool toys and, like its rivals Hasbro Inc. and Lego A/S, develop movies, TV shows and online content to sell them.
In a hint of what may be coming, Kreiz told employees last week at a town hall at Mattel's headquarters in El Segundo that he would focus on fostering creativity and expanding how Mattel uses its brands.
He faced Wall Street for the first time Thursday when Mattel reported better-than-expected first-quarter results.
After excluding $30 million of sales lost in the liquidation of bankrupt Toys R Us, a key distribution channel, revenue rose 2%, fueled by the toymaker's biggest brand. Barbie's sales surged 24%, marking the second straight gain after a rough stretch and the best quarter since at least 2009, when it started breaking out the numbers.
Revenue of $708.4 million beat analyst estimates in the first quarter, despite a 4% decline from the previous year. Analysts had projected sales of $689.8 million.
The company's adjusted loss was 60 cents a share, excluding some items mostly tied to Toys "R" Us. Analysts had projected a loss of 40 cents. Mattel also reported bad debt expense of $57.3 million tied to the retailer.
"While Toys 'R' Us will present a near-term challenge, our transformation plan remains our focus," said Kreiz, in a statement. "We continue to see strong momentum in our key power brands."
Still, Kreiz kicks off his reign at a time when Mattel faces formidable obstacles — with the new CEO clearly cast in the savior role.
Toys R Us Inc., the toymaker's second-largest customer after Walmart Inc., filed for bankruptcy in September and in March began the liquidation of its U.S. and Great Britain operations. And several of Mattel's big brands, like Fisher-Price and American Girl, are struggling. Investors are looking for a turnaround.
"Mattel has a big opportunity over the longer term because they've got brands that were underutilized," said Gerrick Johnson, a BMO Capital Markets analyst. "But Toys 'R' Us is a bigger disruption than investors realize."
At the start of the decade, Mattel executives imported from Kraft Foods Inc. focused on operational efficiency. Product development took a back seat. Wringing out margin gains at the world's biggest toymaker was what got executives promoted.
It worked for a while. But by 2014, it became apparent that the sales boost from major acquisitions, such as Thomas and Mega Bloks, was masking the deterioration of evergreen brands like Barbie and Fisher-Price and drying up the pipeline of new, in-house toys.
The triumph of management science over creativity had run its course. Shares have dropped 72% since the beginning of 2014. Mattel now trails Hasbro and Lego in revenue. Thursday results gave them a boost, with shares closing up 3.7% for the day to $13.98.
Kreiz will be expected to succeed where the last two CEOs, Margo Georgiadis and Chris Sinclair, fell short.
Georgiadis, a former McKinsey & Co. consultant, had been running a major sales division for Google. After becoming CEO in February 2017, she diagnosed Mattel's woes as mostly operational and not having enough playthings that crossed over to the internet and other digital content. After a few months on the job, she slashed the dividend to fund the makeover, which tanked the stock.
Georgiadis revamped the executive ranks and recruited Kreiz to the board, calling him a "disruptive thinker" who would help transform intellectual property to create new content and experiences. She also discontinued lackluster toy lines, expanded gaming, enacted a $650-million cost-cutting plan and tried to speed up product cycles that often last a year or longer. But results worsened, and she took to calling 2017 a "reset" year. She left last week for another job.
In February, Mattel named Kreiz chairman, effective at the shareholders meeting in May. Just after the announcement, he attended the toy fair in New York to see the company's latest offerings and get a better sense of its challenges.
One hurdle for Mattel has been that its strategy on entertainment has been a step slower than Hasbro and Lego. While competitors were morphing into content machines, producing movies, television shows and online video, Mattel, in just one example, spent years trying to get a Barbie feature film made. If Hasbro can transform dormant brands like Transformers and My Little Pony into thriving entertainment franchises, why couldn't Mattel do the same?
Kreiz, an Israeli who's been described in press accounts as a driven workout junkie, made his first mark in the mid 1990s, just a few years out of business school. Haim Saban, a children's TV producer known for "Mighty Morphin Power Rangers," hired him to start Fox Kids Europe from scratch. Within a couple of years, the channel was available in 28 countries and had a $1-billion valuation.
Coincidentally, Brian Goldner, the Hasbro CEO, also got his start with Saban, adopting for Hasbro the Power Rangers template of first creating entertainment and then selling the toys to kids who watch.
Next, Kreiz revamped Endemol, a European producer of reality TV shows like "Big Brother." He later took the reins at Maker Studios, a digital-video publishing network, after, as was the case with Mattel, starting as a board member. The company was a pioneer in user-generated content on platforms like YouTube, and was acquired in 2014 by Walt Disney Co. for $675 million.
"He has precisely the background you'd want," said Johnson of BMO Capital Markets. "If you're going to find someone who doesn't have any toy experience, his resume is probably one of the best resumes you could find."
---
UPDATES:
2:15 p.m.: This article was updated with Mattel's first-quarter earnings results.
This article was originally published at 7:35 a.m.
---
Sign up for the California Politics newsletter to get exclusive analysis from our reporters.
You may occasionally receive promotional content from the Los Angeles Times.