Wary response to report of Mattel, Hasbro merger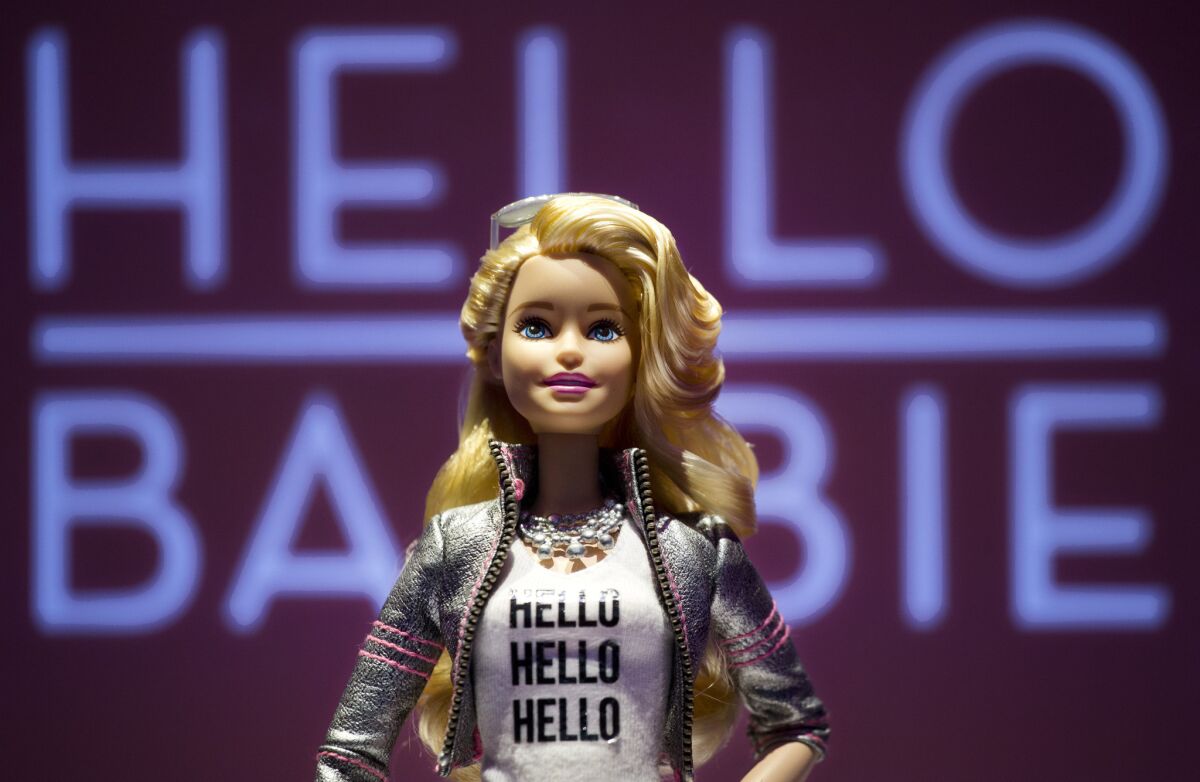 A report that Mattel Inc. and Hasbro Inc. might seek a bigger toy box via a merger drew a cautious response Friday from investors and industry analysts.
Stock prices for the nation's two largest toy makers fell after the companies declined to comment on the report, and analysts questioned how much the companies would gain from a merger.
"I don't know if there would be a benefit, and I think that's why it hasn't happened yet," said Jim Silver, editor in chief of TTPM, a toy review and research firm.
Industry analysts noted that rumors of a Mattel-Hasbro marriage have surfaced repeatedly and then faded in the 20 years since Hasbro resisted a formal $5.2-billion purchase bid from El Segundo-based Mattel.
Hasbro, based in Pawtucket, R.I., contended at that time that a deal might be blocked by federal regulators on antitrust grounds, and Mattel abandoned its offer in early 1996.
Mattel's brands include the iconic Barbie dolls, Hot Wheels and Matchbox cars, Fisher-Price toys and American Girl Brands products.
Mattel posted revenue of $5.7 billion in 2015. The company employs 31,000 people, including about 2,000 at its El Segundo headquarters.
Hasbro's toys include Transformers and G.I. Joe figures; Littlest Pet Shop, Nerf and Play-Doh toys; and games such as Monopoly, Scrabble and Twister.
Hasbro is scheduled to report its fourth-quarter and full-year 2016 results Monday. Last year, it had revenue of $4.3 billion. The company employs 5,100 worldwide.
Hasbro approached Mattel late last year and the two have held sporadic talks about combining, Bloomberg reported Thursday, citing unidentified people familiar with the matter. It cautioned that the talks might not lead to a deal.
Mattel's stock fell 48 cents to $31.81 a share Friday, and the company has a total market value of $11 billion. Hasbro fell $1.80, or 2.4%, to $74.10; Hasbro's total market value is $9.5 billion.
McGowan said a merger wasn't likely to give Mattel and Hasbro significant sales growth, but that it could boost earnings with cost savings, such as reducing redundant operations.
The companies together have about 25% to 30% of the more than $20-billion U.S. toy market, and a merger proposal probably would draw antitrust scrutiny, analysts said.
But any review would depend on whether the government looked only at the toy market or took a broader view of how children spend their leisure time, said Sean McGowan, an independent toy analyst in New York.
"If you were to define the industry as being all things that kids can play with, including video games and mobile games, you're talking about a market with tens of billions of dollars in sales," he said.
A merger would create a formidable company, combining Mattel's dominance in girl toys with Hasbro's traditional focus on the boys' aisles, although Hasbro has been expanding its girls business with brands like My Little Pony.
Mattel has been fighting to turn around its business in recent years as other toy makers such as Lego and MGA Entertainment grabbed market share. Mattel also has been scrambling to update its toys and streamline its bureaucratic corporate culture.
After suffering eight straight quarters of revenue declines, Mattel this week posted higher revenue and net income for the fourth quarter of last year, thanks to rising sales in core brands including Barbie and Hot Wheels.
This month, Mattel rolled out three new body types for Barbie — petite, curvy and tall — in an attempt to woo girls who are accustomed to multi-ethnic dolls with more personality.
Mattel was dealt a blow when it lost the doll licenses to Disney's hit film "Frozen" and Princess properties, which brought in more than $300 million for Mattel, analysts said. Hasbro won those licenses starting this year.
Hasbro also has benefited from partnerships with entertainment franchises including "Star Wars: The Force Awakens" and Marvel superhero movies.
In October, the toy maker said sales of "Star Wars" toys were already off to a "strong start," and that push presumably would continue into the holiday season.
If Mattel and Hasbro merged, "it's possible they would be a more powerful bidder on some licenses" in the future, McGowan said.
But he said some licensors, such as Walt Disney Co., "might not want to have all their eggs in one basket" in terms of toy production. "They like to have more than one source."
Silver said a Mattel-Hasbro merger "would not be an easy one to accomplish because you have companies with very different cultures and different salaries, because the cost of living is very different in Pawtucket, R.I., than it is in Los Angeles."
james.peltz@latimes.com
shan.li@latimes.com
Sign up for the California Politics newsletter to get exclusive analysis from our reporters.
You may occasionally receive promotional content from the Los Angeles Times.