McDonald's pledges to recycle its packaging worldwide by 2025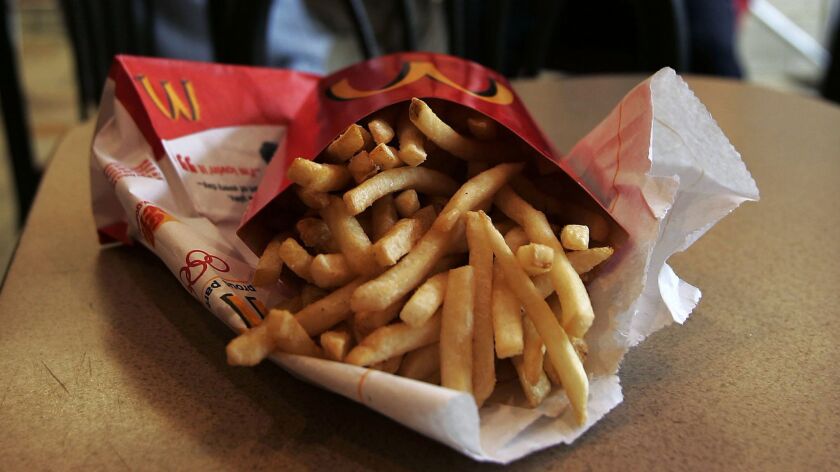 Chicago Tribune
McDonald's Corp. will recycle packaging in all of its almost 37,000 restaurants globally by 2025, the company announced Tuesday.
McDonald's also said all of its packaging will come from renewable, recycled or certified sources where no deforestation occurs by 2025.
The burger giant's move could pressure other large companies to follow suit. Increasingly, consumers and investors are demanding that corporations make commitments on global issues such as environmental sustainability and animal welfare.
Currently, only about 10% of McDonald's restaurants globally are recycling packaging. Reaching the new goals will take time and coordination in communities around the world, said Francesa DeBiase, chief supply chain and sustainability officer for the Oak Brook, Ill., company.
"We can't do this alone. We're going to work with our suppliers, franchisees and other industry leaders to effect change at the local level," DeBiase said.
A 2014 company study of two restaurants, one focused on dine-in business and one centered on the drive-through, found the per-restaurant average was more than 2,200 pounds of waste a week.
What will a completely eco-friendly Happy Meal look like in 2025? That still remains to be seen, DeBiase said. But the demand is clear: Recyclable packaging is the No. 1 concern for McDonald's consumers globally, according to the company's research, she said.
McDonald's previously said it plans to stop using foam cups by the end of this year. It also previously announced that all fiber-based packaging — paper wrappers, fry cartons, paper cups — would come from recycled or certified sources where no deforestation occurs by 2020.
About 80% of McDonald's packaging is fiber-based, DeBiase said. The rest — such as plastic cup lids and straws — is not, she said.
Environmental groups such as the Environmental Defense Fund and World Wildlife Fund hailed McDonald's new plan.
Other food companies have said for years that they want to use more recyclable material, but the McDonald's plan is more substantive and collaborative, said Erin Simon, director of sustainability research and development for the World Wildlife Fund.
"I'm happy with the fact that they're saying, 'Do this with us.' … This is a complex, meaty goal," Simon said.
McDonald's partnership with the Environmental Defense Fund spans more than 25 years. The group, which is not paid by the chain, has offered advice on improving packaging and animal welfare standards.
Increasingly, more companies are realizing that taking environmental sustainability seriously can help employee engagement, reduce business risks and provide good public relations, said Elizabeth Sturcken, managing director of the Environmental Defense Fund's corporate partnership program.
The challenge of this particular plan for McDonald's will be working with different governments and recycling infrastructures all over the world to achieve the goals, Sturcken said.
McDonald's "has set ambitious goals before and met them," she said. "I'm optimistic."
---
Your guide to our new economic reality.
Get our free business newsletter for insights and tips for getting by.
You may occasionally receive promotional content from the Los Angeles Times.