Biden says he is working with global leaders to promote cancer 'moonshot'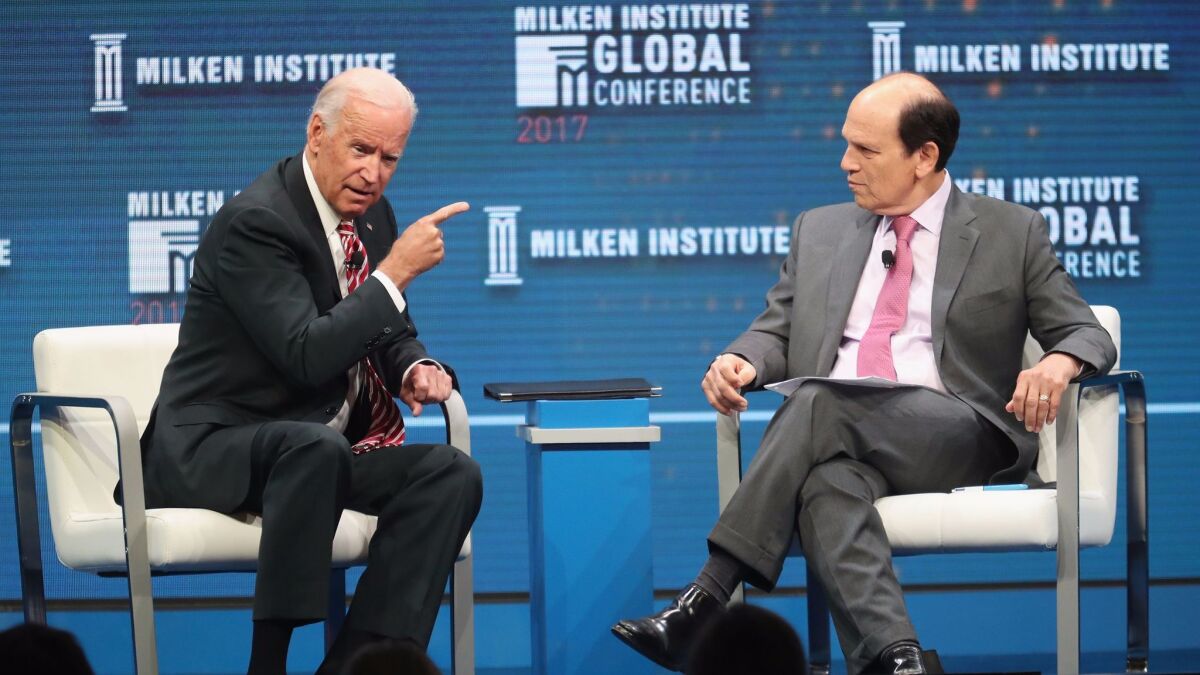 Former Vice President Joe Biden said his cancer "moonshot" initiative that he pushed for while in the White House is going global and will be led by his private foundation rather than the federal government.
In an address Wednesday morning at the Milken Institute Global Conference in Beverly Hills, Biden said he is now working with world leaders, including Chinese President Xi Jinping, to promote global collaboration on cancer research.
"People came to me and asked if I would continue the moonshot because it had not been picked up by the new administration," Biden said. "So I'm doing that.… In this fight, we have to be unwilling to postpone."
The initiative, inspired by the death of Biden's son, Beau, from brain cancer in 2015, urges cancer researchers and drug companies to pool data and combine therapies in the hope of finding better treatments – and eventually cures.
The former vice president said the moonshot will be run out of his Biden Foundation and that he already has cooperation agreements signed by leaders of 10 countries, though he did not offer more details.
He also called cancer "the only truly bipartisan issue left in Washington," echoing comments he made this spring in a speech at the South by Southwest festival in Austin, Texas, and earlier this week at a healthcare conference in San Diego.
Biden was later interviewed by conference founder Michael Milken, a philanthropist and high-profile former financier who has been an outspoken advocate of cancer research.
Milken was diagnosed with prostate cancer in 1993 and has been in remission for years. He famously relocated his bond business at a Wall Street investment bank from New York to Beverly Hills in the late 1970s after his father was diagnosed with cancer.
In an emotional exchange, Milken told Biden that there came a time when he realized, despite his success and growing clout on Wall Street, that he could not save his father.
"I could refinance thousands of companies, but I knew science had not moved fast enough to save my father," he said. "I moved hundreds of people and myself to California so my sons could know him before he died."
Milken then asked Biden if he had a similar moment, realizing that even as vice president he could not save his son.
"When he was diagnosed, we both knew," Biden said. "He said, 'Look dad, I'm going to be all right no matter what. But you have to promise you will be too.'"
In discussing his talks with foreign leaders, Biden told Milken that his assistance would be needed to help promote global collaboration on cancer research.
"There's an agreement on paper, but it has to be implemented. I'm going to ask this guy to help," Biden said, pointing to Milken.
Follow me: @jrkoren
---
Sign up for the California Politics newsletter to get exclusive analysis from our reporters.
You may occasionally receive promotional content from the Los Angeles Times.