Businesses find creative ways to cope with minimum wage hikes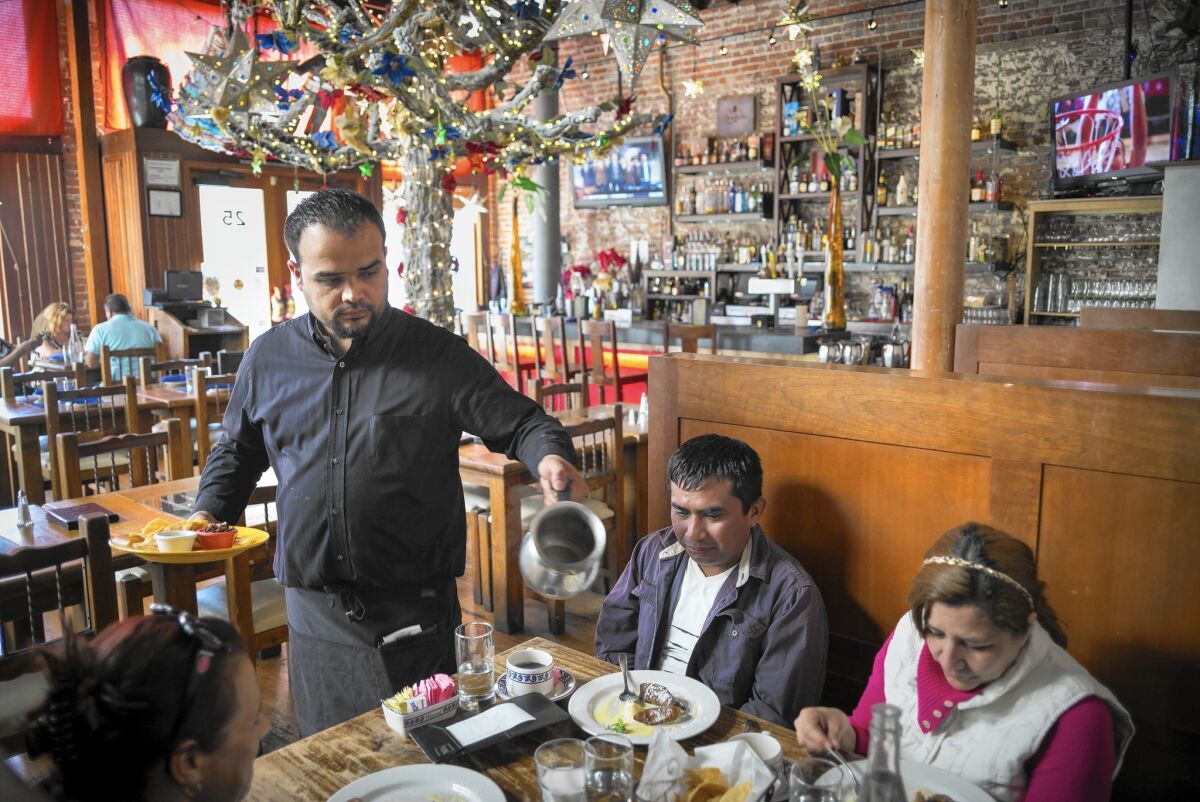 When the minimum wage in San Jose went from $8 to $10 an hour in 2013, Adolfo Gomez started sending kitchen staff at his Mexican restaurant home early. His mother and brother handled the extra work.
In Albuquerque, Myra Ghattas told cooks and hostesses to come in later when the wage there increased from $7.50 to $8.50 the same year. Down the road, Steve Paternoster started closing the bar early at his Italian restaurant.
"You just schedule as tight as you can," said Paternoster, who owns Scalo Northern Italian Grill. "I put the emphasis on being there fishing when the fish are biting."
As political leaders in Los Angeles look to raise the minimum wage, some business owners have argued the move would force layoffs for workers and price increases for customers. But a look at how businesses fared after minimum wage hikes elsewhere offers a more nuanced portrait of how businesses cope with higher labor costs.
Many owners who at the time predicted their business would close are still in operation. Mass layoffs weren't an option, business owners said, because service would suffer.
Still, the wage increases ate into profits at businesses in San Francisco, San Jose, Albuquerque and Santa Fe, N.M. And that fundamentally changed the way they did business. Owners couldn't simply absorb the costs, so they scrubbed their budgets to preserve profits.
Many question whether workers benefited.
"The thought process is that you're going to put more money in people's pockets," said Ghattas, who owns the Slate Street Café, a wine bar and restaurant in Albuquerque. "In theory, that makes sense. But people end up getting hours cut, and they don't actually make any more money."
Los Angeles Mayor Eric Garcetti in September proposed a minimum wage increase to $13.25 an hour by 2017. Some City Council members want to go further, advocating an increase to $15.25 by 2019.
Decades of research on the minimum wage have arrived at conflicting conclusions about whether employers cut jobs. In recent years, studies have increasingly found that minimum wage hikes have little effect on overall employment.
Less studied, however, is the effect of minimum wage increases on hours and take-home pay.
The restaurant industry is particularly sensitive to minimum wage hikes.
Nearly 44% of minimum wage workers across the country are in the food preparation and serving occupations, according to the Pew Research Center. In Los Angeles, an estimated 17.4% of workers who would get a wage increase — more than 98,000 people — are in the restaurant industry, according to a UC Berkeley study commissioned by Garcetti.
The industry also has some of the thinnest profit margins in the country. According to data from the financial research firm Sageworks, net profit margins for restaurants averaged about 3% in 2013, compared with a nearly 6.3% profit margin for all private industries across the country.
Paternoster and other business owners described creative ways they've adjusted to the new cost structure, performing exhaustive reviews of every line item in the budget.
When Paternoster realized few customers were coming in at 11 a.m. for lunch, and hostesses had little to do, he changed the restaurant opening to 11:30 a.m. He used to pride himself on offering temporary summer jobs for college students, but he has since done away with those positions.
He also reduced the number of waiters through attrition. "It wasn't a rising tide that lifted all boats," he said. "What it did was result in me carrying 14 or 15 fewer waiters."
Gomez, who owns Mezcal, a Mexican restaurant in downtown San Jose, decided to get by without a restaurant manager or a sous chef. He's since taken on all management duties, and his brother, the chef, is getting by without an assistant.
Gomez didn't want food quality to suffer. He has distinguished his restaurant from others by sticking to tradition, offering the specific cuisine of his native Mexican state of Oaxaca. He uses herbs and peppers that can be shipped only from the southern region of Mexico, along with more exotic items such as grasshoppers.
But cutting costs required compromises. So he decided to shift from filet mignon to cuts that were slightly less choice.
That enabled him to keep fresh sea bass instead of shifting to frozen.
"We're not a steakhouse," Gomez said. "So we can get away with just a rib-eye."
Still, the cuts can hurt the bottom line. Ghattas, the Slate Street Café owner in Albuquerque, said it's impossible to predict when a huge rush could overwhelm a trimmed staff.
"When you're in an industry like the restaurant industry that has peaks and valleys, if you have a lunch rush and it's an hour and a half, that's an hour and a half that you need people," she said. "If you can't execute in that amount of time, then the people stop coming."
Other restaurateurs simply decided to abandon full-service operations in higher-wage locales. Before Santa Fe, N.M., raised the minimum wage from $5.15 to $8.50 an hour in 2004, Rick Post and his business partners were already considering selling their mid-range Italian restaurant, Pranzo Italian Grill.
After the wage increase, they shifted their focus to a smaller-scale brick-oven pizza chain, Il Vicino, that required about 20% of the staff. Tips are distributed more evenly among kitchen employees and waitstaff.
The model has worked out better for accommodating the higher wages, but Post said he employs far fewer people.
"It kind of backfires," he said of minimum wage increases.
Restaurant owners who have contended with wage increases in other cities argue that the law had a fundamental flaw. The raises were required for relatively well-paid waitstaff, who earn most of their money from tips, in addition to low-wage kitchen workers.
That would also be true in California, where state law doesn't distinguish between tipped and non-tipped workers.
The policy means an outsized share of the increased pay goes to workers who need it the least, business owners said.
Incanto, a high-end restaurant in San Francisco, at first seemed unlikely to have difficulty with the city's higher minimum of $8.50 an hour, instituted in 2004. Incanto already paid its kitchen staff well above the proposed new minimum. And the waitstaff, which earned generous tips in addition to a minimum wage, was among the best-paid in the city.
That meant a huge amount of money went to boosting salaries for those workers who did not need it, said Incanto's former owner, Mark Pastore.
"We were stretched to pay this higher wage for people earning four times as much as the kitchen workers," he said.
Pastore said he confronted the agonizing choice of whether to take medical benefits away from cooks to pay servers a higher wage. In the end, they kept the benefits.
Instead, the restaurant made up some of the shortfall by raising prices and placing a service charge on the bill, Pastore said, but profit still suffered. Incanto closed last spring.
Since the wage hike went into effect in 2004, he said the restaurant had only one profitable year — when chef Chris Cosentino won the "Top Chef Masters" television competition on Bravo.
Now Pastore runs Boccalone, which produces cured meats for sale at farmers markets across California. It has allowed him to focus more on the food than his budget.
"You spend more and more of your time inwardly focused, wondering about how to structure your compensation model, how to cut costs," he said. "It can distract you from the core things you need to do to make your restaurant successful."
Twitter: @c_kirkham