Saturday Drive: VWerks Red Jacket Jeep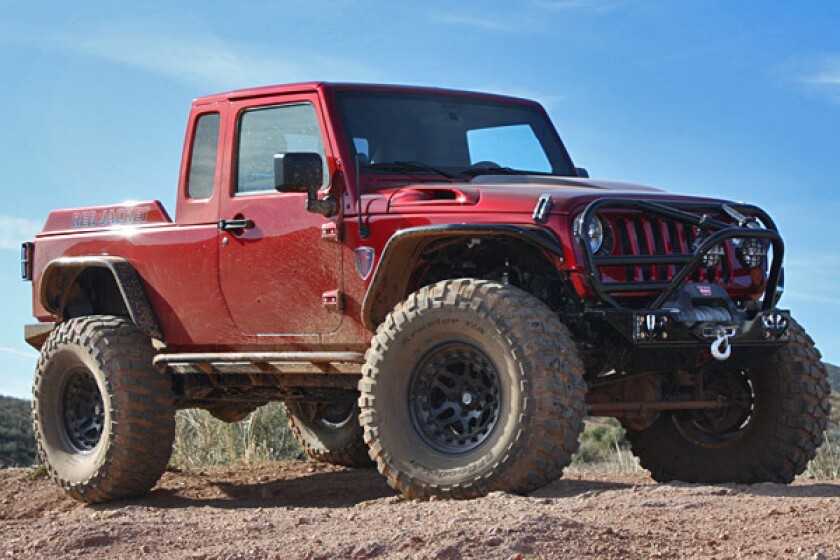 The car: VWerks Red Jacket Jeep
The power: 285 horsepower and 260 pound-feet of torque from a 3.6-liter Pentastar V6 (same engine and output as a stock 2012 Jeep Wrangler and Wrangler Unlimited).
The photos: VWerks RedJacket Jeep
The speed: This isn't the place to look for 0-60 times, my friend.
The bragging rights: It's the first creation from the minds of VWerks, a specialty vehicle outfitter based in Michigan. Red Jacket Firearms is a weapons manufacturer featured prominently on "Sons of Guns," a TV show on the Discovery Channel.
The price: $115,000. But before you scoff, know this is a showcase vehicle for both Red Jacket and VWerks and that price includes a $40,000 custom paint job. Figure $75,000 for the same vehicle sans the fancy clothes. Now scoff.
The details: Take a deep breath before reading this laundry list of modifications. Ready? Start with a stock Jeep Wrangler Unlimited (it's the 4-door version).
Next, hack off the rear cab and turn it into a mini pickup truck with a JK-8 conversion kit (this one was $13,919, including installation). This gives you a 50-inch bed that's 44 inches wide (between the wheel wells). It harkens back to the early 1980s, when Jeep took its CJ-7, stretched the wheelbase and added a short bed and called it the CJ-8 (a.k.a. Scrambler).
Then, add some brawn in the form of a 4-inch lift kit and 1-inch body lift, highlighted by massive 40-inch tires on 17-inch Hutcheson Beadlock rims. The axles are Dana 44s.
After that, bolt on most of the VWerks catalog available to consumers. This includes rock rails (bars protecting the body of the Jeep, mounted below the doorframe); a VWerks front bumper with a Warn 9500 winch (held together with welds clean enough to be put in a museum); VWerks rear bumper and rear differential cover; and a custom hood with cowl induction.
Finally, throw in details like a Katzkin leather package for the interior, a Kicker sound system, custom floormats, modified box sides and a spray-in bedliner.
Or stick to the basics. VWerks says the JK8 conversion, lift kit, smaller (37-inch) tires and all the VWerks accessories will run you about $25,000. Jeep not included.
The drive: We took the Red Jacket Jeep to Rowher Flats Off Highway Vehicle park outside Santa Clarita to put it through its paces in the dirt. Not surprisingly, it eats up the trail with aplomb. Think Cookie Monster raiding the Keebler factory.
Low-speed crawls and faster trail-running were handled with ease. The longer wheelbase of the Jeep Unlimited versus the standard Wrangler gives you plenty of stability and climbing prowess yet is still short enough to be maneuverable in tight spots.
The biggest downside to this build kit was a limited turning radius caused by the massive 40-inch tires. It's worth noting that they were chosen more for show than true off-road performance. Most buyers will opt for something in a smaller, more practical size. Like 37 inches.
The Pentastar engine works great in the Wrangler, giving it plenty of smooth power and torque at the right time. This Red Jacket Jeep has a 5-speed automatic transmission, and throughout the afternoon it put up no fuss in choosing the right gear for our needs.
Overall, the Red Jacket Jeep made approachable any trail we encountered. It was practically a point-and-shoot exercise in off-roading that one could do in the high comfort offered by the starting point that is the Wrangler Unlimited. Though we spent only half a day on the trails, a longer excursion would have been a welcome and relatively comfortable way to explore.
On the road, things get a little mushy and noisy. The ride height and suspension roll take a little getting used but it's not the wholly unsettling experience you might think by looking at the vehicle.
And look people do. During both on and off-roading, this Jeep commands plenty of attention. Jeep novices seemed to admire it for its sheer on- and off-road presence, while aficionados, often in Jeeps themselves, paid it plenty of respect knowing it could likely out-perform their own steed.
The takeaway: Playing in the dirt never looked so cool.
---
Your guide to our new economic reality.
Get our free business newsletter for insights and tips for getting by.
You may occasionally receive promotional content from the Los Angeles Times.