Food & drink fail: Belvedere rape ad, Rihanna burger, Kraft gaffe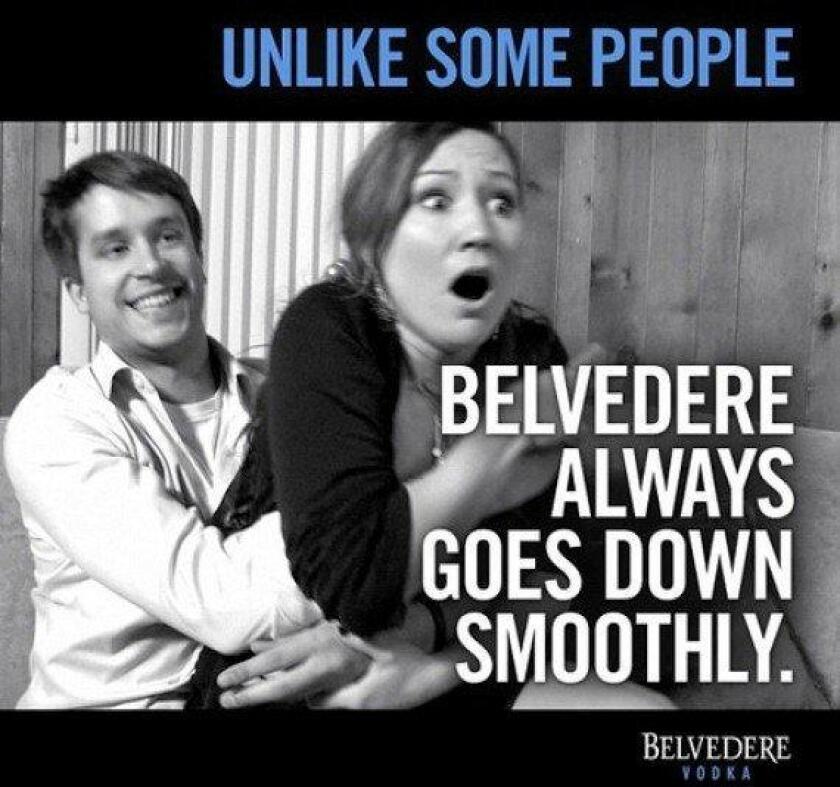 There were some questionable decisions made in the food and beverage industry last week and their consequences are still being felt Monday. Belvedere Vodka posted an ad that horrified customers with an implied rape scene while a Georgia steakhouse based a new burger on Chris Brown's 2009 attack on singer Rihanna.
And Kraft Foods is discovering that its global snacks business' new name, Mondelez, has an unexpectedly vulgar connotation.
Belvedere has removed a spot it posted on Facebook over the weekend depicting a shocked-looking woman trying to get away from the grip of a smiling man. "Unlike some people, Belvedere always goes down smoothly," the ad crows.
Consumers lashed out quickly and passionately, deeming the spot "disgusting," "the worst ad in the world" and "badvertising" on Twitter. Several called for women to boycott the Polish brand.
Charles Gibb, president of Belvedere, quickly posted an apology on Facebook, saying that "the offensive post … should never have happened."
"The content is contrary to our values and we deeply regret this lapse," he wrote. The company said it made a donation to anti-sexual violence group RAINN.
Meanwhile, in Watkinsville, Ga., Chops & Hops steakhouse is wallowing in contrition after unveiling a Caribbean "black and bleu" sandwich that the restaurant said was inspired by Brown's alleged beating of former girlfriend Rihanna.
A restaurant representative tweeted: "Chris Brown won't beat you up for eating this unless your name starts with a R and ends with A," according to the Atlanta Journal-Constitution.
But now, all the steakhouse is eating is crow, pulling the sandwich off the menu and promising to donate six times the amount of the burger's sales to an anti-domestic violence nonprofit.
"We and our staff DO NOT SUPPORT DOMESTIC VIOLENCE," wrote owner Mychell Lang on Facebook. "Many of us have been affected by domestic violence in some manner and realize that this is no joke."
Meanwhile, the Mondelez name that Kraft unveiled last week is still making waves -- especially in Russia, where the name sounds like a slang term for a sex act. That's despite Kraft's efforts to vet the name in 28 different languages.
"Everyone's going to be taking pot shots at this," said Nik Contis, a naming expert with branding firm Siegel & Gale. "Whenever there's a big corporate naming like this, that's always what happens. The jury's still out on this one."
But Contis said he's actually a "voice in the wilderness" in that he's "pleasantly surprised" by Mondelez and hope consumers "give it a fair shake."
Given the huge number of corporate ventures that have survived naming flaps in the past, he believes Kraft's Russian blunder likely "won't be a deal-breaker."
"There are plenty of Russian tourists every year who go to Vegas and visit Mandalay Bay," he said. "Mondelez is a corporate name -- what you put in your mouth will be Oreo cookies. As in many situations, this controversy will be pretty inconsequential."
Among the companies that ran into multilingual surprises and lived to tell the tale (even if their brands didn't): The Chevrolet Nova, which, despite meaning "it doesn't go" in Spanish sold just fine in Central and South America. Nokia's Lumia smartphone translates into Spanish as "prostitute." Reebok got a nasty surprise when it learned that its Incubus shoe, which was being marketed to women, shared a name with a mythical demon that rapes women in their sleep. Japanese soft drink Calpis sells as Calpico in the U.S. to avoid a rather unfortunate homophone effect.
RELATED:
Nivea's 're-civilize' ad called racist; company apologizes
Chris Brown, Rihanna collaborations spark controversy
Singer Chris Brown under investigation in alleged assault
No more Kraft for Oreo, Ritz: Snack unit to be named 'Mondelez'
---
Your guide to our clean energy future
Get our Boiling Point newsletter for the latest on the power sector, water wars and more — and what they mean for California.
You may occasionally receive promotional content from the Los Angeles Times.