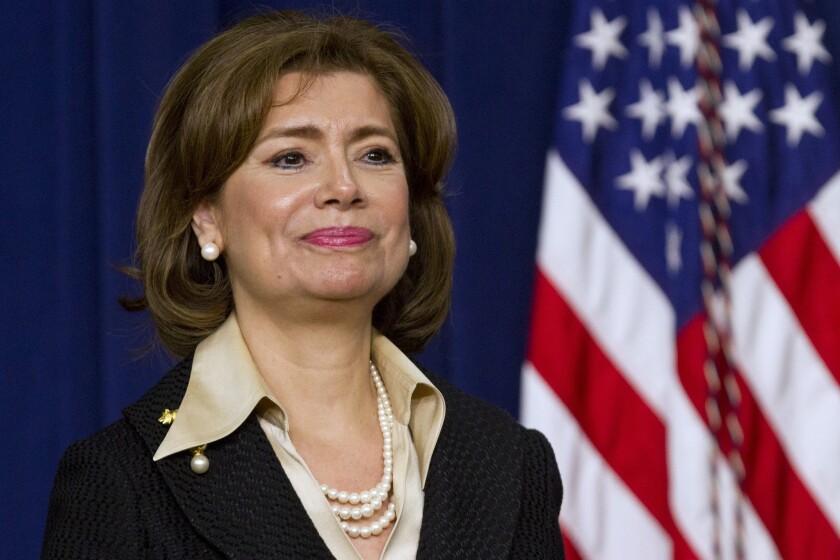 WASHINGTON -- The Senate on Thursday confirmed Maria Contreras-Sweet, a former California official who founded a Los Angeles community bank, to head the federal Small Business Administration.
Contreras-Sweet was approved on a voice vote to the Cabinet position, which helps small businesses with loans and other assistance. She takes over for Karen Mills, a former venture capitalist who stepped down as the agency's administrator last year.
President Obama said Contreras-Sweet "understands what it means to start a small business" and has "a proven track record of helping other small businesses succeed."
PHOTOS: Federal Reserve chairs through the years
"As we work to keep our economy growing, Maria will be charged with looking for more ways to support small businesses," said Obama, who two years ago elevated the job to Cabinet level to emphasize the sector's importance to the economy.
Contreras-Sweet founded Promerica, now called Proamerica Bank, in 2006. It focuses on serving small and mid-sized Latino businesses in Los Angeles.
The bank says it provides "bicultural service, not just bilingual service."
She also was co-founder and president of Fortius Holdings, a private equity firm that provided capital to small California businesses.
Contreras-Sweet was born in Guadalajara, Mexico, and immigrated to Los Angeles when she was 5 years old. In 1999, she became the state's first Latina Cabinet official, serving as secretary of the Business, Transportation and Housing Agency until 2003 under Gov. Gray Davis.
Sen. Maria Cantwell, (D-Wash.,), chairwoman of the chamber's Small Business and Entrepreneurship Committee, called Contreras-Sweet "a leader with her finger on the pulse of small business lending."
---