State to hold hearing on EDD unemployment benefits backlog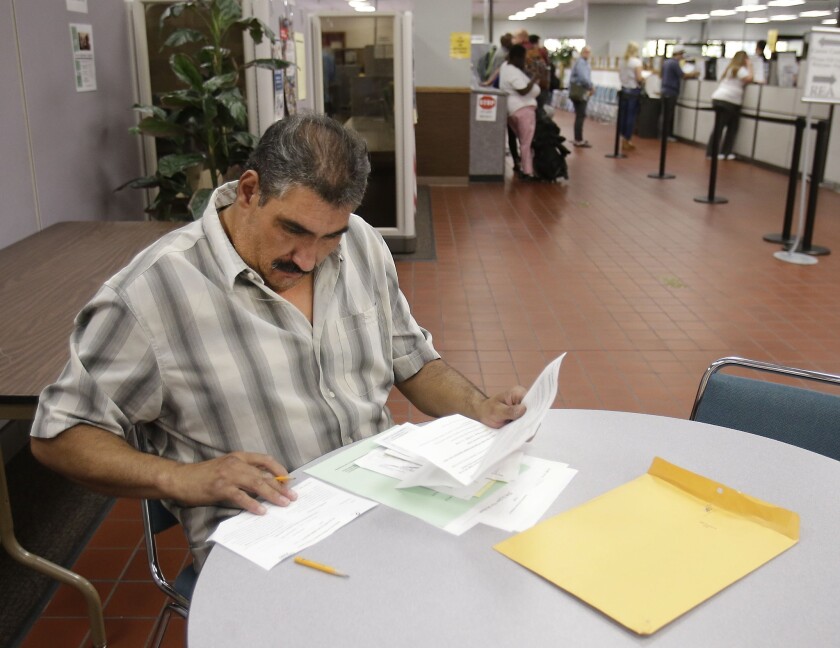 The California Assembly plans to hold a hearing as early as next month to probe the causes of a snafu at the Employment Development Department that caused tens of thousands of unemployment claim payments to be delayed.
Assemblyman Henry T. Perea (D-Fresno), who chairs the Assembly Insurance Committee, which oversees the unemployment insurance program, said Monday in an interview with The Times that his committee plans a postmortem on computer problems that have plagued the EDD.
A hearing is tentatively set for November or December, Perea said. "We're going to look at the entire picture -- the EDD, the contractors and others -- to really see how the system broke down so we can avoid this in the future," he said.
MOST DANGEROUS JOBS: 10 professions with the highest fatalities in America
Perea, as well as other California lawmakers, said his office has received scores of complaints from constituents in his district who have been affected by a computer upgrade that left many without unemployment checks for weeks.
"I was getting personal messages from people on Facebook, asking me to get engaged in this," he said. "I'm getting phone calls, social media messages and mail."
The state's EDD has been trying to remedy problems that began when it launched an upgrade to its 30-year-old computer systems over Labor Day weekend. That upgrade was intended to streamline a program that verified claimants' eligibility for benefits.
Instead, as many as 300,000 claims were snared when the new system had trouble converting old claims data. Those claims were flagged for further review and state workers have been working overtime as they have manually processed them.
The problem grew increasingly worse, and when it became clear that the backlog was not being cleared quickly enough, the state's top labor official ordered the EDD on Sept. 24 to immediately pay out claims and verify eligibility later.
By Oct. 3, EDD officials were proclaiming that they had processed all the backlogged payments. But still, many said they had not yet been paid and were falling behind on rent, mortgage payments, bills and other household expenses.
The EDD acknowledged last week that the computer glitch had also stopped claim forms that verify eligibility from being sent to those with standing claims.
Marty Morgenstern, the state's secretary for labor and workforce development, who ordered those payments be issued immediately, said Monday that state officials have been working hard to find solutions to the problem.
"I know how serious this problem is and we are making every effort to solve the problem and get people their money, and get it there as fast as humanly possible," he said.
The upgrade to the state's computer system was done by IT contractor Deloitte Consulting, a New York-based firm that has a history of delivering projects to the state that have gone over original cost estimates and failed to work as intended.
In the last decade, state agencies have awarded the company -- one of the nation's largest management and information-technology consulting firms -- more than $540 million in contracts, making it the third-highest-paid IT contractor hired by the state, behind IBM and Electronic Data Systems Corp.
Deloitte, its affiliated firms, employees and a political action committee they formed have spent more than $2.2 million on lobbying, campaign contributions and gifts to officials in the last 10 years.
A spokeswoman for Deloitte said in an email, after declining to make a company official available for a phone interview, that the system is working and problems are not the result of to a "breakdown or flaw in the software Deloitte developed."
ALSO:
Most Americans expect to work during 'retirement,' poll finds
Watch SpaceX's rocket soar half a mile above Earth and return
Upset over U.S. fiscal crisis, China urges a 'de-Americanized world'
---
For reporting and exclusive analysis from bureau chief John Myers, get our California Politics newsletter.
You may occasionally receive promotional content from the Los Angeles Times.