Occidental Petroleum says third-quarter profit jumped 14%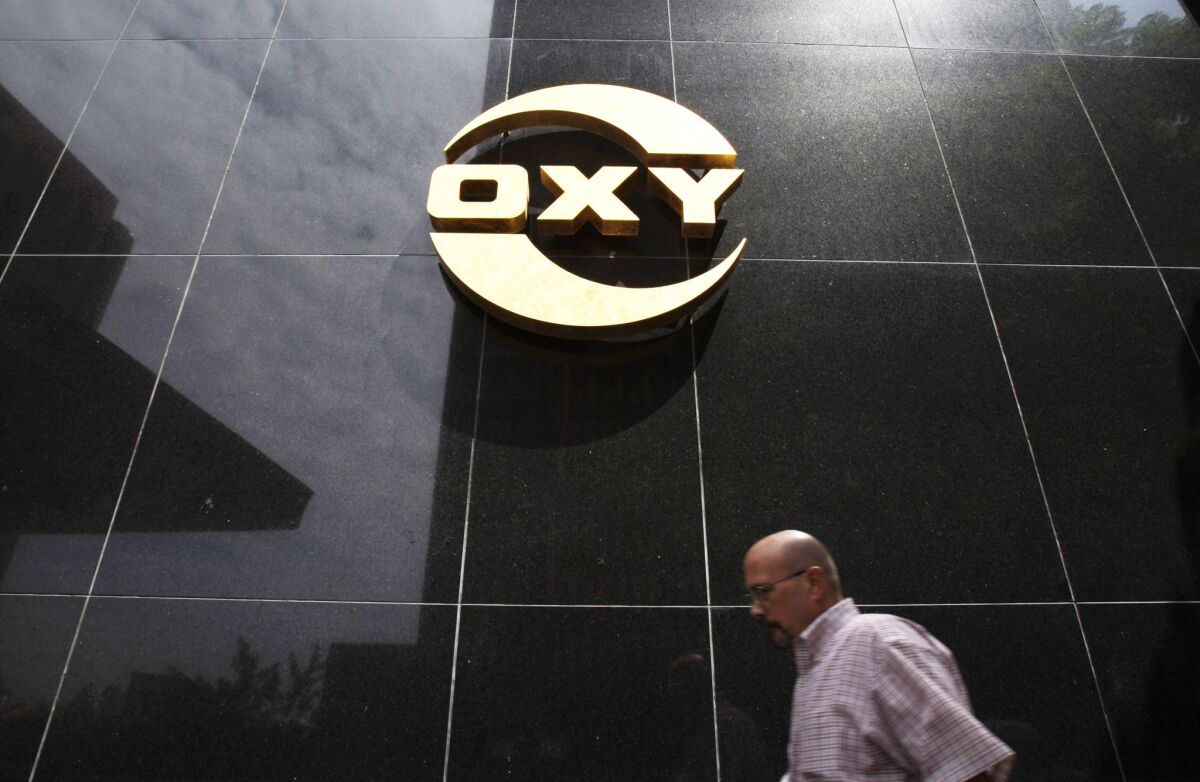 Occidental Petroleum, one of the largest crude oil producers in the country, said third quarter earnings jumped more than 14% as domestic oil production increased and gas prices rose.
The earnings report comes nearly two weeks after the Los Angeles company announced restructuring plans that include selling off its stake in the Middle East and North Africa region.
The company reported a profit of $1.58 billion, or $1.96 a share, in the three months ended Sept. 30. That was compared to $1.38 billion, or $1.69 a share, from the same quarter a year earlier. Sales jumped 8.1% to $6.45 billion.
PHOTOS: Richest and poorest cities in America
Occidental Chief Executive Stephen Chazen said the company had made considerable headway in its efforts to reduce costs and increase production.
"We are on track to meet or exceed our drilling activity levels planned for the year while spending less capital than planned," he said in a Tuesday call with analysts. "These achievements have generated higher margins, giving us confidence to allocate additional capital towards profitable growth opportunities."
Chazen said the company was going ahead with plans to streamline the business and sell off some of its assets. In addition to its stake in the Middle East and North Africa, Occidental also sold a part of its interest in the Plains All American pipeline for about $1.4 billion before taxes.
PHOTOS: Best and worst countries in which to grow old
"We will continue to seek additional strategic alternatives for the company to maximize total returns to our shareholders," Chazen said.
Earlier this year, Occidental went through a period of boardroom turmoil that ultimately resulted in shareholders ousting its longtime chairman, Ray Irani.
With its value having dropped in 2011 and 2012, the oil and gas producer is looking for ways to improve investor return, analysts said. Rivals such as Hess Corp. have also had to consider restructuring or selling off assets in order to turn around performance.
Shares of Occidental fell 99 cents, or 1%, to $96.55 in midday trading Tuesday.
ALSO:
Facebook loosens privacy policy on teens' posts
Government shutdown may crimp holiday shopping
Amazon.com raises threshold for free shipping to $35 an order
Follow Shan Li on Twitter @ShanLi
Sign up for the California Politics newsletter to get exclusive analysis from our reporters.
You may occasionally receive promotional content from the Los Angeles Times.