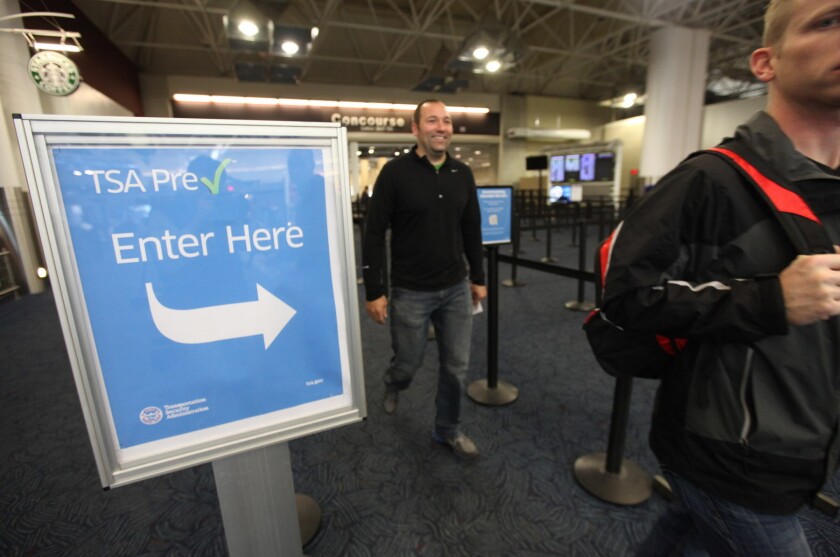 If you fly Southwest Airlines, the airport screening process could get a lot easier for you.
Southwest, the nation's largest domestic carrier, has joined seven other airlines in participating in the Transportation Security Administration's so-called PreCheck program.
Travelers eligible for PreCheck can go through a special screening queue without having to remove their shoes, belts or light coats. They can also keep their laptops and liquids in their carry-on bags.
The PreCheck screening lines are available at 100 airports across the country, including Los Angeles International Airport and Bob Hope Airport in Burbank.
The idea behind PreCheck is to speed the screening process for travelers who have submitted background information to the TSA before arriving at the airport.
The PreCheck lines will be open to Southwest fliers who are members of the airline's Rapid Rewards program and approved by the TSA.
The lines are also open to U.S. citizens who are members of a trusted traveler program operated by the U.S. Customs and Border Patrol, such as Global Entry, SENTRI and NEXUS.
In addition, U.S. citizens can enroll for the PreCheck program at enrollment locations at Washington Dulles International Airport and Indianapolis International Airport.
Passengers will see a notification on their boarding pass, notifying them whether the TSA has approved them to use the PreCheck lines.
ALSO:
Merger of American Airlines and US Airways cleared for takeoff
FAA to let air travelers go the distance with electronic gadgets
Complaints against airlines are down in first nine months of 2013
---