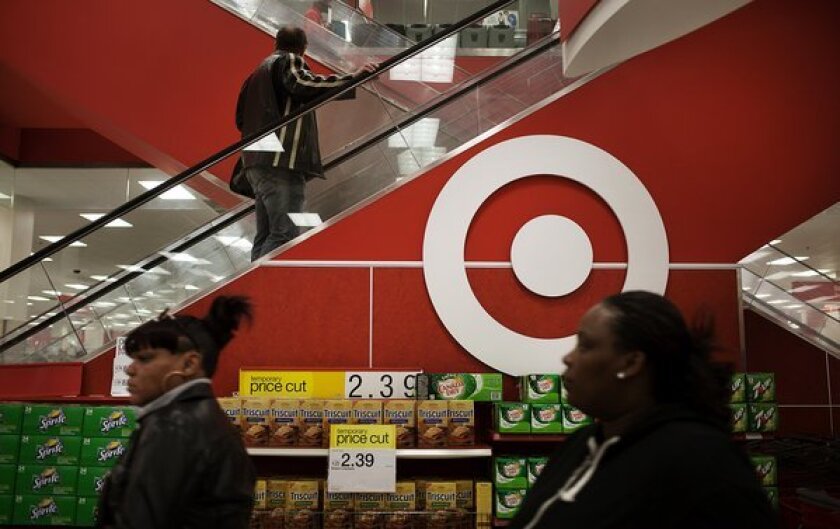 Target Corp., like many other retail rivals, was laid low in its first fiscal quarter by cold spring temperatures that discouraged seasonal shopping and caused the chain to underperform by even its own metrics.
The Minneapolis company said sales at stores open more than a year declined 0.6% in the three months ended May 4. That's after the retailer in April amended an earlier forecast of a gain as high as 2% and began predicting flat sales.
Target hasn't experienced a same-store sales decline since 2009. Chief Executive Gregg Steinhafel, in a statement, said the "softer-than-expected sales" came largely in "apparel and other seasonal and weather-sensitive categories" in the chain's 1,832 stores.
In its first quarter, Target began expanding into Canada, opening 24 stores out of the 124 it hopes to launch by the end of the year.
The chain said net income for the period was $498 million, or 77 cents a share, down from its profit of $697 million, or $1.04 a share a year earlier. The EPS figure, which tumbled 26%, missed the low bar of Target's April estimate.
Overall revenue ticked up 1% to $16.71 billion in the first quarter. The gauge advanced 0.5% in the U.S.
Top 10 biggest Southern California companies
The data was disappointing enough for Target to slash its expectations for the full year. Instead of the $4.85 to $5.05 per-share earnings it anticipated in April, the retailer now says its earnings for the 2013 fiscal year will fall between $4.70 and $4.90 a share.
In morning trading in New York, Target stock dipped as much as 4% to $68.40 a share.
Target is far from the only retailer pointing to the delayed start of spring warmth as a factor in disappointing sales. Last week, Wal-Mart blamed the weather for its 1.4% same-store sales decline for the quarter ended April 30.
On Wednesday, home-improvement chain Lowe's said same-store sales slipped 0.7% for the quarter ended May 3.
"Cooler than normal temperatures and greater precipitation resulted in a delayed spring selling season, which impacted our results in exterior categories," said Lowe's Chief Executive Robert A. Niblock. "While overall performance in the month of March was particularly soft, April improved significantly and we have maintained that positive momentum through the first few weeks of May."
ALSO:
Home Depot boosts profit, sales as housing market improves
Best Buy earnings slump on turnaround costs, Super Bowl shift
Wal-Mart reports weak 1st-quarter sales, blames weather, tax issues
---