Wal-Mart is buying trendy e-commerce sites. The cool kids are not having it
At the height of their love affair, Bridget Henry visited online clothing store ModCloth's app every day. It wasn't just the clothes with a vintage and quirky vibe that the 26-year-old liked, it was the story.
Founded by high school sweethearts in a college dorm room, the San Francisco company had grown on the backs of its loyal customers to $150 million in revenue in 2015. Henry liked how genuine the brand seemed. That is, until it was purchased by Wal-Mart Stores Inc. in March.
"I shed a little tear when I deleted the app. I felt like I was breaking up with someone," the supply chain analyst said.
Wal-Mart is aggressively expanding its e-commerce clout. The retailer purchased e-commerce site Jet.com last year and is offering free shipping and discounts on Walmart.com as it bulks up to better battle with online shopping giant Amazon.com.
But even Wal-Mart e-commerce communications Vice President Dan Toporek acknowledges that Walmart.com and its massive inventory of 50 million distinct products will not attract the cool kids who are — or were — shopping at places such as ModCloth.
Analysts see a trend with Wal-Mart's recent buys.
It snapped up online footwear shop Shoebuy.com at the end of 2016, and then bought Moosejaw, an upscale online outdoor gear site for $51 million in February. After paying an estimated $50 million to $75 million for Modcloth, Wal-Mart purchased Bonobos, a New York-based site selling offbeat but slick mens wear, for a cool $310 million in June.
Investment firm RZC Investments, which is independent of Wal-Mart but is owned by late founder Sam Walton's heirs Steuart and Tom Walton, bought premium cycling clothier Rapha for $260 million last week.
Online cosmetics retailer Birchbox is also reportedly in talks with Wal-Mart. Birchbox and Wal-Mart declined to comment.
Wal-Mart hopes to leverage the popularity of these niche, trendy sites with subsets of consumers who wouldn't be caught dead in a Wal-Mart store. And the kids are not having it.
ModCloth and Bonobos are being cyberbullied by their fans online, who are making fun of the brands for what they see as selling out to the corporate machine.
"The thing I loved about Modcloth is that I knew the clothes I bought there couldn't be found at Macy's and weren't worn by the masses," said Connie Warner, who started a Boycott ModCloth page on Facebook. "No more. I've unsubscribed from their emails. I refuse to shop at a store owned by Walmart."
It's not just the potential style-cramping by Wal-Mart that is driving the protest.
Haley Pollock, another ModCloth shopper, said she won't support a company whose owner has a reputation for controversial workplace and corporate practices.
Wal-Mart has been accused over the years of discriminating against minorities and women, paying low wages, being anti-union, maintaining poor environmental standards and buying products from foreign suppliers that mistreat workers. Wal-Mart has denied violating laws or knowingly doing business with suspect suppliers.
Still, none of this sits well with socially conscious millennials, despite Wal-Mart protestations.
"I still buy the ModCloth brands from other places like Poshmark and Tradesy," said Pollock, 38. "I just won't line Walmart executives pockets."
ModCloth, Bonobos and Wal-Mart executive Toporek are well aware of the backlash and have assured customers that the acquisitions won't change the quality of the merchandise or the way the stores operate.
Bonobos and ModCloth products, Toporek said, will never be seen in a Wal-Mart store but will be sold on Jet.com, giving the upscale buyers just enough degrees of separation from the mass-consumer crowd.
"We're sort of targeting a different customer set" with Jet.com, he said. "Bonobos and ModCloth will not get touched. They will operate the way they always have."
At this point, Walmart must use every weapon it has against Amazon.
— David Wessels, adjunct finance professor, Wharton School, University of Pennsylvania
Start-up advisor Sucharita Mulpuru-Kodal hopes that assurance holds up. Wal-Mart, in all its mass-consumer, bricks-and-mortar glory is the antithesis of the trendy, digital culture that its new buys ooze.
"It's important Walmart respects that culture," she said. "Those brands built a market with the promise they were part of something great and in a family of like-minded individuals, and if that changes, you poison what helped build that market in the first place."
In terms of branding, being associated with a large corporation won't do many favors for the acquired companies.
"What exactly did K-Mart do for Martha Stewart Living?" joked David Wessels, adjunct professor of finance at the Wharton School of the University of Pennsylvania.
Wal-Mart is trying to leverage the appeal of Bonobos and ModCloth to push traffic to Jet.com as the world's largest retailer tries to chip away at the sales of Amazon.
Wal-Mart added two-day free shipping with no membership fees for buyers using Walmart.com and is offering discounts for customers who pick up their orders at any of its 5,000-plus stores, in hopes of enticing a bigger piece of the online shopping crowd.
Whether that is enough to get customers to switch over from the more well-established Amazon Prime is anybody's guess.
"At this point, Walmart must use every weapon it has against Amazon," Wessels said.
Wal-Mart is doing extensive surgery to improve its e-commerce presence and appeal, Toporek said. Jet.com founder Marc Lore has been installed as head of the retailer's online shopping platform to figure out how the company will market its products on Walmart.com and Jet.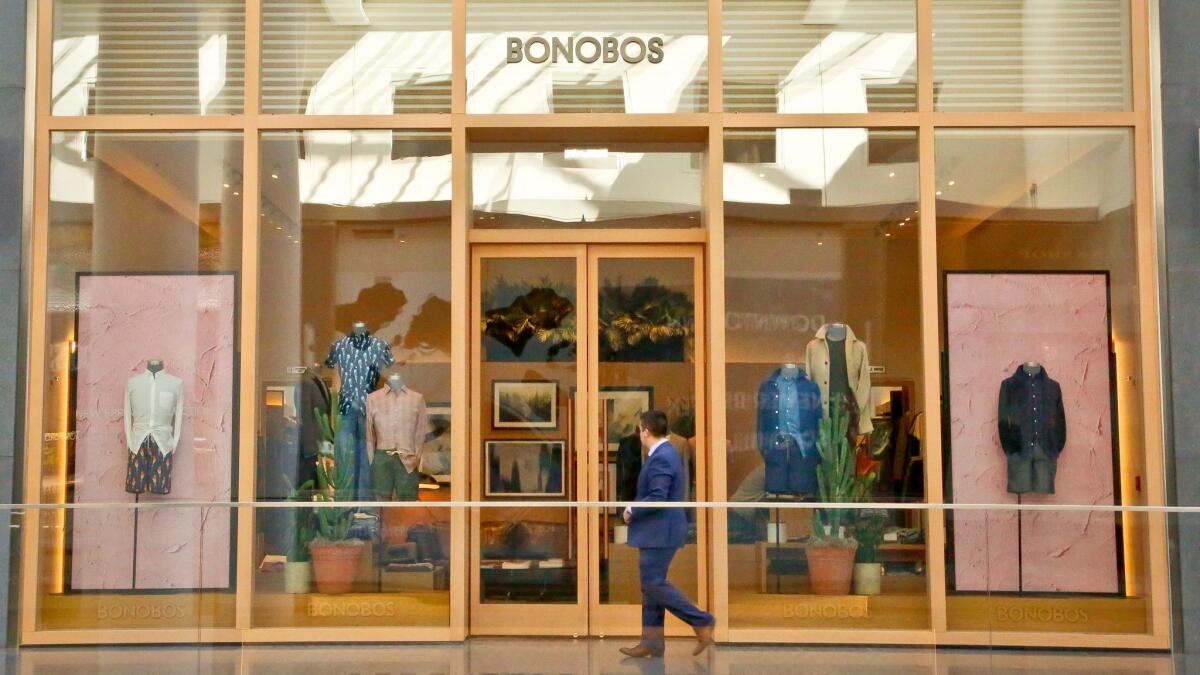 On top of running Bonobos, CEO Andy Dunn, has also been parachuted in to oversee Wal-Mart's digital brands.
"We are building up a long tail of brands, and we want to bring in the experts to help us figure out how to better that shopping experience," he said.
And by being under Wal-Mart, the acquired companies get to access its deep coffers and shipping rates.
"They'll lose their cool cachet for about six months to a year, but they'll come back with better customer service and operating at a higher level of efficiency," said Kyle Westaway of Westaway Law, which counsels social entrepreneurs.
Wal-Mart's strategy with Jet, ModCloth and Bonobos mirrors that of Clorox after its 2007 acquisition of Burt's Bees, he said.
The personal care product maker's all-natural image came into question after being bought by a chemical conglomerate. But Burt's Bees ultimately smoothed nerves by producing products that were more natural than before using its parent company's R&D.
Clorox, for its part, brought on Burt's Bees expertise in sustainability to overhaul its waste management and sustainable sourcing practices.
"What we learned from Clorox and Burt's Bees is there are a lot of benefits between the acquiring and acquired company, if done well," Westaway said. "My sense is once the splash dies down [on Wal-Mart], customers will realize a higher level of customer service and satisfaction that these companies can deliver."
ALSO
Snap executives sell $9 million worth of stock at first opportunity
See unlimited movies for $10 a month? Not so fast, says AMC Theatres
Corporate America voices its strongest repudiation yet of Trump as councils disband