Gas prices at highest level since 2015 amid fears of another oil shock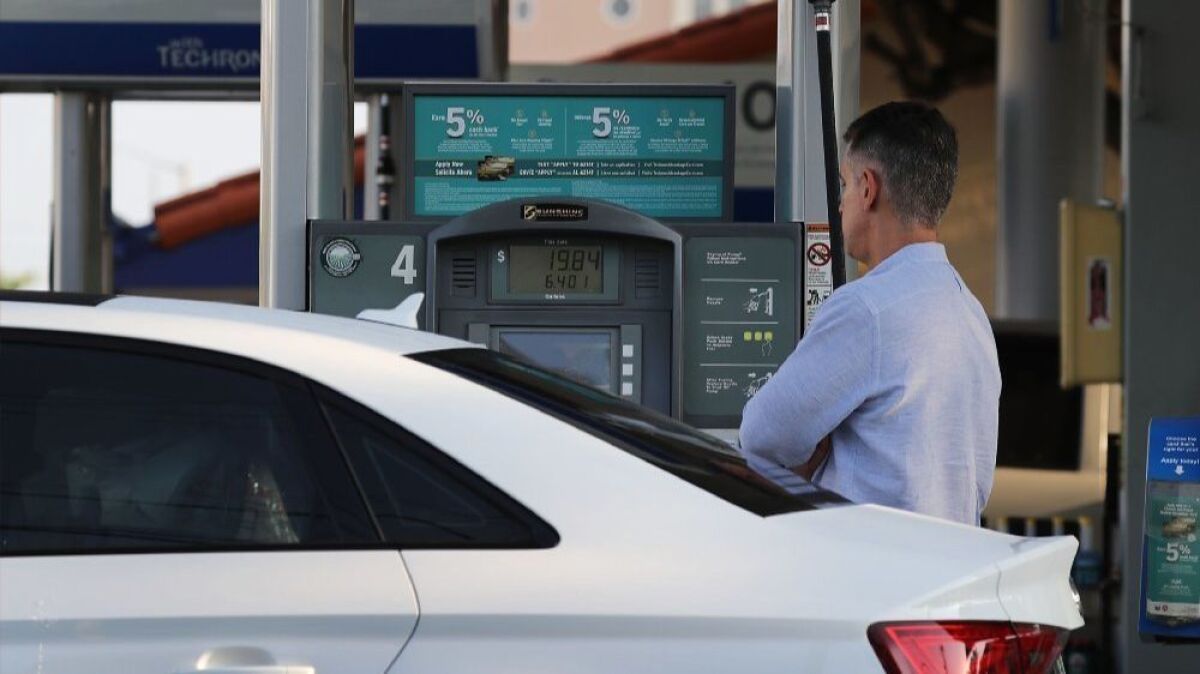 Southern California drivers are paying the highest pump prices for gasoline in 2 1/2 years amid fears that prices could jump even further if the United States takes military action against Syria.
The upswing in prices reflects not only rising crude-oil prices but also a higher state gasoline tax, continued strong demand for fuel and seasonal adjustments at California refineries that typically lift pump prices in the spring.
The average price for regular gasoline in California climbed to $3.522 a gallon as of Monday, its highest mark since August 2015 and a jump of 50 cents a gallon since last fall, according to the U.S. Energy Information Administration.
In the Los Angeles-Long Beach metro area, the average price of regular as of Wednesday was $3.579 compared with $3.034 a year earlier, the Automobile Club of Southern California reported. That compares with a national average price of $2.694 a gallon. California prices are elevated by the special blend required for the state's strict environmental laws and state taxes, among other things.
Oil prices shot up this week after President Trump tweeted that missiles "will be coming" to Syria following allegations of a government chemical-weapons attack on a rebel-held Syrian town last weekend.
Although Trump dialed back his threat — tweeting Thursday that an attack "could be very soon or not so soon at all!" — oil prices kept climbing.
The price of the benchmark West Texas Intermediate oil for near-term delivery rose 32 cents to $67.39 a barrel on Friday, its highest level since December 2014.
Some analysts said it was unlikely pump prices would spike sharply higher even if the United States takes action against Syria.
"There may be an initial hit, but I would not expect it to have a long-term effect on the price of oil," in good part because Syria isn't a major oil producer, said Patrick DeHaan, head of petroleum analysis at GasBuddy.com, a fuel-tracking site.
But he noted that Russia, one of the world's largest oil producers, reportedly has said it would shoot down any missiles fired at Syria, and so any disruption in the oil markets "would be more about our relationship with Russia and would it be frayed?" DeHaan said.
AAA spokeswoman Marie Montgomery agreed that "it would take a lot" for a Syrian-related disruption to send pump prices significantly higher.
"It depends on how sustained the [oil] price increase is," she said. "If it's a couple of weeks, that may not translate into an immediate price spike." The California pump price "has a lot more to do with what's happening with our refineries," Montgomery said.
Still, the glut of oil that existed three years ago — and that helped offset fears of any geopolitical disruption — largely has dissipated, making the oil market more vulnerable to an unexpected shock.
The Organization of the Petroleum Exporting Countries and Russia began cutting production more than a year ago, cuts that have been partially offset by strong U.S. production, especially from shale fracking.
On the demand side, the growing U.S. economy and this year's federal tax cuts have helped curb any decline in consumers' desire to fill their tanks.
"Demand continues to be pretty robust even though gas prices are about 50 cents [a gallon] higher than a year ago," Montgomery said.
That doesn't mean Californians are happy with forking over a bigger chunk of their earnings at the gas station, especially as they're set to enter the busy summer driving season.
"I've seen a lot of anger among the motorists on social media, a lot of finger-pointing," DeHaan said. "But a lot of it is par for the course."
By that he meant how refineries in the state this time of year annually switch from a winter to a summer blend of gasoline, which, with very little excess refining capacity in California, can temporarily crimp supplies and contribute to higher prices.
In addition, a new state law aimed at upgrading California's transportation system lifted the state's gasoline excise tax by 12 cents a gallon last November, to 41.7 cents, immediately lifting pump prices.
Setting aside a huge shock to the oil markets, DeHaan said he would "not expect the Los Angeles average price to breach $4 a gallon" this summer and to certainly not break the record high in the area, which he said was $4.70 a gallon in 2012.
But owing to current trends in the oil and gasoline markets, "I do not expect prices to go under $3 a gallon this summer, either," he said.
Twitter: @PeltzLATimes
---
UPDATES:
2 p.m.: This article was updated with Friday oil prices and a national average gasoline price.
This article was originally published at 5 a.m.
---
Sign up for the California Politics newsletter to get exclusive analysis from our reporters.
You may occasionally receive promotional content from the Los Angeles Times.