3 patients died in a Pasadena outbreak possibly caused by medical scopes
At least three patients died last year at Huntington Hospital in Pasadena in an outbreak suspected to have been caused by tainted medical scopes, according to a newly discovered regulatory report.
Huntington hospital officials had confirmed in August that three patients were sickened the previous month but declined to say more about their condition. They later told Olympus Corp., the scope's manufacturer, of the deaths, according to the company's report to federal regulators.
Hospital officials said this week that they believed patient privacy laws prevented them from telling the public that the unnamed patients had died.
See the most-read stories this hour >>
In an earlier similar outbreak at UCLA Ronald Reagan Medical Center, officials confirmed that patients had died.
"What were those three families told?" asked Lawrence Muscarella, a medical safety expert who discovered the Pasadena outbreak in a report in a Food and Drug Administration database. "The new norm for hospitals appears to be silence."
The FDA removes the names of hospitals from those injury reports, but Olympus said in the filing that it had contacted the hospital after a news report on Aug. 19 – the same day the Los Angeles Times published a story reporting that patients had been sickened after scope procedures at Huntington. The hospital then told the company that the patients had died.
Muscarella said that hospitals have an ethical obligation to tell the public when patients die in an outbreak.
It is still not clear how many patients may have been infected during the outbreak at Huntington or if only three died. The hospital will not say how many patients may have been exposed to the dangerous bacteria.
The new report also shows that the reusable scope suspected of causing the outbreak had a different design from the one Olympus recalled in January. That means that far more patients across the country could have been exposed to dangerous bacteria through the hard-to-clean devices known as duodenoscopes.
Over the last two years, as the string of deadly outbreaks have continued, authorities have focused most of their attention on the device that has now been recalled.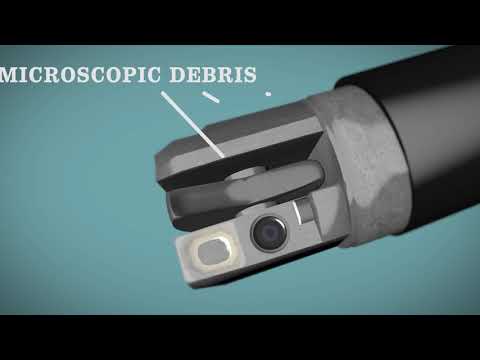 Animation breaking down the uses and problems associated with the Olympus duodenoscope. 
The duodenoscope is a long snake-like tube with a tiny camera on the tip that is inserted into a patient's throat and upper gastrointestinal tract. It is used to treat cancer, gallstones and other problems in the bile or pancreatic ducts.
Last month, Rep. Ted Lieu (D-Torrance) released FDA data showing that as many as 350 patients at 41 medical facilities around the world had been infected or exposed to tainted duodenoscopes from January 2010 to the end of October 2015.
Peter Kaufman, a Los Angeles lawyer, filed lawsuits on behalf of three patients treated with the scopes at Huntington. Two of those patient died, he said, including 69-year-old Azniv Tavidaghian of Pasadena.
It is not clear if those patients are among the three in Olympus' report.
Tavidaghian, who was suffering from cancer, had been treated twice with an Olympus scope before she died Aug. 11.
Kaufman said that doctors had told the Tavidaghian family that they were trying to determine why Azniv had died and couldn't provide more information until the investigation was over.
"They've told the families basically nothing," Kaufman said of the hospital.
Huntington officials alerted government health officials, including state regulators and the city of Pasadena's Public Health Department, soon after the patients were sickened.
An investigation into the suspected outbreak is still continuing, said William Boyer, a spokesman for the city.
"We alerted the affected patients about a potential link," said Dr. Paula Verrette, Huntington's chief medical officer, "and have continued to be in contract with patients and families, as well as health officials."
"In compliance with … privacy statutes," Verrette said, "we feel it would be inappropriate to discuss patient health status or any patient's passing publicly."
Both Huntington and Olympus said they don't comment on pending litigation.
Olympus' report to the FDA said that the three patients had been diagnosed with septicemia – a serious bloodstream infection – after undergoing treatment with a duodenoscope in mid-July 2015.
All three patients tested positive for a similar drug-resistant bacteria called pseudomonas. The hospital told Olympus that health authorities would determine the patients' cause of death.
In January, Olympus recalled one of its duodenoscopes – model TJF-Q180V – after independent experts said its design, with a closed internal channel, made it almost impossible to clean before use in the next patient.
The Olympus device suspected of sickening the Huntington patients was an older duodenoscope called the TJF-160F, used since 2002.
Two months ago, Olympus issued new instructions for cleaning the TJF-160F, which included extra steps for safety. The company took that action after the FDA said tests that Olympus performed didn't prove the devices could be cleaned properly.
Huntington hospital officials said they had followed the older cleaning guidelines that were in place when the infections occurred last summer.
Previous outbreaks included the one at UCLA, where three patients died and four more were sickened, as well as another at Cedars Sinai Medical Center, where four patients were infected. Both of those hospitals notified dozens more patients that they may have been exposed to scopes tainted with a lethal superbug.
Mark Miller, a spokesman for Olympus, said the company "understands and shares the public's concern regarding reports of infections."
"We remain committed to understanding the potential root causes," Miller said, "and are partnering with authorities and other stakeholders to address the causes to continually enhance safeguards."
Follow me on Twitter @MelodyPetersen
ALSO
'You want a description of hell?' OxyContin's 12-hour problem
Bitcoin's self-proclaimed founder says he lacks 'courage' to give more proof
Sumner Redstone says his former girlfriends received $150 million from him