OPEC agrees to slash oil output, sending prices up and defying Trump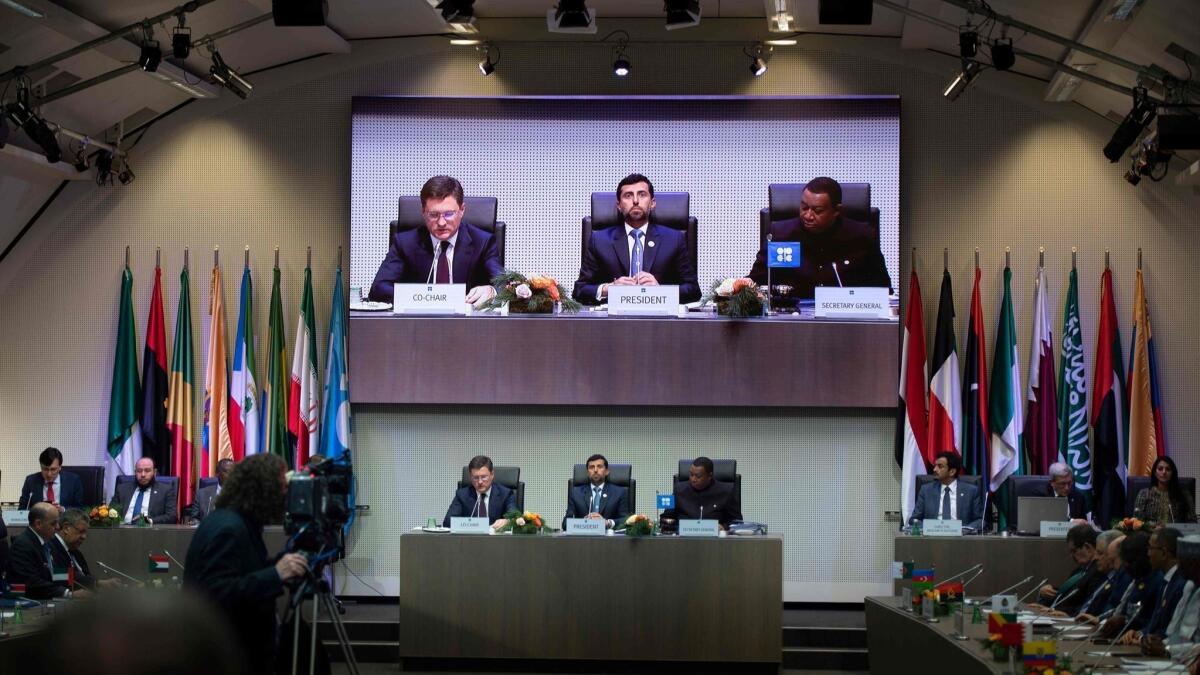 Saudi Arabia, Russia and the rest of the OPEC+ coalition delivered a bigger-than-expected oil production cut, sending prices soaring and defying President Trump's calls for the cartel to keep the taps open.
After a fractious two-day meeting in Vienna, the group — which does not include the United States — agreed Friday to remove 1.2 million barrels a day from the oil market in the first quarter of 2019. That's more than 1% of global production. The goal is to drive up prices.
Their decision will affect everything from the share prices of Texas shale producers, which surged after the meeting, to inflation rates in India, China and other consuming countries.
Its political implications are also profound: The deal is a testament to the strength of Saudi Arabia's two-year-long cooperation with Russia, a country that played a crucial role in brokering the pact. And it showed that Crown Prince Mohammed bin Salman is willing to defy Trump's wishes.
Saudi Oil Minister Khalid Falih went out of his way to show that his country is serious about keeping the oil market under control. Because Saudi Arabia produced significantly more than its OPEC commitments in November, it will cut production by 900,000 barrels a day by January to 10.2 million barrels a day, a dramatic swing very few analysts saw coming.
The Saudi output swing is equivalent to removing all the oil production of Libya in just eight weeks.
"This will be strongly felt in the spot oil market," said SEB's chief commodities analyst, Bjarne Schieldrop. "We are going up to $70."
U.S. benchmark crude rose 2.2% to $52.61 a barrel Friday. Brent crude, used to price international oils, climbed 2.7% to $61.67 a barrel.
As in many other OPEC deals, a compromise was needed. Iran insisted on being exempted from the cuts because it is subject to U.S. sanctions. Venezuela and Libya were also exempted.
Before the meeting, many OPEC watchers had predicted a maximum cut of 1 million barrels a day. Others fretted Saudi Arabia would balk at any deal for fear of offending the White House. Falih himself warned after the first day of talks that he wasn't confident of getting a deal.
The breakthrough followed a series of bilateral meetings convened by Russia, which brokered the compromise between arch rivals Saudi Arabia and Iran — a mediator role that showed the Kremlin's growing influence inside the Organization of the Petroleum Exporting Countries, unthinkable only two years ago.
"Given how much expectations were downplayed around the outcome of this meeting, this result comes as a welcome surprise," said Harry Tchilinguirian, head of commodity-markets strategy at BNP Paribas. "OPEC has given the oil market a rudder that appeared largely absent yesterday."
Although the group won't publish individual quotas, this is how the deal will work:
Producers will use October output levels as a baseline for cuts, and the agreement will be reviewed in April, when ministers meet again in Vienna. On average, that means a cut of 3% for OPEC countries that aren't exempted.
Russia proposed its own contribution would be equivalent to a 2% cut, according to one delegate. Such a cut would equate to 228,000 barrels a day, Novak said, higher than its initially pitched cut of at most 150,000 barrels a day.
"I'm confident that our resolve, that our professionalism and our willingness to achieve results is as strong as ever," Russian Energy Minister Alexander Novak said of the OPEC+ coalition. "In current conditions it's extremely important to send a strong signal to the market."
Much has changed for OPEC since 2016, when Russia and Saudi Arabia ended their historic animosity and started to manage the market together. The alliance has transformed the cartel into a duopoly in which the Kremlin is asserting its power.
"OPEC, or more precisely Saudi Arabia, has been the head honcho of the oil world for nearly six decades; yet these days it seems unable to make a decision without Russia's blessing, let alone without risking the wrath of the U.S. president," said Stephen Brennock, an analyst at PVM Oil Associates in London.
OPEC has scheduled its next meeting for April, earlier than usual. It coincides with the expected tightening of U.S. sanctions on Iran when the waivers granted by Washington to several Asian consumers need to be renewed.