Too many tourists: Crowding is a big headache at national parks and theme parks
So many tourists head up to the Hollywood sign to snap selfies that Los Angeles Mayor Eric Garcetti has suggested building a gondola to reduce congestion on nearby streets and hiking trails.
At Zion National Park, the crowds are so heavy that park officials are considering a congestion management plan that would require visitors to make reservations to enter the popular Utah park.
Disneyland has become so crowded that the theme park adopted a ticket policy to offer lower prices for visits during slow periods and higher prices for more popular times.
Across the country, people have been trekking to national parks, theme parks and other tourist attractions in record numbers during the past few years, creating an unexpected problem for the tourism industry: too many customers.
Without a solution, operators fear that long lines and unruly crowds ultimately will turn off future visitors.
The problem isn't unique to the U.S.
Venice, Italy, has been so overrun with tourists that the city recently launched a campaign urging visitors not to litter, swim in the canals or cycle in the city center.
The sightseer crush, known as "overtourism," has been noted in Barcelona, Spain, and Reykjavik, Iceland, among other popular European destinations.
Extreme crowding made the agenda at a recent gathering in Los Angeles of the World Tourism Cities Federation, a nonprofit international tourism organization whose slogan is "Better cities through tourism."
Top tourism destinations need to do a better job managing crowds, said Chris Bottrill, a professor of tourism network and destination development at Canada's Capilano University. One solution, he said, is to encourage tourists to visit lesser-known destinations nearby.
"The reality is there are many other attractions that people can see and reduce the stress on the major attractions," he said.
In the U.S., the problem is most prominent at national parks, many of which have addressed crowds by adding extra staff and shuttle buses, among other efforts.
"You have to take care of your resources in order to not lose your customers," said Jeff Olson, a spokesman for the National Park Service.
The tourism boom stems from a combination of factors, including a strong U.S. economy, resurging consumer confidence, low airfares and a jump in international visitors, especially from China.
The U.S. Travel Assn., the trade group for the nation's travel industry, predicts trips by international visitors will increase nearly 2% next year and 4% in each of the following two years.
The growth has led to visitation records across the country.
Los Angeles County hosted a record 47.3 million visitors in 2016, a 4% increase over the previous year. New York City took in a record 60 million visitors last year, nearly 2 million more than the previous year.
Such volumes have created headaches for tourists, managers of vacation destinations and locals who live near the attractions.
"It's a zoo up here," said Sarajane Schwartz, who lives on a street leading up to the Hollywood sign in the Beachwood Canyon area. She said tourists crowd her street 24 hours a day, blocking driveways and pestering neighbors to use their bathrooms.
Jim Harbin, an attorney from Cypress, said he tried to arrive early at Yosemite National Park to avoid the crowds during a recent Memorial Day weekend visit but spent more than two hours driving in circles looking for a parking spot. He never found a spot and ultimately left the park.
"This has happened to me more than once," he said. "I think they need to manage the people better in a way that cars don't go in there" when no parking is available.
In its latest attempt to address overcrowding, the Disneyland Resort adopted seasonal pricing last year. Under the new ticketing system, the daily fare on low-demand days dropped from $99 to $97, but the price increased to $110 on "regular days" and to $124 on peak days.
And the new pricing policy hasn't solved the problem.
"We have seen a steady increase in crowds at Disneyland in particular," said Phillip White, co-founder of IsItPacked.com, a website that monitors crowds at popular tourist destinations.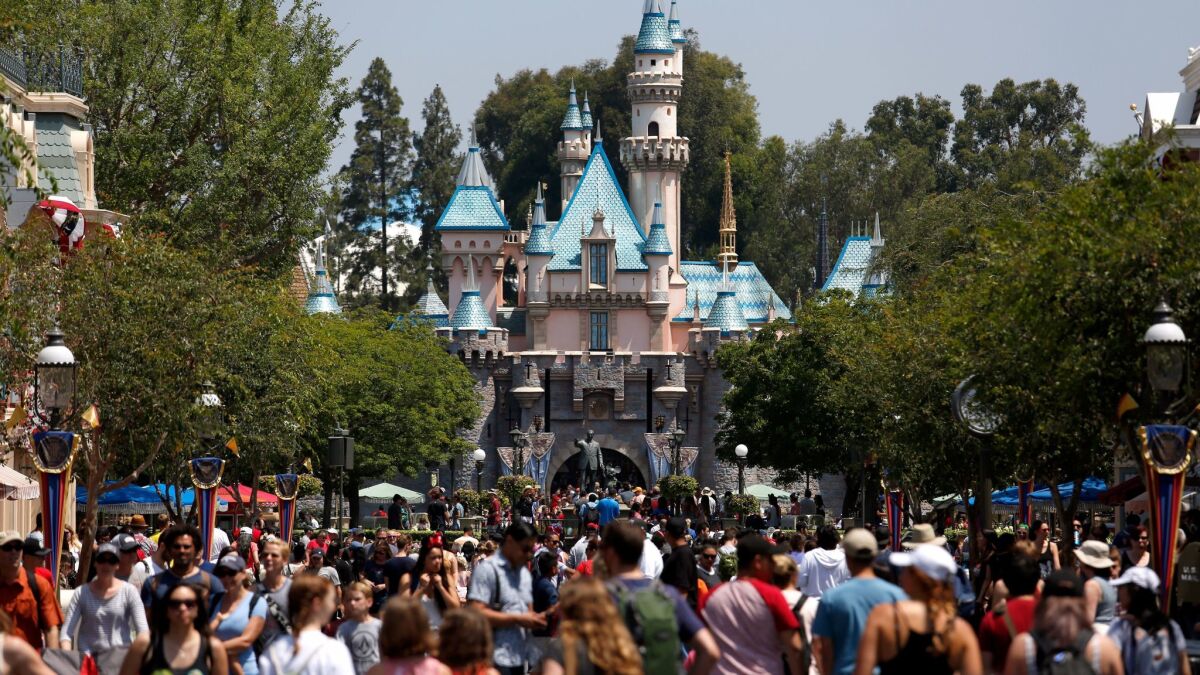 "The offseason there barely exists anymore, largely fueled by a ton of annual pass holders, mostly locals, and a steady flow of seasonal events," he said.
When the National Park Service announced it was considering raising entrance fees up to 180% for its 17 most popular parks during peak season, some people wrote in support of the move on the park service's Facebook page, saying the higher fee may reduce congestion.
"The parks are way too crowded over the summer: 30 minute traffic jams over a single elk and impossible to find parking," wrote Cole Frederick Stockstill of Germantown, Tenn.
The park service said the proposed fee increase to $70 would be earmarked to improve aging infrastructure.
At Grand Canyon National Park, extra workers have been deployed to help visitors find open parking spots and put up signs to notify drivers when lots are full. Park supervisors also have been encouraging visitors to use the shuttle bus service from the nearby Arizona community of Tusayan, which has become so busy that the bus service has been extended by nearly two months.
"Visitors want to see the canyon, not drive around in circles," said Emily Davis, a spokeswoman for the park.
Zion National Park in Utah added a mandatory shuttle system to enter Zion Canyon in 2000 to address the headaches of trying to find parking spaces for the millions of annual visitors. But the wait times for the shuttle buses can be as long as 45 minutes. The buses, which can carry up to 100 people each, run every three to five minutes during peak periods.
Park supervisors, worrying about visitors stomping on vegetation and causing erosion, are studying plans to require reservations to visit the park, with a limit set for total visitors. An alternative plan would require visitors to make reservations to visit a specific area of the park.
"We are trying to come up with some sort of actions or system we can to provide the best experience for people," said Kezia Nielsen, a visitor-use planner at Zion National Park.
Yosemite National Park drew more than 5 million visitors last year, a 21% increase from the previous year's record.
Paul Cutter, an outdoor enthusiast from West Los Angeles, has been organizing trips to Yosemite for more than 20 years and has noticed that crowds have been getting bigger, especially at the hotels, restaurants and park stores.
To book hotel rooms for his annual winter hike, he had to make a reservation 16 months in advance.
"Even winter is busy," Cutter said. "And it's definitely getting more crowded."
To read more about the travel and tourism industries, follow @hugomartin on Twitter.
ALSO
Tourism industry doesn't pay a lot but hires recent grads and the unemployed, study finds
Los Angeles tourism board to spell it out: Everyone is welcome
'La La Land' is the latest movie to push L.A. tourism
---
Sign up for the California Politics newsletter to get exclusive analysis from our reporters.
You may occasionally receive promotional content from the Los Angeles Times.