Secretary of Defense unveils $75-million investment in Silicon Valley venture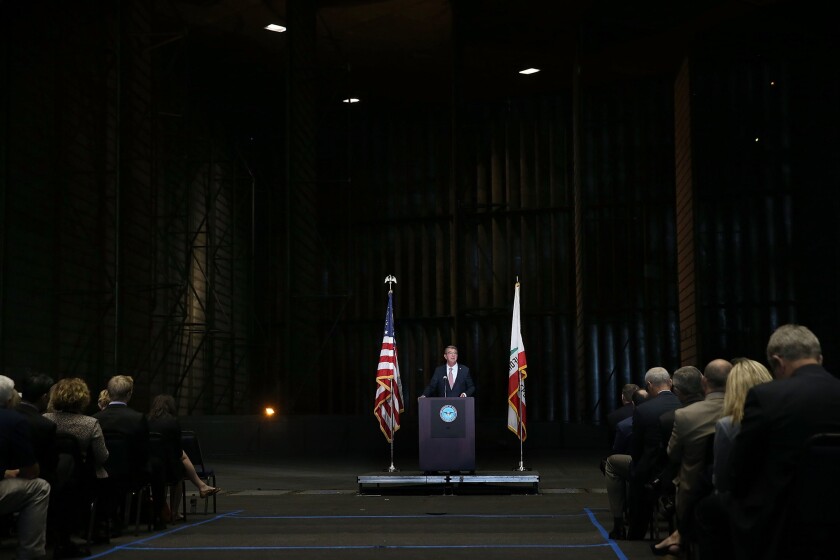 Reporting From Mountain View, Calif. —
Defense Secretary Ashton Carter landed Friday at Moffett Federal Airfield for his second appearance in Silicon Valley in four months to reassure technology industry leaders that the Pentagon views their work as vital to the future of national defense.
"I've been pushing the Pentagon to think outside our five-sided box and invest in innovation here in Silicon Valley and in tech communities across the country," Carter said during a speech inside the world's largest wind tunnel near the sprawling airfield. "Now we're taking another step forward."
He announced that the Pentagon was investing $75 million in a consortium of more than 100 companies, including Apple Inc. and Boeing Co., called the Flexible Hybrid Electronic Institute, which specializes in wearable electronics. Colleges and local governments will contribute an additional $96 million over five years.
Flexible hybrid electronics are paper-thin sensors that could one day replace wiring and circuit boards on aircraft, ships and other weapons.
With the investment, the Pentagon says it is making a bet on high technology that eventually could alert military members to electronic failures and structural problems.
It could also be used as "smart clothing" that will alert soldiers to the first signs of injury or exhaustion, Carter said.
"Our troops will be able to lighten their loads with sensors and electronic gear embedded in their clothing, and wounded warriors will benefit from smart prosthetics that have the full flexibility of human skin," he said.
Carter is on the final day of a three-day trip through California. On Thursday, he watched a Marine amphibious-assault exercise at Camp Pendleton before flying up to Silicon Valley on Friday morning.
In his tour through the valley, Carter visited LinkedIn's campus in Mountain View and the Pentagon's Defense Innovation Unit-Experimental, which was launched in April to scout promising technologies for the military.
He arrived at Moffett, a former naval base, where the U.S. Navy housed its blimp-like airships during World War II. The massive wooden hangars that stored the airships still stand, but now they house robots, drones and other technology being developed by Google Inc.
For two decades, no defense chief showed up to this high-tech community. Carter, who spent a year working in Silicon Valley and taught at Stanford University, changed that within his first two months in office.
He has repeatedly tried to develop more of a relationship with the West Coast tech industry. A strong bond, Carter said, could help bridge the gaps in U.S. cyberdefense and speed up the Pentagon's sluggish procurement system to get useful technology to the military.
But Silicon Valley's fast-paced start-up culture does not match up with the Pentagon's slow, bureaucratic way of doing business. And the relationship worsened in the wake of the Edward Snowden scandal.
Snowden, a former National Security Agency contractor, leaked documents that showed that the NSA — an intelligence agency that is part of the Pentagon — secretly tapped data feeds at Facebook, Google, Yahoo Inc. and other companies.
The disclosures embarrassed the tech companies at home and abroad.
"We're drilling tunnels through that wall that separates government from scientists and commercial technologists — making it more permeable so more of America's brightest minds can contribute to our mission of national defense, even if only for a time," Carter said.
Matthew Mahood, San Jose Silicon Valley Chamber of Commerce president, said much of the tech industry here began with an initial investment from the Pentagon and that Carter's investment will pay off.
"The secretary is no stranger to the Silicon Valley. He knows, firsthand, how entrepreneurs work and how innovation occurs at an incredible pace here," he said. "The [Pentagon] just made a good bet."
Twitter: @wjhenn
---
Your guide to our new economic reality.
Get our free business newsletter for insights and tips for getting by.
You may occasionally receive promotional content from the Los Angeles Times.