Trump 'gets what you're saying': Agriculture secretary talks immigration, water and food stamps on California tour
"You might already know this …," Central Valley farmer Sarah Woolf offered politely, before launching on a primer on California's convoluted water system.
"No, I don't," Sonny Perdue, Trump's secretary of Agriculture, interrupted. "I need all the education I can get."
Nervous laughter filled the Harris Woolf California Almonds processing facility in Coalinga. It was the second day of Perdue's recent whistle-stop educational tour of California's $45-billion agriculture industry, and Perdue, a veterinarian and former two-term governor of Georgia, got an earful.
In the world of politics, secretaries at the U.S. Department of Agriculture seldom leave lasting impressions (who remembers Mike Johanns or Ed Schaffer?). They hold as much attention span with Californians as the miles and miles of groves that blur by on Interstate 5 between Los Angeles and the San Francisco Bay Area.
Perdue's predecessors were more apt to make headlines for their policies over forests or food stamps than for their roles in food safety, crop subsidies, trade, rural development and the funding of land-grant colleges.
But others have overlooked George Irvin "Sonny" Perdue III to their peril — among them, Georgia Democrat Roy Barnes, who lost the governorship to him in 2003. An underfunded underdog, Perdue became the first Republican to govern the Peach State since Reconstruction.
Perdue also is a successful businessman who built a commodities trading company one grain elevator at a time.
Those are traits Trump respects in Perdue, which could give him unusual power in the Cabinet, said Dan Sumner, an agriculture and resource economist at UC Davis.
"When he says things to Trump, Trump can hear him saying, 'Be careful about your constituency. Unless you want to see Nancy Pelosi in power, you better see to the reelections in the Central Valley.' "
Put more bluntly, Trump has to ponder whether he wants Republican Congressman Devin Nunes or some Democrat leading the Russia investigation, Sumner said.
Here are some of the highlights of Perdue's visit:
Food over endangered fish
Woolf walked Perdue through the maze of agencies, none of which are under USDA control, that decide how much water irrigates 4.5 million acres of farmland in the southern San Joaquin Valley.
The Bureau of Reclamation, part of the Interior Department, runs the Central Valley Project, while the U.S. Fish and Wildlife Service, also under Interior, sets limits on water use to protect the endangered salmon and smelt in the Sacramento-San Joaquin Delta. The National Marine Fisheries Service, under the Commerce Department, also has a say in protecting those species.
Both the federal Central Valley Project and the State Water Project draw water from the Sacramento-San Joaquin Delta, commingling their water behind the San Luis Dam, run jointly by the Bureau of Reclamation and the state Department of Water Resources.
Growers want the state to allow the federal bureau to use more storage space, to little avail, Woolf said.
"You mean the federal government is more flexible than the state government?" Perdue quipped, to laughter. "Only in California."
"The good news is we do have sort of a new sheriff in town — Ryan Zinke at the Department of Interior is much more favorable to what you're talking about," Perdue said to Woolf and a handful of other growers. "I think it would be helpful, frankly, if we came back with Zinke and had just a water trip, a water tour from end to end."
We have very quietly spoken with our Department of Homeland Security
— U.S. Agriculture Secretary Sonny Perdue
The USDA will push the Interior Department and the state to remove the "handcuffs" on water supply created by regulation and litigation, Perdue said.
"We would be happy to be a lead advocate on behalf of agricultural uses, as long as municipal water usage is also considered," he said. "I would put, obviously, drinking water for people, agricultural use and endangered species, in that order. I think sometimes that's been reversed. Is the press here? Write it down."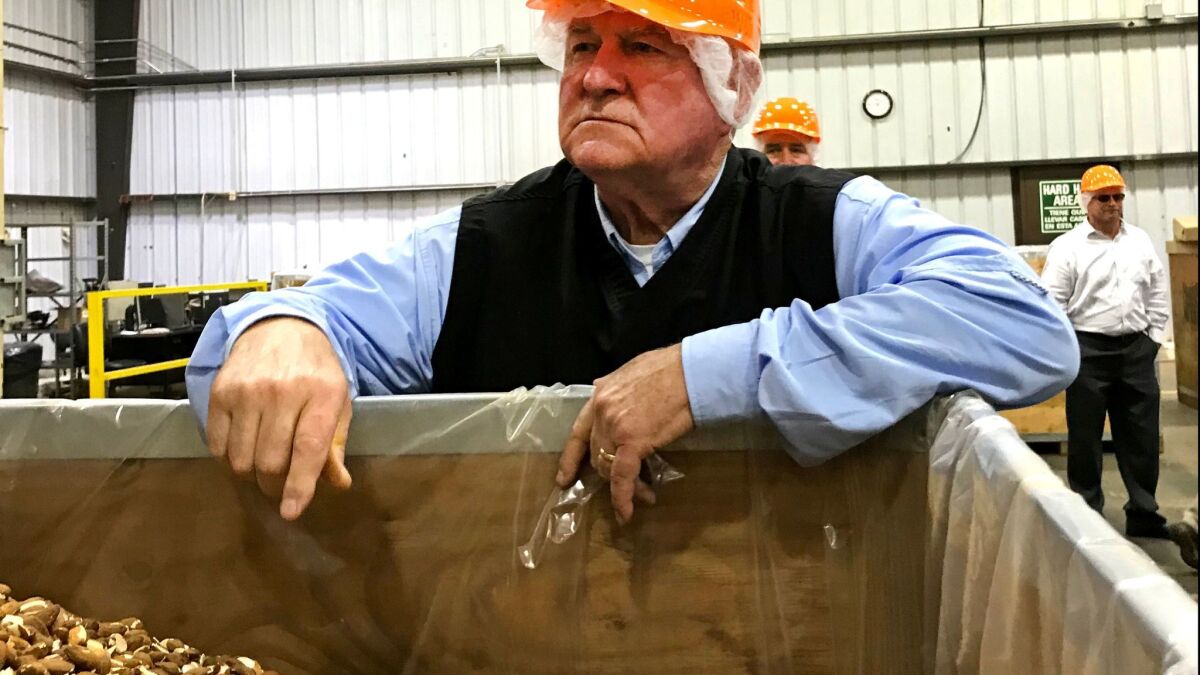 'Trump gets what you are saying'
Hortencia Solario, a longtime worker at the Harris Woolf plant who was invited to speak by her boss, Stuart Woolf, asked if Perdue could be "some kind of advocate" for immigrant workers.
"There's people that want to do it right — they came in undocumented. They've been working here lots of years. They pay their taxes. They want to do it right," she said. "People are not going to their jobs because they're afraid."
Trump "gets what you're saying" and is not out to chase workers from the fields at a time when growers face a persistent shortage of labor, Perdue said.
"The only thing I can tell you is we have very quietly spoken with our Department of Homeland Security people who regulate ICE and indicated some of their publicized type of raids really hurt the people who are out here trying to work," Perdue replied.
The "obvious answer" is immigration reform, including a bill by House Judiciary Committee Chairman Bob Goodlatte of Virginia that would create a path to citizenship and transfer the foreign agricultural guest worker program from the Department of Labor to the USDA, Perdue said.
"I don't know if we can do that in the current environment or not — I don't know whether there's an environment where we can," Perdue said. "There's still a lot of people we haven't been able to persuade in Washington that we can't find domestic workers, irrespective of what the wage rate is, to do these jobs."
Opening a door in the border 'wall'
Short of immigration reform, growers will need to import more workers, Perdue acknowledged. He supports a proposal to shift most of the responsibility for the agricultural guest worker visa program to the USDA from the Labor Department.
California growers last year recruited a record 14,252 guest workers, mostly from Mexico, a 28% jump from the previous year, according to a Los Angeles Times analysis.
Growers complain that too many agencies are involved in the H-2A visa program, and that requirements to advertise for U.S.-based workers just waste time and money. Even with wages now exceeding $15 an hour, not enough U.S. workers are showing up.
Labor activists counter that growers just want compliant workers who are unlikely to stir up trouble and lose their shot at a return trip next season. The Labor Department and other agencies already struggle to keep up with the growth and to prosecute abuses that have verged on human trafficking and indentured servitude, they say.
Perdue acknowledged that the transition would be difficult and slow. The agency could supplement its existing network of rural development and farm services offices with labor experts, he said.
"It would be a challenge of transition," Perdue told the Los Angeles Times after the meeting. "It wouldn't be quick, in six months like some people have talked about. But over a period of time we think we could do a good job."
Trade worries
California growers have been especially wary of Trump's "America First" trade policies, including renegotiating terms of the North American Free Trade Agreement, and threats to impose steep tariffs on imported goods.
U.S. agricultural and related products — including dairy, meat, forestry products and fish — amass a $5-billion trade surplus with the world, according to the USDA. California growers earned $21 billion from trade in 2016 — about 44% of their total revenue, according to the California Department of Food and Agriculture.
"Although I understand that we need to protect jobs back at home, sometimes the unintended consequences of that in the ag community is the exports that we're trying to send overseas," said Justin Morehead, a vice president at Harris Woolf.
"There's no doubt agriculture for years has been the tip of the spear of retaliatory measures — It's kind of the underbelly of our economy, where we're most vulnerable," Perdue said. "All I can tell you now is we're hearing you loud and clear."
Perdue said he is "in their face" with administration officials during weekly meetings when trade issues come up.
Food stamp reform
The Trump budget draft included a surprise proposal to shift some of the Supplemental Nutrition Assistance Program, better known as "food stamps," from a debit card format to a "harvest box" filled with food selected by the government.
It's not a sham. It's not a silly proposal. It's something that we'd like to see seriously considered and debated.
— U.S. Department of Agriculture Secretary Sonny Perdue on a food stamp reform proposal
The proposal has drawn widespread criticism from advocates for the poor, who see it as a paternalistic "nanny state" approach that also happens to favor agricultural producers. Retailers who accept SNAP debit cards also worry about lost sales, even as leaders of food banks worry about additional work preparing the meal boxes.
Even the Republicans who chair agriculture committees in the House and Senate have declared the idea all but dead on arrival.
Perdue staunchly defended the proposal.
"We think it's our responsibility to create new, innovative ideas of delivering food to the people who need it. And this is one area," he said. "Obviously there are a lot of logistics concerns to do that. But it's a real idea. It's not a sham. It's not a silly proposal. It's something that we'd like to see seriously considered, and debated."
Follow me: @LATgeoffmohan
---
Sign up for the California Politics newsletter to get exclusive analysis from our reporters.
You may occasionally receive promotional content from the Los Angeles Times.