Q&A: See's Candies finds that brick-and-mortar stores are still a sweet spot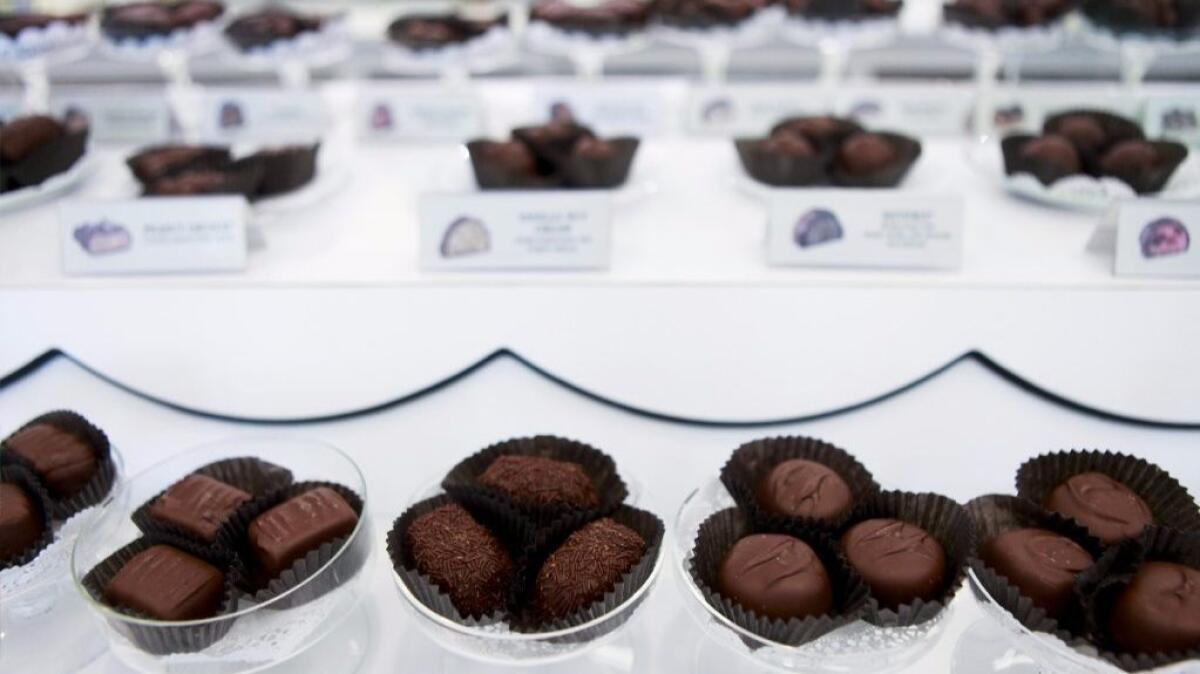 See's Candies is one retailer that isn't fretting about how the surge of e-commerce is affecting foot traffic at its conventional stores.
See's has been selling fresh chocolates and other candies for nearly a century in its stores with the checkerboard motif — and the company is still opening new locations. A licensee also opened the first See's in New York in March.
There are now 250 See's locations in 17 states, including about 150 in California. But See's, which will sell between $400 million and $450 million of candy this year, also is tapping into the growth of online shopping; customers can order most of its products on See's revamped website.
Since 1972, the company has been part of Berkshire Hathaway Inc., the conglomerate led by billionaire Warren Buffett.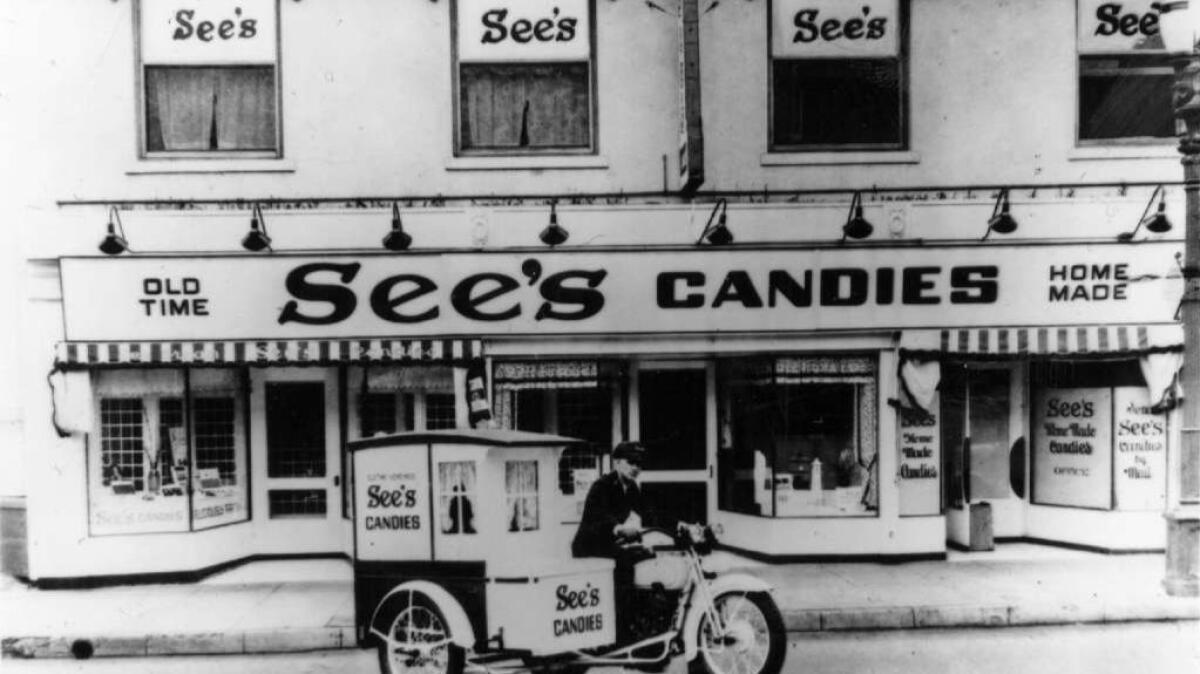 The first See's store was opened in Los Angeles in 1921 by a trio of Canadian immigrants: Charles See, his wife, Florence, and his mother, Mary.
That grandmotherly face on See's trademark black-and-white boxes belongs to Mary See, and her recipes were the foundation of the operation.
Based in South San Francisco, See's operates candy factories in Los Angeles and the San Francisco Bay Area. Some steps in the candy-making process are still done by hand.
The Times asked Brad Kinstler, 64, to explain the company's outlook. Here's an excerpt that's been edited for space.
---
Where are the plants where See's makes its candies?
South San Francisco, another is in Culver City and we have a small lollipop plant in Burlingame [Calif.].
How many employees do you have?
Currently about 1,500. As we ramp up for the holiday seasons coming up, we'll exceed 5,000.
You're opening or relocating nearly a dozen stores this year. Is that unusual growth?
It's fairly normal.
For the last eight or 10 years we've been opening anywhere from six to 10 new locations annually, primarily in the West, but we also branched out to some locations in Texas and the Midwest.
We'll continue to do that moving forward.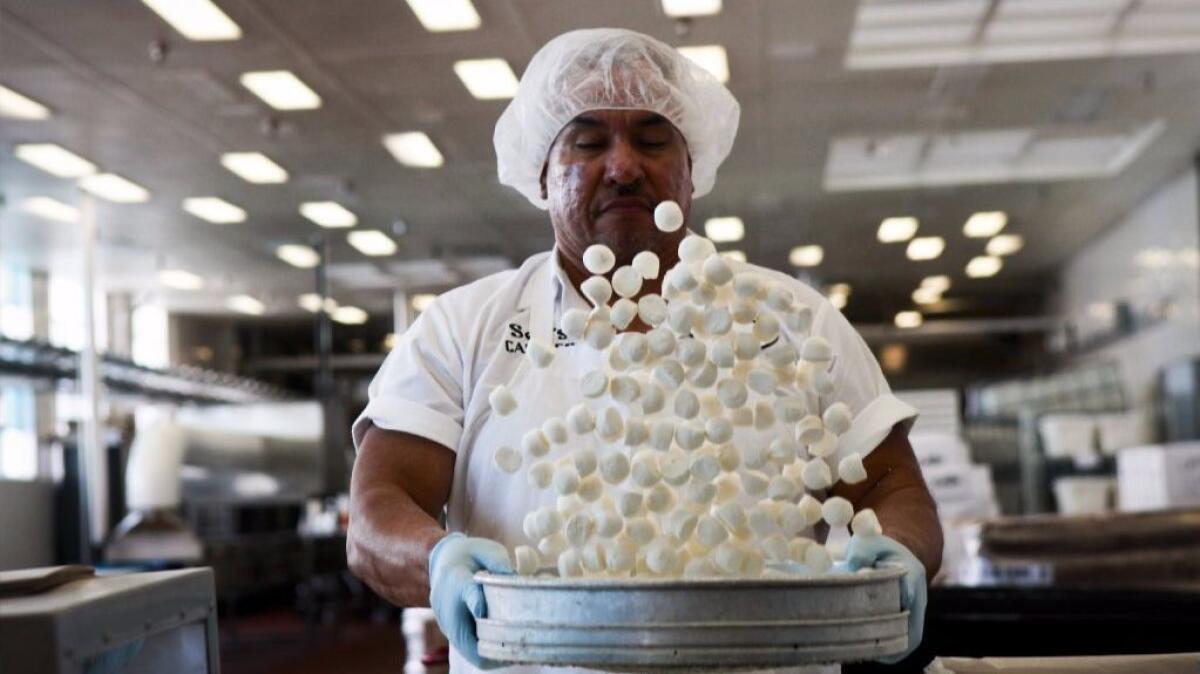 What is your bestselling box of chocolates?
The one-pound assorted is still the king. Nuts & Chews is a close second.
How big is your online business?
It's less than 10% of total sales, but it's growing at a pretty good clip. We're up over 20% this year and we expect that pace to continue.
How does See's view the mix of its physical stores and online business?
Brick-and-mortar stores are the backbone of the business.
These are old-fashioned candy shops. The customers enjoy coming in for a free sample, the service they're going to get and then the flavors of the products we offer.
It really allows them to step back in time to more or less a different era, and to shop in a retail location for a product that their taste buds are telling them they have to have.
The customers enjoy coming in for a free sample, the service they're going to get and then the flavors of the products we offer.

— Brad Kinstler, See's Candies CEO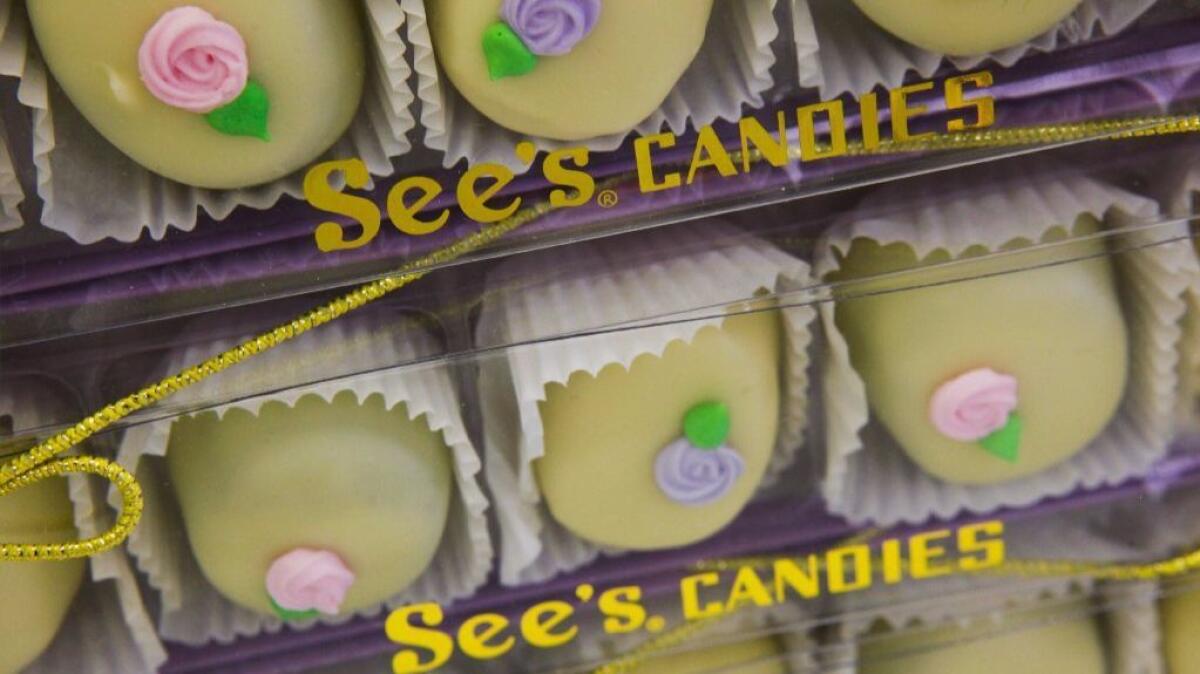 Many of your stores are in shopping malls, which are under pressure from the overall slump in retailing. Is that a problem for See's?
There's a significant difference between us and another retailer that might sell clothing or jewelry or shoes.
It's that [in-store] experience that will bring See's customers back multiple times.
They enjoy the flavor, they want to have more of it, they don't want to wait for it to come in the mail.
And then, for the major holidays, obviously people are in purchasing gifts.
When are your peak seasons?
Eighty percent of our sales occur in the six-week period before Christmas, the two-week period before Valentine's Day and the three- or four-week period before Easter.
We're a very seasonal business but we get a number of seasons.
How much is Warren Buffett involved at See's?
We talk when we need to, but generally, from a standpoint of operating the business, he leaves that up to us to take care of it.
How does See's view its prices?
In the premium boxed-chocolate segment, we're one of the lower prices per pound.
We sell a one-pound box for $19.90 currently, and many other premium boxed chocolates are selling for $35 a pound to $60 a pound.
See's has continued to be a very high-quality premium product at a relatively low price compared to any other product out there.
We don't put preservatives in our candy. What customers are buying every day is fresh candy.
That combination has worked for almost 100 years.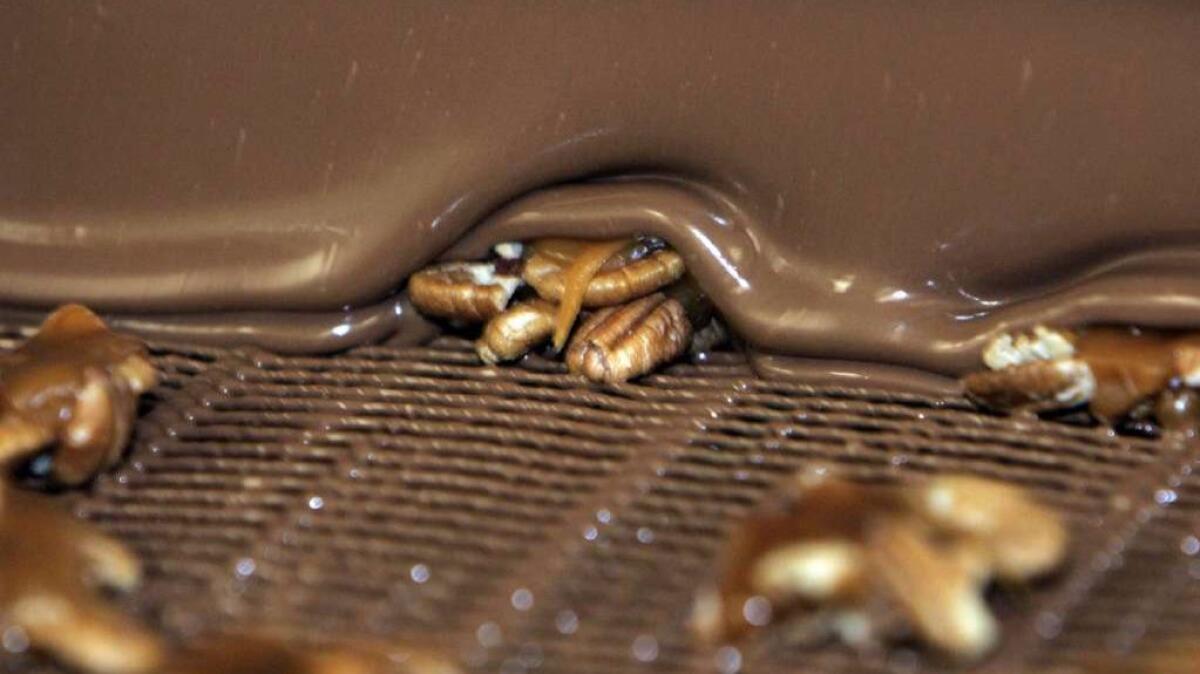 What's the hardest part of running the business?
To make sure, day in and day out, you continue to offer the exact same flavors and products to people that they may have consumed decades ago.
What that brings with it is making sure we have the people and the processes in place to execute the way it's always been done.
You just don't change things that have been so successful.
How many free samples does See's give out each year?
It's over 1 million pounds.
ALSO
McDonald's expands its move away from antibiotics in poultry
Wal-Mart and Google team up on voice-activated shopping, challenging Amazon
It's years away, but 70-story downtown tower could change L.A. skyline and 'relationship with vertical living'