Plans revealed for $250-million Queen Mary Island complex next to the historic ship in Long Beach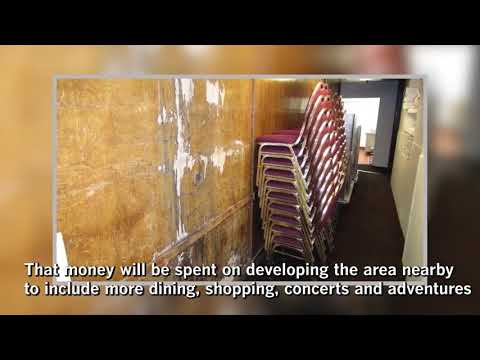 Long Beach officials received a proposal for a $250-million entertainment complex on the bayfront adjacent to the historic cruise ship called Queen Mary Island.
The operators of the struggling Queen Mary tourist attraction in Long Beach say the best way to make it financially viable again is to beef it up with more dining, shopping, concerts and adventures such as zip-lining.
Plans for a $250-million entertainment complex on the bayfront adjacent to the historic cruise ship called Queen Mary Island were to be submitted to Long Beach officials Wednesday by Urban Commons, the real estate firm that operates the Queen Mary on a 66-year lease from the city.
For the record:
12:59 a.m. Dec. 1, 2023An earlier version of this story said that Urban Commons has a 56-year lease from the city of Long Beach to operate the Queen Mary. The lease is 66 years.
Revenue from the new development, which would include additional hotel rooms, would help pay for desperately needed repairs to the rusting luxury liner, said Taylor Woods, a principal at Urban Commons.
"The Queen Mary is an icon that we envision lasting forever," Woods said. "We hope the ship is constantly cared for, maintained and structurally supported for decades to come."
The development plans arrive on the heels of a recent engineering report that said the 81-year-old ocean liner urgently needs $5.7 million in fixes and requires a total of $289 million in repairs over the next five years. The report by an independent engineering firm was requested by the company that previously operated the lease for the Queen Mary.
Woods acknowledged that in its current form, the Queen Mary would be hard-pressed to generate enough revenue to pay for repairs such as structural upgrades needed to prevent devastating problems such as flooding.
The Queen Mary generates income from visitor fees, festivals, concerts, Halloween attractions and rentals of its 314 hotel rooms. It pulled in $11.6 million from room rentals in 2014 and an additional $3.4 million from events.
Transformation of the 65 acres of waterfront land flanking the ship into a large-scale attraction should vastly increase that income stream, Urban Commons says. It did not provide an estimate of what that income might be.
The proposed plans are elaborate, however, and meant to create an attraction that would appeal to local visitors as well as tourists. Queen Mary Island would stand on land used now mostly as parking lots.
The Queen Mary was built in Scotland and based in Southampton, England, when it was in service from 1936 to 1967, so Urban Commons worked with architecture firm Gensler to come up with a concept intended to meld the culture of Great Britain with a Southern California sensibility. The idea is to evoke the era when the liner sailed the Atlantic.
If built, visitors could enter Queen Mary Island via land, sea or air (Island Express Helicopters is based there). From the lobby, guests could stroll down a 2,400-foot-long boardwalk past a new small-boat marina and encounter cafes, bars and shops. There would be a 200-room hotel and a large amphitheater for concerts. Its retail component of nearly 700,000 square feet would make it larger than a typical regional shopping center.
Urban Commons also plans to introduce the first North American outpost of London-based Urban Legacies, which would provide about 20 experiential activities such as ice climbing in one 150,000-square-foot facility. Other activities would include a trampoline park, zip-lining, surfing, kayaking and simulated skydiving.
"We would like it to be family-friendly environment," Woods said, "where people find good entertainment, great food and dancing, where they're entertained in every way possible."
He hopes to break ground within two years after securing approvals from the city of Long Beach and the California Coastal Commission. The project would take several years to complete, Woods said.
City officials provided statements of support.
"Queen Mary Island will invigorate our downtown core," Mayor Robert Garcia said. City Councilwoman Jeannine Pearce said the development would "bring the great history of Long Beach's most iconic landmark to life" while stimulating the local economy.
Included in the Queen Mary Island layout is the existing dome that once housed the Spruce Goose, an enormous wooden seaplane built by aviation mogul Howard Hughes. The plane was removed in 1992 and the dome is now used as a terminal by Carnival Cruise Lines. Carnival is upgrading the facility to serve larger cruise ships.
Since the Queen Mary was docked in 1967, the city has brought in several firms, including Walt Disney Co., to manage the ship and develop its adjacent property. Disney came up with an elaborate plan that would have covered a much larger area but opted out in 1991 to focus on an addition to Disneyland that became Disney California Adventure.
Some repairs and upgrades to the Queen Mary are already underway, Woods said, such as the renovation of Sir Winston's restaurant, set to be completed this summer. Unsafe areas of the ship including the boiler room, which is being renovated, have been closed to the public.
Urban Commons will raise the funds to develop Queen Mary Island on its own, without taxpayer assistance, Woods said. The real estate investment and development firm owns close to 5,000 hotel rooms primarily in California, Colorado and Florida, where it has an 800-room Holiday Inn resort and water park near Disney World in Orlando. It specializes in improving and redeveloping troubled properties.
Twitter: @rogervincent
ALSO
Brace yourself for the Delta Air Lines gate shuffle at LAX
Wages rise on California farms. Americans still don't want the job
How food delivery apps have changed the game for restaurants
With Larry Flynt involved, controversy is inevitable. But Gardena likes its chances with his casino investment