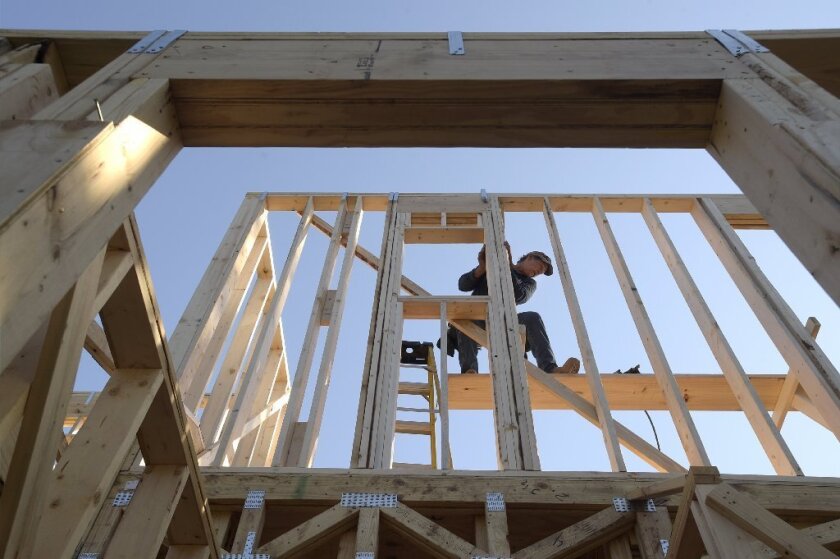 Long-term interest rates declined this week, with Freddie Mac saying lenders were offering conventional 30-year mortgages at an average of 3.78%, down from 3.86% a week ago.
The average for 15-year fixed home loans slipped to 3.06% from 3.1%, the mortgage financing giant said in its weekly report, released Thursday. The initial rate on loans fixed for five years before becoming variable fell to 2.97% from 3.01%.
Lower rates are good news for the low-risk borrowers Freddie Mac focuses on as spring usually brings a season of increased home sales. A year ago at this time, Freddie put the average rate for a 30-year fixed home loan at 4.32%.
The question in Southern California will be whether lower rates help to touch off more home sales, which have dropped compared to a year ago while prices have leveled off for the past nine months.
Nationally, signals have been mixed: Housing starts are below market expectations but housing permits are up 3% in February, said Freddie Mac's deputy chief economist, Len Kiefer.
The yield on the 10-year Treasury bond, generally a proxy for fixed mortgage rates, closed below 2% on Wednesday for the first time since Feb. 25.
The decline was in reaction to remarks by Federal Reserve Chairwoman Janet L. Yellen, who said the Fed is in no rush to raise interest rates for the first time since 2006, even though a change in its policy language opened the door for a hike as soon as June.
Freddie Mac asks lenders early each week about the terms they are offering to solid borrowers seeking mortgages of up to $417,000 that conform to the guidelines of Freddie Mac and Fannie Mae, the nation's other major mortgage-financing firm.
The borrowers would have paid a little more than half of 1% of the loan balance in upfront lender fees and discount points to obtain the rates. Payments for such services as appraisals and title insurance are not included.
The survey provides a consistent gauge of mortgage trends, but actual rates adjust constantly and are influenced by many factors.
In addition to borrowers' credit histories and debt loads, the factors include whether the borrowers opt for zero-cost loans at higher rates or pay extra to lenders initially to lower the rates.
Follow @ScottReckard for news of banks and home loans
---