Mortgage rates hit high for 2015; 30-year loan averaging 4.08%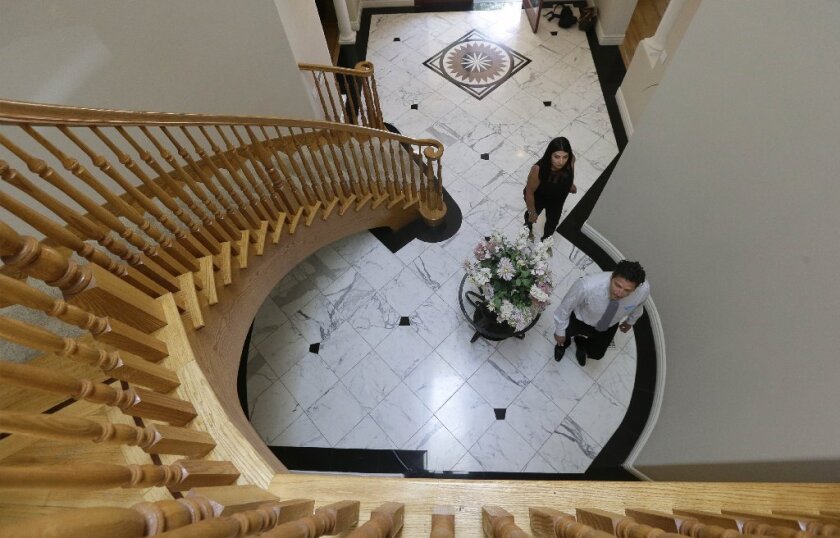 The economy's slow improvement is nudging mortgage interest rates higher, with home finance giant Freddie Mac saying the average for a conventional 30-year mortgage rose to 4.08% this week, its high point for the year.
Freddie Mac's weekly survey of lenders started the year at 3.87% and sank to 3.59% in early February. This week's report, released Thursday, showed the 30-year fixed rate loan at or above 4% for the fourth survey in a row, and up from 4.02% last week.
Lenders were offering 15-year fixed-rate loans to solid borrowers at an average of 3.24%, up from 3.21% a week ago, Freddie Mac said. The starting rates for adjustable loans moved higher as well.
The government's June jobs report, also released Thursday, came in on the weak side of economists' expectations, with no increase in workers' earnings. But the country still added 223,000 jobs and the unemployment rate fell to 5.3%.
"Progress continues," said Scott Anderson, chief economist at Bank of the West. "Just not as fast as we all would like to see."
The slowly rising rates come as the Federal Reserve, having ended a massive bond-buying program designed to keep long-term interest rates low, is now pondering when to start raising short-term rates.
Many economists believe that increase could come in September. It would not only directly affect consumer rates tied to the prime rate, such as many home equity credit lines and adjustable-rate mortgages, but would increase pressure on long-term rates like those on 30-year home loans.
A lobbying group for the mortgage industry reported that home-loan applications fell 4.7% last week as the cost of borrowing rose, Freddie Mac's chief economist, Sean Becketti, noted as the rate report was released.
"Other measures, however, confirmed continued strength in housing," Becketti said. "Pending home sales rose 0.9%, exceeding expectations, and the Case-Shiller house price index recorded another solid increase."
Freddie Mac asks lenders each Monday through Wednesday about the terms they are offering to solid borrowers seeking mortgages of up to $417,000.
The loans must conform to guidelines set by Freddie Mac and Fannie Mae, the nation's other major buyer and guarantor of home loans.
The borrowers would have paid an average of 0.6% of the loan balance in upfront lender fees and discount points to obtain the 30-year fixed-rate loan in the latest survey.
The costs of such services as appraisals and title insurance are not included.
Follow @ScottReckard for news of banks and home loans
---
For reporting and exclusive analysis from bureau chief John Myers, get our California Politics newsletter.
You may occasionally receive promotional content from the Los Angeles Times.