TV's cool factor overtakes that of movies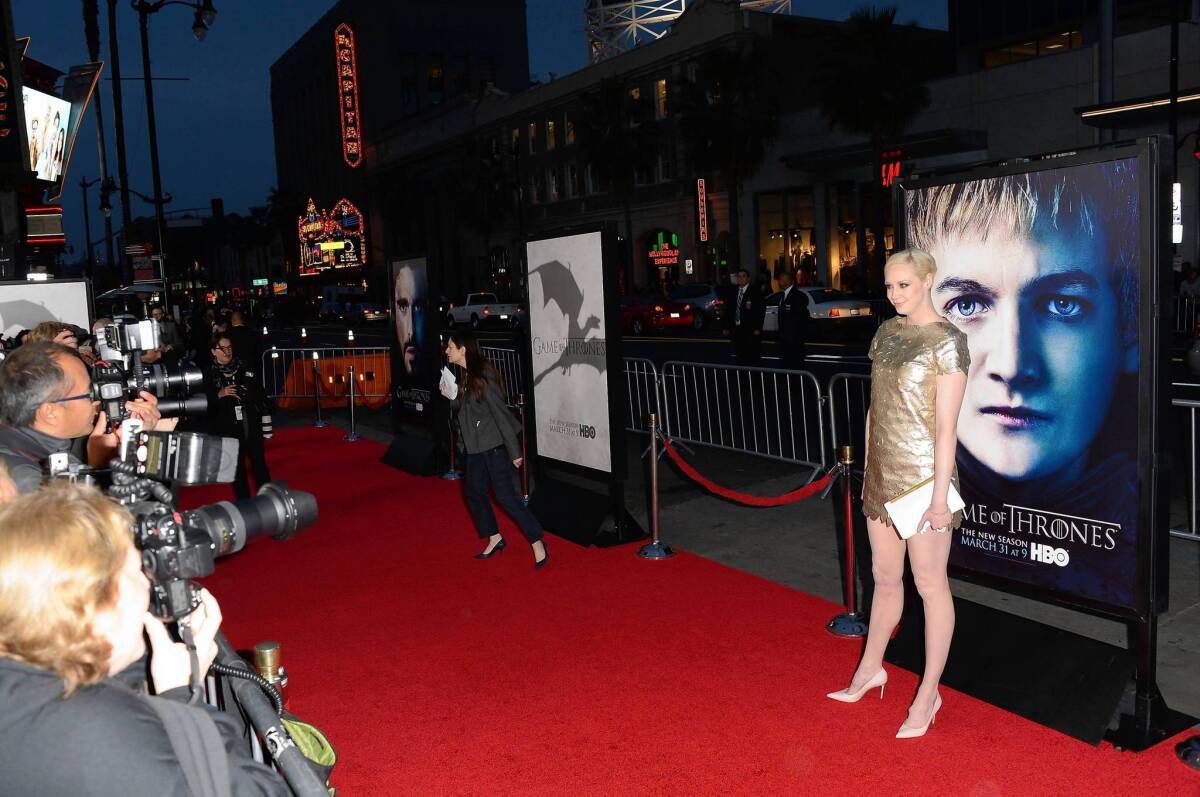 Veteran TV director Michael Pressman got a surprising response when he asked students in his film directing class to describe their dream jobs.
"Your job," he said they told him recently. "We want to be the director in charge of a TV series."
Pressman, who has directed episodes of "Blue Bloods," "Law & Order" and many other series, was stunned. This class, at New York's New School, focused on film.
But the students weren't "dreaming of Oscar," said Pressman, who has also directed several movies, including a "Teenage Mutant Ninja Turtles" picture. "They want to make great TV series."
FALL TV 2013: Watch the trailers
For decades, it was mostly a one-way journey. Television was a steppingstone for directors, writers, producers and executives who wanted to break into the film business. In the 1950s and 1960s, Hollywood mainstays including Mel Brooks, Garry Marshall and Carl Reiner all got their starts in television but segued to the film world — and are now best known for their big screen work.
The film business proved a seductive force for many years, and for good reason. Movies had the glamour, perks, press coverage and accolades. Nothing could match the glitter of the Academy Awards.
Now, entertainment professionals are migrating eagerly in the opposite direction.
Many cite HBO's "The Sopranos" as opening the door after it burst onto the scene in 1999, or A-list filmmakers like producer Jerry Bruckheimer, who got into the TV business in the late 1990s.
Others look to film producer Mark Gordon ("Speed," "The Patriot"), who transitioned into television with hits "Grey's Anatomy" and "Criminal Minds" in the 2000s — or, more recently, "Fight Club" director David Fincher, who made this year's "House of Cards" for Netflix, and "Traffic" director Steven Soderbergh, who was at the helm for HBO's "Behind the Candelabra" TV movie and is directing Clive Owen in the forthcoming Cinemax series "The Knick."
PHOTOS: Families that changed TV
The movement undoubtedly started with actors making the leap to television, but that it has spread to the executive, director and producer ranks is astounding to many old-school business operators, who never imagined they'd view TV as more attractive than the movies.
Several producers and filmmakers said they dreamed of working in film but now find themselves in television — drawn to the money, opportunity, cultural heft or creative control.
"Almost exclusively due to 'The Sopranos,' there's been a resurgence in long-form television," Soderbergh told The Times this year. "The ability to play out a narrative with a very long arc and explore complicated characters and have the audience be happy about that, it's very enticing."
Executives can relate.
"What drove me to drive to Los Angeles was a love of movies. Period," said David Nevins, president of entertainment at Showtime. "But I find myself 20 years into a career and very happy to be making high-end television."
Others, like reality-TV producer Eli Holzman, say the notion that television is a second-class medium — long widely held in Hollywood — has mostly disappeared. He once dreamed of becoming a film producer and started his career at Miramax, where Harvey Weinsten dubbed him "Darryl Zanuck Jr."
"In film, the perception is that it is the be-all and end-all, but then I got into TV and there were all sorts of executives who loved what they did," said Holzman, who created the hit show "Project Runway" and executive-produces "Undercover Boss," which won an Emmy Award this year for outstanding reality program. "Fifteen years ago, film people would be surprised to hear that, but now they know it."
To be sure, some professionals are moving to television because of the relative paucity of work in film, as studios make fewer movies and focus more on expensive tentpole pictures that have the potential to become blockbusters.
"You are looking at a static job market for people in the movie business," said United Talent Agency co-founder and board member Peter Benedek, a TV agent whose clients include "Girls" creator and star Lena Dunham, "Sopranos" creator David Chase, and "Lost" executive producer Jack Bender. "On the other hand, instead of there being four broadcast networks, there are 100 networks. And the television business has become a business of great creative intensity."
The quarterly earnings reports of media conglomerates like Walt Disney Co. and 21st Century Fox have long made it clear that the television business is more important than film to companies' bottom lines.
Last week 21st Century Fox reported first-quarter earnings, and the profits from the TV business dwarfed those of the company's film studio. While the company's cable TV segment reported operating income of $991 million and broadcast television generated operating income of $231 million, film studio 20th Century Fox's operating income was $328 million.
Also last week, Disney reported its full fiscal year results, and its media networks group, which includes ABC and ESPN, posted operating income of $6.82 billion — far more than its movie studio's operating income of $661 million.
Although companies have long been posting numbers like these, Hollywood's business culture has been slower to adjust. Now, things appear to be changing, though the shift is sometimes subtle. TV executives like Nevins are increasingly becoming public figures, the subject of breathless magazine profiles and media coverage.
PHOTOS: 2012 highest-paid media executives
"I think the glamour quotient has changed," he said. "I don't really care about what table I get at restaurants or what parties I go to, but I've definitely felt a shift in the culture around me."
Networks have also taken to hosting lavish, old Hollywood-style debuts for their shows. In the late 1990s and early 2000s, a TV red carpet rollout was an anomaly, saved for season premieres of "The Sopranos" or "Sex and the City." But it has become almost common in recent years.
This year, events for HBO's "Game of Thrones" and AMC's "Mad Men" have had the feel of swanky film openings.
On Nov. 21, TNT will host a premiere for the new television series "Mob City" at the Hollywood & Highland Center's TCL Chinese 6 — a popular venue for movie premieres.
Notably, "Mob City" is from former "The Walking Dead" show runner Frank Darabont, who before getting into television in earnest wrote and directed such films as "The Shawshank Redemption" and "The Green Mile."
Nevins said the differences between the parties thrown for the premieres of the first and second seasons of "Homeland" illustrate how things have changed in just a couple of years. In fall 2011, the show celebrated its debut with a small affair in the Hamptons.
"Paul McCartney showed up there with … a box of takeout pizza," Nevins recalled.
A year later, Showtime hosted a party for roughly 600 people at New York's Intrepid Sea, Air and Space Museum.
PHOTOS: Celebrities by The Times
The Time Warner Cable-sponsored party, held on the decommissioned aircraft carrier turned museum, was "pretty jam-packed with stars," Nevins said. "They want to be a part of it."
Howard Owens, president of National Geographic Channels, said it is possible that the TV business' newfound glamour could "outplay the support the business model presents. But from my perspective, the people who are having big premieres and the people on the cover of the magazines — it isn't excessive. It feels earned."
At talent agencies, television departments are growing bolder, operating with what one agent said was a newfound "swagger."
For agencies, television "package fees" — derived from putting together actors, writers, directors and producers on a show — are hugely lucrative. If a show is a hit, the agency's windfall could result in more than $100 million over time — more than an agency could make from a single motion picture.
"Television has always been a driver of revenue at agencies, but now it has taken on a different sheen because of the quality of the shows," said TV agent Ted Chervin, a partner at talent agency ICM Partners. "The combination of the volume and quality has just brought a deeper level of prestige to the medium."
The agency packaged this year's Emmy-winning shows "Breaking Bad" and "Undercover Boss," and with United Talent Agency co-packaged "Modern Family," the Emmy winner for best comedy series.
A few years ago, television agents at one major agency would quietly joke among themselves that their department was lucrative enough to cover up the middling performance of the film department, according to one agent who requested anonymity as to avoid alienating colleagues. Now, this person says, the same quips are made, but less discreetly.
PHOTOS: Cable versus broadcast ratings
For Marc Shmuger, the former Universal Pictures chairman, film long stood apart from television because of "that sacred space that the theater represented," he said. "It was almost a religious ritual."
But that experience gap has narrowed, Shmuger believes, with the rise of so-called binge watching, wherein people watch many episodes of a program in a single sitting.
Video-on-demand services such as Netflix Inc., with its Kevin Spacey-starring original series "House of Cards" and prison drama "Orange Is the New Black," have made the practice easier than ever.
"That to me represents the ultimate entertainment," said Shmuger, now an independent film producer. "The movies still have a special place. But I identify the point at which the shift happened is when binge viewing became available."
Data from Netflix underscore how viewers have warmed to TV. Netflix was created to provide movies, but now its primary streaming business is television: Subscribers spent 70% of their time on the service streaming TV series, the company said.
Producer John Davis got into film production in the 1980s, when, he says, the business was still cloaked in a mystique and teeming with "glamorous movie stars." He made movies such as "Predator" and "The Firm," working with A-list stars and top-flight directors.
"I love making movies — I just finished my 90th film," said Davis, producer of last year's surprise hit "Chronicle" and the forthcoming "The Man From U.N.C.L.E." remake. "There is a luxury to the process of making films; there is a glamour to it."
PHOTOS: Modern women in television
But now he's making TV shows.
After producing several television films over the last few decades, Davis got into the episodic television business this year, executive-producing the new series "The Blacklist" and "Ironside."
The producer said he was intrigued by the "edgy and interesting" things that can now be done on TV. "The writing is so amazing now in television that no one is ever going to look down on it."
At HBO's swanky Emmy party Sept. 22, attendees scarfed down oysters and guzzled Champagne while ogling TV stars Dunham, Stephen Colbert and Kerry Washington. Rumor of another celebrity ricocheted through the crowd at the Pacific Design Center, sending some people scurrying off to sneak a peek.
It wasn't a movie star. It was Mick Jagger — there because he co-produced the HBO documentary "Crossfire Hurricane."
"In elite circles, there is probably still some snobbery with TV, but the people who are making money and who are uber-creative are in TV," said Owens, who left a career at William Morris Agency in 2002 for the television production business. "Yes, Cannes is amazing … but TV is cool, and I think cool trumps elite."
¿
---
Sign up for the California Politics newsletter to get exclusive analysis from our reporters.
You may occasionally receive promotional content from the Los Angeles Times.