Don't eat romaine lettuce, CDC warns amid another E. coli outbreak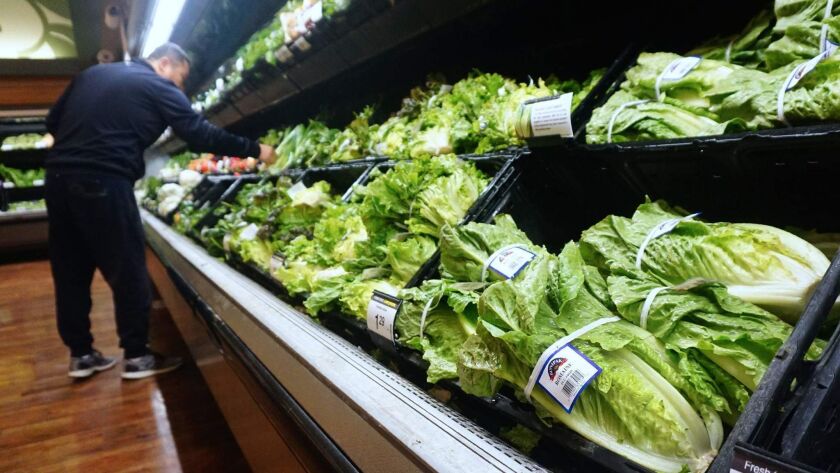 Federal food safety officials are warning consumers away from romaine lettuce again after another outbreak of a deadly strain of E. coli bacteria hit 11 states and two Canadian provinces, sending 19 people to hospitals and sickening 31 others.
The public warning issued Tuesday by the U.S. Centers for Disease Control and Prevention and the Public Health Agency of Canada comes eight months after a deadly outbreak centered around the Yuma, Ariz., cultivation region killed five people and prompted tighter scrutiny of the produce industry.
U.S. and Canadian authorities believe the current outbreak, first reported in early October, is unrelated to spring's Yuma outbreak. But the culprit strain of E. coli has the same genetic fingerprint of the bacteria behind a rash of food-borne illnesses reported during fall 2017 in Canada and in January in 15 U.S. states, where it killed one person and sickened two dozen others, the CDC said.
William Marler, a Seattle attorney representing consumers sickened during that 2017-18 outbreak, said investigators could focus on the same supply lines for this investigation.
"If you see the same genetic fingerprint year to year, that produce was grown within yards of each other, if not on the same farm," Marler said.
The CDC advised that consumers "not eat any romaine lettuce, and retailers and restaurants not serve or sell any, until we learn more about the outbreak." The warning applies to any form of romaine — whole heads, hearts, or chopped and mixed.
The E. coli strain, known as O157:H57, produces a toxin that is particularly destructive and painful in the human digestive tract, provoking symptoms that can lead to kidney failure.
No lettuce was being produced in the Yuma region during the current outbreak — cases were reported from Oct. 8 to Oct. 31, so the culprit lettuce may have been cut and shipped in September, said Scott Horsfall, chief executive of the California Leafy Greens Marketing Agreement, an industry group authorized by the state to enforce produce safety rules.
In late September and early October, lettuce on store shelves could have come from Northern California's Salinas Valley, from Mexico, and many other locations, Horsfall said.
Nonetheless, the major produce companies headquartered in the Salinas Valley have largely shifted their production to the Yuma region, which began shipping romaine a couple of weeks ago, Horsfall said. So a prolonged and widespread ban will hit those growers hard, he said.
"It's going to have a big impact on the industry, obviously," Horsfall said. "It's unfortunate they don't have information that would allow them to identify a shipper or a farm because then you could have a recall and be done."
On Wednesday, produce market analysts said the recall and an unusual cold snap in Yuma were causing prices to spiral for romaine substitutes, including iceberg, green leaf and spring mix lettuces, as well as arugula and spinach.
The U.S. Food and Drug Administration said Tuesday it is still working with CDC to trace the infection to a source.
The agency recently was granted power to force a recall, under the Food Safety Modernization Act — previously, it had to rely on voluntary measures, said Michael Droke, a partner with Dorsey & Whitney law firm who has represented the produce industry.
"Food and ingredient companies should prepare in advance for the need to recall their products to minimize the risk of a mandatory order," Droke said.
The Yuma outbreak has sparked renewed scrutiny of the U.S. produce industry, including tightened restrictions on cultivation near areas that can be contaminated by cattle feces, which carry the E. coli strain. Authorities traced the E. coli strain behind last spring's outbreak to an irrigation canal beside a cattle yard, and they have suggested that growers may have sprayed contaminated water on their crops.
Follow me: @LATgeoffmohan
---
UPDATES:
Nov. 21, 5:17 p.m.: This article was updated with information about lettuce prices resulting from the recall.
4:24 p.m.: This article was updated with new information on the impact of the warning and the source of the outbreak.
2:52 p.m.: This article was updated with additional information about cases in Canada.
This article was originally published at 1:30 p.m.
---
For reporting and exclusive analysis from bureau chief John Myers, get our California Politics newsletter.
You may occasionally receive promotional content from the Los Angeles Times.