Goldman Sachs CEO turns up in Saudi Arabia as uproar fades over Khashoggi killing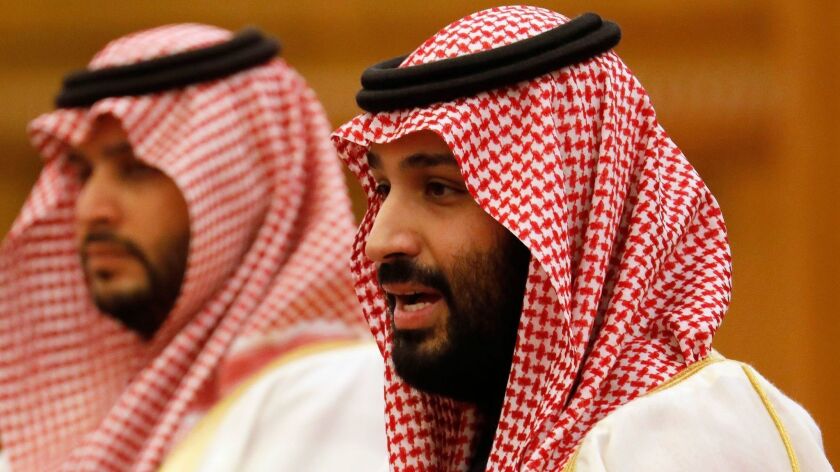 Bloomberg
Goldman Sachs Group Inc.'s David Solomon is on his first trip to Saudi Arabia as chief executive, the latest sign that Wall Street's skittishness about doing business with the kingdom is fast becoming a thing of the past.
Solomon, who became the firm's CEO in October, is making a renewed effort to strengthen business ties in the country. He's the first head of a global U.S. bank known to have traveled to the country since an international furor erupted last year over the murder of columnist Jamal Khashoggi.
Wall Street banks including JPMorgan Chase & Co. and Morgan Stanley have softened their public stances toward Saudi Arabia, which recently has offered some of the world's largest transactions, including a $70-billion deal last week. In October, Goldman Sachs joined those rivals in canceling appearances by top executives at the nation's marquee investment conference in response to Khashoggi's killing and dismemberment at a consulate in Istanbul.
Inside Goldman Sachs, senior executives have indicated Saudi Arabia offers a more promising environment for growing the investment bank's business than other parts of the Middle East, according to one senior Goldman banker. Dealings with Qatar have become more complicated amid its diplomatic clashes with Saudi Arabia. And the bank has been publicly spurned by Abu Dhabi.
A bank spokesman confirmed that Solomon was in the region to see longstanding clients of the firm. While the Saudi kingdom may seem promising for deals, it has proved politically fraught.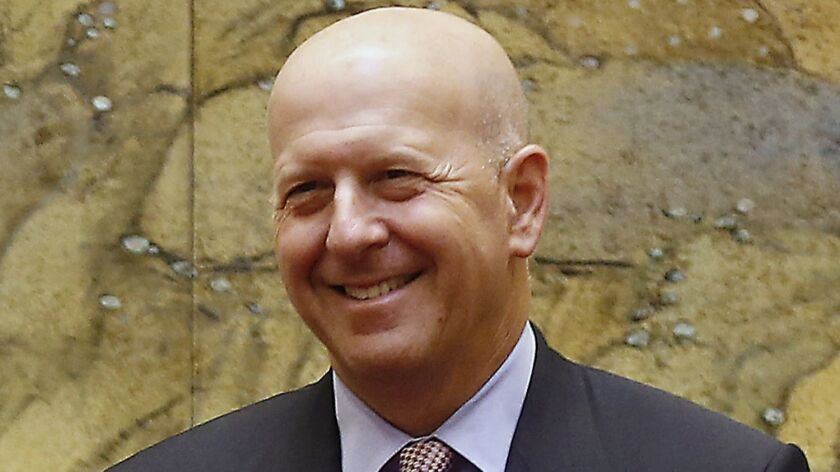 The boycott of the October event, dubbed "Davos in the Desert" despite having no affiliation with the World Economic Forum, was one of the industry's only visible rebukes to what happened, but it quickly faded. Ever since, banks have been signaling plans to move on.
By the time the real Davos began in January, bank CEOs were no longer turning a cold shoulder. Morgan Stanley's James Gorman spoke alongside two Saudi ministers. JPMorgan's Jamie Dimon and HSBC Holdings' John Flint attended a party thrown by Saudi oil giant Aramco, a person present said at the time.
Goldman has been making a renewed push to expand in the country where finding local talent with international experience can be at times challenging. It hired veteran Morgan Stanley banker Ammar Al-Khudairy last year as the non-executive chairman for the bank in the country and also said it plans to deploy its own money on deals in the kingdom for the first time.
The bank is a relative late entrant to the country, where other lenders such as JPMorgan and HSBC have had a much stronger presence for years.
Goldman already has a slate of significant deals in the works in the country. It was an advisor to the Public Investment Fund in Aramco's agreement last week to buy a majority stake in local chemical giant Sabic from the Saudi sovereign fund.
The oil producer just this week disclosed that it's the most profitable company in the world — a lucrative client for any investment bank. Morgan Stanley and JPMorgan are leading its first-ever international dollar-bond sale, which could raise $10 billion, and a dozen other banks have been added as co-managers.
Goldman is also advising Riyad Bank, a $20-billion lender, on its merger with Saudi Arabia's largest lender, National Commercial Bank. Solomon's firm also advised HSBC Holdings' Saudi Arabian unit on its $5-billion acquisition of a local rival part-owned by Royal Bank of Scotland Group.
Crown Prince Mohammed bin Salman has been seeking to avoid further alienating the international investors he needs to transform the economy into a financial powerhouse.
For Goldman, the country offers opportunities to bolster earnings while contending with pressures elsewhere. In neighboring Abu Dhabi, the firm has been blacklisted by the emirate's main wealth fund amid a legal dispute tied to the bank's role in Malaysia's 1MDB corruption scandal. That scandal has also dragged the bank into a criminal probe in the key Asian hub of Singapore.
Solomon's trip won't end in the Middle East, as he heads to London with Brexit looming. The U.K.'s inability to strike a deal to withdraw from the European Union is forcing global banks such as Goldman Sachs to restructure their businesses, shifting assets and personnel to the continent.
---
Must-read stories from the L.A. Times
Get the day's top news with our Today's Headlines newsletter, sent every weekday morning.
You may occasionally receive promotional content from the Los Angeles Times.