Legoland's owner may want to buy some SeaWorld Entertainment parks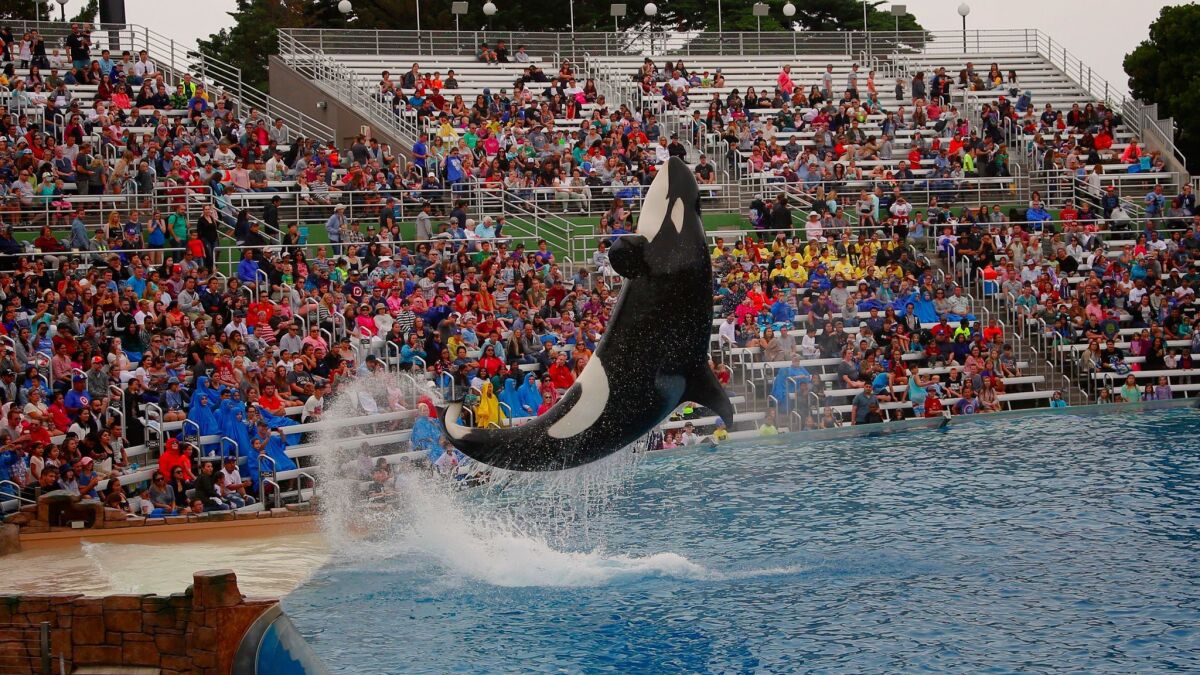 For the second time in as many months, there is talk of a possible purchase of SeaWorld Entertainment Inc. parks by Legoland's owner, Merlin Entertainments.
News of the revived interest, reported Wednesday by Bloomberg, comes amid continued struggles by SeaWorld to reverse slumping attendance and revenue, most notably at its Orlando, Fla., and San Diego marine parks.
According to Bloomberg, Merlin's interest appears to be focused on the Orlando company's Florida and Virginia Busch Gardens parks, where thrill rides, live entertainment and animal encounters — minus the dolphins and killer whales — are the featured attractions. Citing individuals familiar with the matter, Bloomberg reported that the British theme park operator has approached SeaWorld officials about a potential deal.
Merlin's interest in a purchase also seems to align with reports a couple of months ago that SeaWorld had hired Evercore, an investment banking advisory firm known to work with companies to sell property
SeaWorld Entertainment has not commented on those rumors. "We do not comment on rumors or speculation," spokeswoman Aimée Jeansonne Becka said Thursday.
SeaWorld's most recent earnings report, issued in August, revealed that the company is still struggling financially and has been unable to rebuild attendance since the 2013 release of the documentary "Blackfish." The company has acknowledged that fallout from the film, which was critical of SeaWorld's treatment of killer whales, has affected its financial performance.
It has since stopped breeding its orcas and is phasing out its longtime Shamu shows in favor of showcasing orcas' natural behaviors.
During the first six months of 2017, SeaWorld reported, 353,000 fewer people visited its parks than in the same period a year earlier.
James Lloyd Hardiman, an analyst with Wedbush Securities, said he would not be surprised to see multiple bidders interested in the Busch Gardens parks.
"Those are the most attractive parks, and truthfully, I don't think it's just Merlin. I think Cedar Fair and Six Flags would both have interest, for the right price," Hardiman said. "SeaWorld does have some issues with respect to their balance sheet and could be at risk of defaulting on their debt, so they'd be crazy to not at least consider strategic alternatives, like selling some or all of the company."
Even if there is heightened interest in a SeaWorld purchase, there remains the questions of what would become of the marine parks in California, Texas and Florida and who would have interest in buying those, analysts say.
"If SeaWorld were to sell, they would sell their better assets that don't have brand-related issues that the SeaWorld-branded parks do," said theme park analyst Bob Boyd of Pacific Asset Management. "It would help solve some of SeaWorld's problems as far as debt, but it doesn't stabilize the SeaWorld parks.
"Is someone else willing to take on the SeaWorld [marine] parks and their challenges? For the right price, they might be."
SeaWorld shares fell 6.5% on Thursday to $13.19. Merlin shares rose 3.4% in London.
Weisberg writes for the San Diego Union-Tribune.
---
Sign up for the California Politics newsletter to get exclusive analysis from our reporters.
You may occasionally receive promotional content from the Los Angeles Times.