Fire at SpaceX facility in Florida damages equipment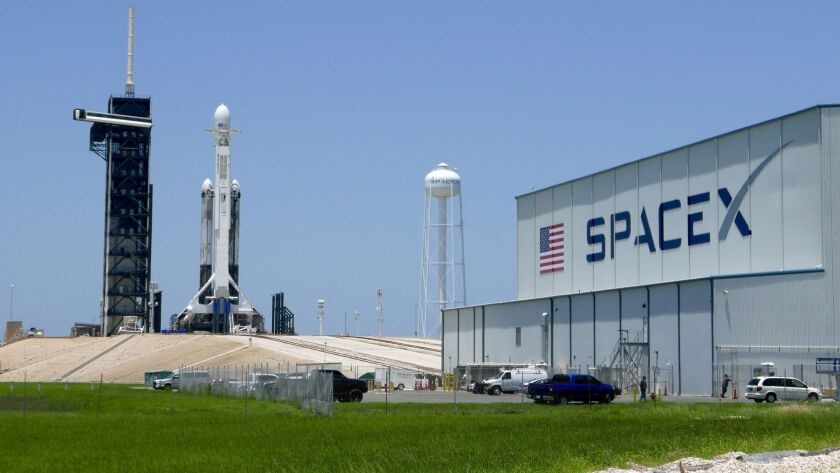 A small fire occurred at a SpaceX facility in Cocoa, Fla. on Monday and was extinguished by the Cocoa Fire Department within minutes of the call.
There were no injuries, according to SpaceX and the Cocoa Fire Department. A storage container and welding equipment inside the container were damaged in the fire, Fire Department spokeswoman Yvonne Martinez said. An adjacent building — described by Martinez as the company's main operations building there — had minor heat damage, she said.
Work at the facility has been paused until the necessary repairs are made, Martinez said.
The cause of the fire is under investigation, SpaceX spokesman James Gleeson said in a statement.
Martinez said the fire is estimated to have done $50,000 to $100,000 of damage.
The Fire Department received a call about the fire at 12:19 p.m. Eastern Time. The first unit arrived on scene two minutes later, and the fire was extinguished by 12:33 p.m., Martinez said. At least three fire engines and a building inspector were part of the Fire Department's response, she said.
Hawthorne-based SpaceX did not immediately respond to questions about how many employees work at the site or what the facility specialized in, but photos of the building posted on Twitter indicate it is involved in developing the company's Mars spaceship, known as Starship.
A photo of the fire scene posted by a Florida Today reporter appears to show a Starship prototype peeking over the top of a building.
SpaceX is doing "simultaneous competing builds" of the Starship spacecraft in Florida and Texas, Chief Executive Elon Musk has said. The reason, he said on Twitter in May, is to "see which location is most effective. Answer might be both."
---
Be your money's boss! Learn how to make a budget and take control of your finances with this eight-week newsletter course.
You may occasionally receive promotional content from the Los Angeles Times.