Part of SpaceX's Mars spaceship prototype damaged by wind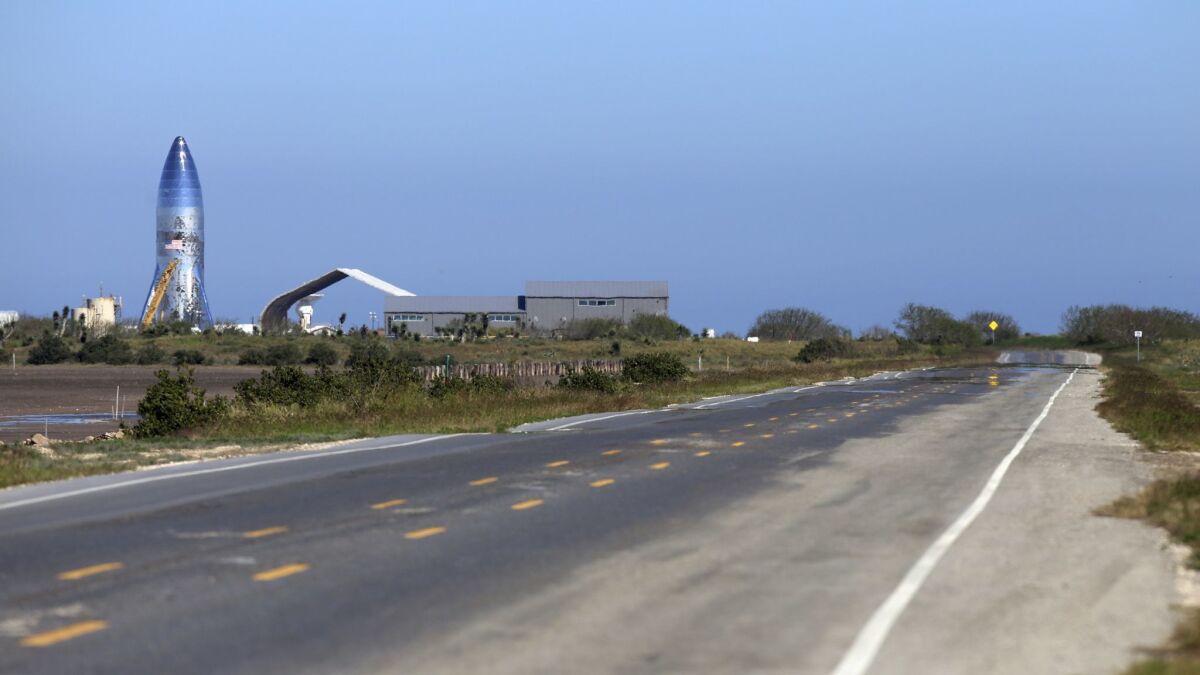 Part of SpaceX's Mars spaceship prototype was damaged when high winds blew over the top portion Tuesday night in south Texas, according to a tweet from Chief Executive Elon Musk. It was unclear whether the accident would delay test flights.
On Wednesday, Musk tweeted that 50-mph winds "broke the mooring blocks" late Tuesday night and that the fairing — or top portion of the rocket — was blown over. The National Weather Service issued a wind advisory Wednesday morning for the Brownsville and Rio Grande Valley area of south Texas, saying gusts of wind could reach 45 mph until noon that day.
"Will take a few weeks to repair," Musk said. He added that the Starship prototype's "actual tanks" used for propellant were "fine."
Musk had said that so-called hopper tests of the spaceship, in which the vehicle would launch and go up in the air briefly before coming back to Earth, could start as soon as next month. SpaceX declined to comment Wednesday beyond Musk's tweets.
The Hawthorne company is building and testing the Starship prototype at its Boca Chica facility in south Texas. SpaceX had previously planned to build Starship and its Super Heavy rocket booster on a 19-acre site at the Port of Los Angeles, but a company official told the port in a letter dated Jan. 7 that SpaceX would terminate that lease agreement.
Musk later tweeted that the company would conduct development of Starship and the vehicle's Raptor engines in Hawthorne but would build the spaceship prototype "locally at our launch site in Texas, as their size makes them very difficult to transport."
Twitter: @smasunaga
---
Sign up for the California Politics newsletter to get exclusive analysis from our reporters.
You may occasionally receive promotional content from the Los Angeles Times.