Pro sports teams go on offense to be able to offer high-stakes raffles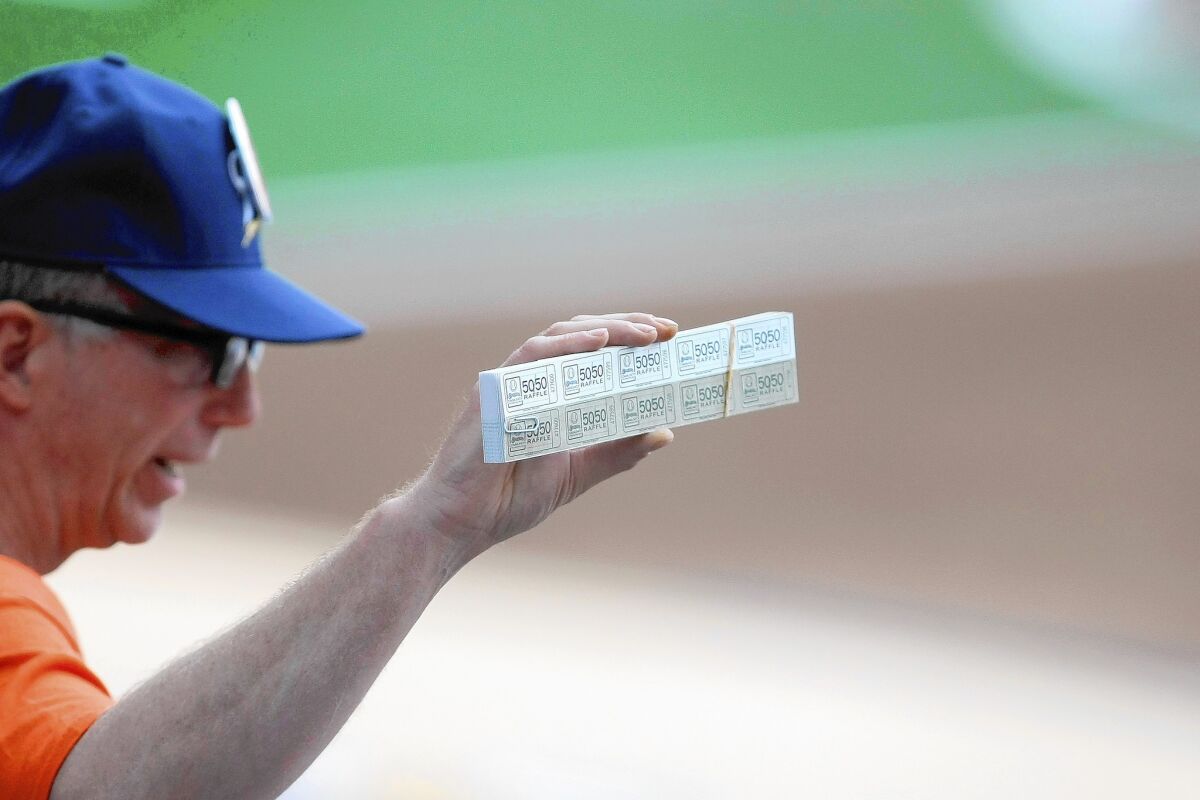 SACRAMENTO — California's professional sports franchise owners are asking lawmakers to let them hold high-stakes, electronic raffles during games.
They seek an exclusive right to offer much fatter prizes than the state now allows all other raffles. The teams want to earmark 50% of the pot for prizes. Raffles run by such groups as little leagues, churches and service organizations are limited to giving winners no more than 10% of the take.
Pro sports teams say they expect to sell tens of thousands of raffle tickets per game, quickly raising big money for community and team charities. Proceeds from a single game's sales can be impressive. Last summer, the Arizona Diamondbacks sold a record $100,016 worth of 50-50 raffle tickets at a July 5 home game, with half going to a fund for wildfire victims and the other half to a fan.
"This is a great way to get the fans excited," said Assemblyman Reggie Jones-Sawyer (D-Los Angeles), who has introduced raffle legislation for the sports clubs. "At the end of the day, they know in their hearts that they did something great for a lot of charitable organizations."
But a group representing nearly 10,000 nonprofit organizations sees major-league favoritism at work.
"This bill is a carve-out," said Jan Masaoka, chief executive of the California Assn. of Nonprofits. "It creates special rules for raffles by sports leagues, but the old rules still apply to PTAs and school bands."
Native American tribes that operate casinos also have concerns that the bill would create a new form of gambling.
"When you go from a 90-10 split to a 50-50 split, you're moving away from charity to something more like a lottery," said David Quintana, a lobbyist for the California Tribal Business Alliance. "This is a huge change."
Though the debate over pro sports charitable raffles is just getting started in California, the issue has been settled in 28 states and eight Canadian provinces, where more than 100 franchises are running so-called 50-50 raffles.
Pointstreak Sports Technologies Inc. of Toronto says its proprietary electronic raffle system has since 2011 generated more than $76 million for charities linked to pro sports franchises.
Clients include baseball teams — the Diamondbacks, Atlanta Braves, Boston Red Sox, Chicago Cubs, Cincinnati Reds and Philadelphia Phillies, among others. The raffles also are popular with many National Hockey League and National Basketball Assn. clubs, the company said.
California clubs — such as the Anaheim Ducks, Los Angeles Kings and San Jose Sharks hockey teams and the Los Angeles Angels, Los Angeles Dodgers and San Francisco Giants baseball clubs — want in on the action. They're conducting a so-far-quiet campaign in Sacramento for passage of Jones-Sawyer's bill, AB 1691.
"It's working successfully everywhere else; why not here?" said Renata Simril, a Dodger senior vice president. "It's a unique formula and a successful way to massively expand our charitable giving."
The Dodgers through its foundation already gives out more than $2 million a year, much of it for a Dodger Dream Fields program that refurbishes baseball and softball diamonds in low-income urban neighborhoods, Simril said. Other donations go directly to qualifying, established charities.
Raffles that offer 50% prizes, she said, "are a way to engage our tremendous fan base." The Dodgers led the majors in average home and away game attendance last season, club officials said, and the average home game drew 46,216 spectators to Chavez Ravine.
One current Dodger-backed charity, Vision to Learn, hopes that getting a share of Dodger raffle revenue would help pay for more of its mobile eye exam and optometry clinics for low-income students.
"Anything that helps us expand services ... and meet more of the needs, seems like a good deal as long as the right controls are in place," said Gaye Williams, executive director of the Los Angeles charity.
Raffles long have been a fundraising tool for civic clubs, schools and religious organizations.
But few of the sponsors ever knew that California law considered them illegal lotteries until 2001. The status changed with passage of a bill in the 1999-2000 legislative session and voter-approval of a constitutional amendment, Proposition 17.
Under the 2001 law, any raffle, conducted by a private, nonprofit eligible organization, must earmark at least 90% of its gross receipts to direct "beneficial and charitable purposes." Additionally, Proposition 17 specifically prohibits raffles from using "any gaming machine, apparatus or device."
Overcoming those two formidable restrictions may require some adroit lobbying. That's because it takes the approval of at least two-thirds of the members of both the Assembly and state Senate to change Proposition 17. Only then could Pointstreak, its competitors or the teams introduce 50-50 raffles to California fans.
Here's how the games would work if the bill is passed and signed into law by the governor:
Only people attending professional sports games, pro golf tournaments and NASCAR races could participate and only at the events themselves. They could buy electronically generated, numbered paper tickets — from stadium kiosks or from roaming vendors equipped with portable, digital printers.
Ticket sales and other information would be immediately reported to a central computer. Meanwhile, before and during the games, digital tote boards — on the scoreboard and elsewhere — would instantly display information such as the size of the pot, the sponsored charity and number of players.
The winner would be selected by a computerized "random number generator," a device that Indian tribes that operate casinos say is similar to those used in slot machines and electronic bingo games.
The new plan would promote gambling — and not charities, tribes contend.
"The current structure outlined in California law keeps raffles focused on supporting charities and nonprofit organizations, rather than on gambling," wrote Clifford M. LaChappa, chairman of the Barona Band of Mission Indians in San Diego County.
The way winning numbers are picked, plus larger prizes, he said, "blurs" that line.
Twitter: @MarcLifsher
---
Sign up for the California Politics newsletter to get exclusive analysis from our reporters.
You may occasionally receive promotional content from the Los Angeles Times.