After hyping a $1-billion Star Wars land, how does Disney get visitors to leave?
"Star Wars" fans have spent years waiting for Disneyland to let them enter a galaxy far, far away.
How then does the Magic Kingdom get them to leave?
Disneyland's May 31 launch of Star Wars: Galaxy's Edge will test the park's efforts to open a highly anticipated expansion without the crushing crowds, frustration and chaos that can accompany a new attraction.
The much-hyped land is expected to attract such a throng that Disneyland engineers and landscapers have been working for months to accommodate more visitors by widening walkways and improving queueing systems.
To maintain some order during the first three weeks after the 14-acre attraction opens, Disneyland will require reservations for each visitor to enter the land, with colored wristbands used to distinguish which four-hour time window corresponds with each visitor.
Once a time window expires, park employees dressed as "Star Wars" characters will politely tell parkgoers that they need to leave the land to make way for new visitors.
Disneyland representatives say they expect that most guests will abide by the courteous directions to move on. But they remain mum about what will happen if guests ignore the requests.
"Four hours is a long time in the land," said Kris Theiler, vice president of the Disneyland Park. "Most guests are going to find that they're ready to roll after four hours."
Disney unveils a new annual pass that aims to ease crowding »
The new $1-billion land was built in the northwest corner of the park, replacing several attractions in Frontierland, including a petting zoo. It will have three entrances, where employees can control the crowd flow.
The expansion is designed to resemble a remote outpost on the planet Batuu filled with space outlaws, smugglers and rebels battling the evil empire. The land features two rides, four eateries, one space-themed cantina and five retail shops.
Workers on Monday were putting finishing touches on electrical and mechanical features, such as a robot that turns a spit at a barbecue eatery, as media members were allowed a glimpse of the new area.
The buildings look aged and war-ravaged, and the rocky hoodoos that dot the landscape are meant to resemble the remnants of giant petrified trees. The roar of spaceships landing and taking off blasts from hidden speakers.
Several shops and eateries operate out of what resembles a Middle Eastern bazaar.
All the signs on the concrete buildings are in an alien language, but visitors with the Play Disney Parks app will be able to use it to translate the signs into English, park representatives said. Everyone else will have to ask staff for help in identifying the stores and restaurants.
"If it doesn't work out, we can tweak it later," Theiler said about the signs.
Only one ride, the interactive Millennium Falcon: Smugglers Run, will be operational on opening day. The second Galaxy's Edge attraction — Star Wars: Rise of the Resistance — is promised for later in the year.
Park representatives have not disclosed whether they will limit how many times park visitors can ride the Millennium Falcon attraction during each four-hour window.
If the ride breaks down during the three-week reservation period, Disneyland will make amends to the guests, park representatives said, but no details have been provided yet.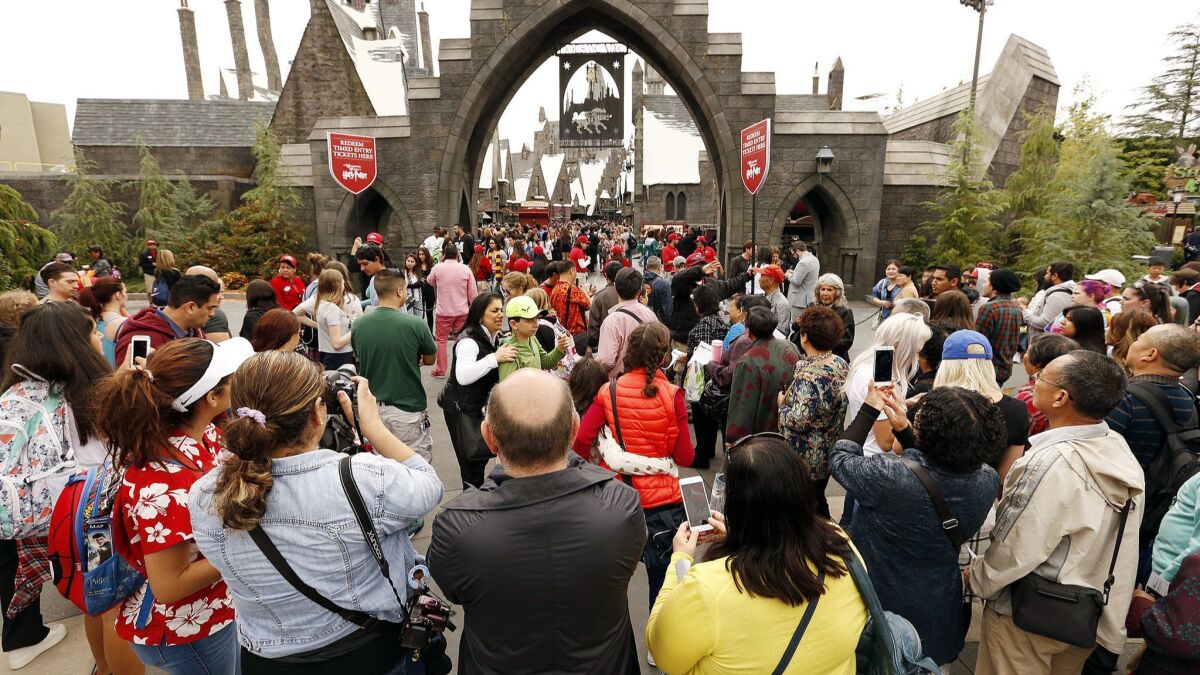 The reservation system is Disneyland's effort to avoid the gridlock and social media backlash that have come with the opening of other blockbuster attractions, such as the Wizarding World of Harry Potter at Universal Studios Hollywood in 2016 and Cars Land at Disney's California Adventure Park in 2012.
When the popular Tower of Terror drop ride at Disney's California Adventure Park was overhauled in 2017 to become Guardians of the Galaxy: Mission Breakout, the lines during opening weekend were as long as five hours.
Park visitors who book rooms at any of the three Disneyland Resort hotels automatically get a four-hour reservation to visit the land.
Parkgoers who didn't go the hotel-room route were allowed to make reservations online May 2. Those reservations for the initial May 31-to-June 23 opening period were filled within two hours.
And there were a few hitches: Some people with hotel reservations complained that Disney sent them Star Wars land reservations for the wrong dates, and others groused that the online reservation system didn't give them the chance to add friends and family to their party — problems Disney representatives say have been addressed.
After June 23, the theme park will launch a virtual queueing system, similar to the FastPass system used to schedule appointments to ride the most popular attractions.
By visiting the Disneyland app or a kiosk in the park, visitors can sign up to be part of a boarding group to enter the Star Wars land. Each boarding group will have a two-hour window in which to enter the land but no time limit once visitors enter. Disneyland workers will gauge how crowded the land is before deciding when to accept more boarding groups.
Disneyland officials have not decided how long into the future they will require the virtual queueing system for the land, hinting that it may be deployed as long as the Star Wars land is in high demand.
To read more about the travel and tourism industries, follow @hugomartin on Twitter.
Sign up for the California Politics newsletter to get exclusive analysis from our reporters.
You may occasionally receive promotional content from the Los Angeles Times.